Less than a month after a successful PIPE deal raising $11 million for China Solar (OTCPK:CSOL), the company's CFO Gary Lam is now leaving "to pursue other interests." Remember that Mr. Lam was only appointed in November 2007, and as such he has only served a total of 140 days, and really oversaw only one quarter of financial results.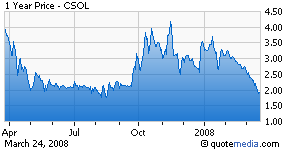 This doesn't bode well for the company. Continuity of financial oversight is one thing, but this calls into question the issue of fiscal integrity altogether. Why did Mr. Lam leave? Are there any questions hanging over the company's financial data? Are the PIPE investors going to take action now that the share price is significantly below the placement price of $2.40? And why now, when CSOL's FY2007 year end results are due any moment?
Given this, I'm anticipating surprises, and not good ones, in the company's impending 10Q. One further note, while Mr. Lam was given the title of CFO immediately, his replacement, Mr. Yihai Yang, is only Acting CFO. I think that can only mean that the company had to scramble hard to find an alternative when Mr. Lam decided to quit. That's my version of the event. Let's see if this bears out when CSOL results are made known.
My Position: None.