I wrote part I of "2 China Stocks Trading Below Net Cash" on June 4th in which I covered SkyPeople Fruit Juice (NASDAQ:SPU) and China TechFaith Wireless (NASDAQ:CNTF). On June 25th I wrote part II covering Linktone (NASDAQ:LTON) and China Finance Online (NASDAQ:JRJC). In this article I will cover two additional China stocks trading below net cash and update the previous two articles.
Updates on my two previous articles
After my part II article China Finance Online reported first quarter results on June 27th with net loss of $1.3 million. As of March 31st 2012 China Finance Online's total cash, cash equivalents and restricted cash were $79.9 million and short-term investments were $10.8 million. The company had short-term loans of $18.5 million which creates net cash of $72.2 million. The company has 21.8 million shares (ADS) outstanding which creates net cash of $3.31 per share.
On June 27th SkyPeople Fruit Juice announced the introduction of Hedetang-branded Bag-In-Box fruit juice beverages into the local market of Xi'an, Shaanxi province of China.
China TechFaith showcased an expanded line-up of mobile phones and motion games at one of the largest telecommunication and IT shows in Asia, the CommunicAsia 2012 exhibition and conference in Singapore on June 19 to 22.
TechFaith showcased a broad range of new Android smart phones, along with its existing range of WCDMA/GSM/EVDO models. The company also featured its integrated 17Vee Internet motion gaming platform, with applications, software, hardware devices and services.
To see the Health Phone and Titan in action, watch the video on the coolest devices at CommunicAsia 2012.
Two new companies:
1. Noah Education (NYSE:NED) is a leading provider of education services in China. The company's brands include Wentai Education, Little New Star and Yuanbo Education. Wentai Education operates and manages high-end kindergartens, primary and secondary schools. Little New Star provides English language training for children aged 3-12 in its directly owned and franchised training centers, and Yuanbo Education operates premium kindergartens under the Qingan brand.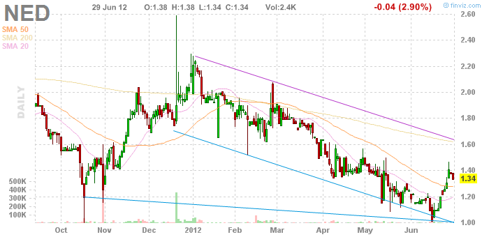 The company's cash and cash equivalents, and short-term other investments totaled $83.6 million on March 31, 2012. The company has no debt and 37.7 million shares outstanding which creates net cash of $2.22 per share. For the quarter ended March 31st the company had revenues of $5.9 million and net income of $0.3 million. For the fourth quarter of fiscal 2012 (ending June 30th), Noah expects to generate net revenue in the range of $5.9 million to $6.2 million. For the full fiscal year 2012, the company expects to generate revenue between $23.0 million and $24.6 million up 55% to 66% year-over-year.
2. CNinsure (CISG) is a leading independent insurance intermediary company operating in China. The company primarily distributes a wide variety of property and casualty and life insurance products underwritten by domestic and foreign insurance companies operating in China and provides insurance claims adjusting services, such as damage assessment, survey, authentication and loss estimation. Furthermore, the company offers certain consumer financial products and services and wealth management services through a consumer credit brokerage company and a wealth management company in which CNinsure holds non controlling interests.
With 47,425 sales professionals, 1,337 claims adjustors and 532 sales and service outlets operating in 26 provinces as of March 31, 2012, CNinsure's distribution and service network reaches some of China's most economically developed regions and some of the most affluent cities in China, such as Beijing, Shanghai, Guangzhou and Shenzhen.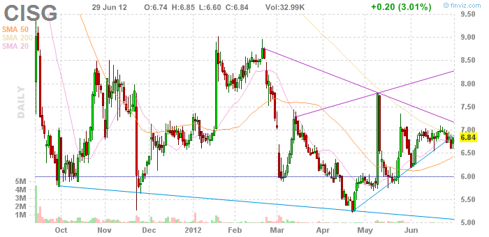 As of March 31, 2012, the company had $372.9 million in cash and cash equivalents and no debt. With 50 million ADS outstanding this creates net cash of $7.44 per share. The company's non-GAAP fully diluted net income per ADS was $0.19 for the first quarter of 2012. CNinsure expects its total net revenues to decrease by less than 8% for the second quarter of 2012 compared to the corresponding period of 2011.
Conclusion
Here is a table on all six companies that I have covered in this series. I believe more than one of these companies will trade at their respective net cash per share level during the next 12 months.
| | | |
| --- | --- | --- |
| Company | Share price on June 29 | Net cash per share |
| NED | $1.34 | $2.22 |
| CISG | $6.84 | $7.44 |
| SPU | $1.60 | $2.55 |
| CNTF | $1.16 | $4.70 |
| LTON | $1.47 | $2.52 |
| JRJC | $1.37 | $3.31 |