I have been following Basic Energy (NYSE:BAS) for several months now. My first purchase of Basic was back in mid-may at $10.93, and recently bought $10.00 August calls Tuesday, June 26 of last week. The purchase of these calls spurred me to research further and subsequently submit my first SA article.
Over the past 6 months BAS has had a brutal decline with a high of $22.50 in January of 2012 to an intraday low of $8.52 on Tuesday June 26th of this week. However, since that dip shares have surged $1.80 or 21.1% to close Friday at $10.32. The question is, will BAS continue this uptrend, or will it fall back into the trend it has been following for the past six months?
Click to enlarge.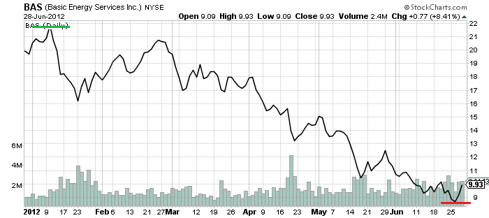 Let's take a look at the a comparison of the competitors listed by Yahoo Finance.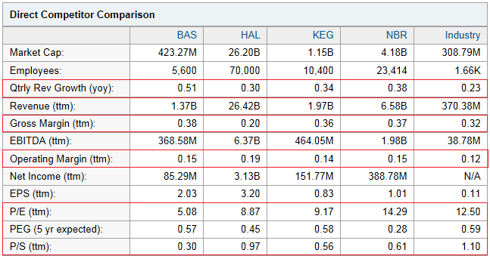 In looking at any of the comparable statistics (highlighted in red) between competitors, (NYSE:HAL)(NYSE:KEG)(NYSE:NBR), and the industry, Basic either outperforms or is on par with each of them. Basic outperforms in Qtly Rev Growth, Gross Margin, P/E ratio, and P/S ratio. Basic is on par with Operating Margin and PEG.
The most important of these ratios are probably P/E and P/S. We all know that a low P/E and P/S ratio can indicate an undervalued company. For both of these the lower the ratio the better. BAS trades at 5.08 times earnings and .30 times sales whereas the average for its competitors are 10.78 times earnings and .71 times sales. That's roughly 50% the P/E ratio of its competitors and only 40% the P/S ratio!!
This would all be fine and dandy if BAS was a mature company that has been trading at these ratios for a while, but this is not the case. If you look at the chart below, Basic has gotten hammered the most out of these 4 stocks in the past 6 months.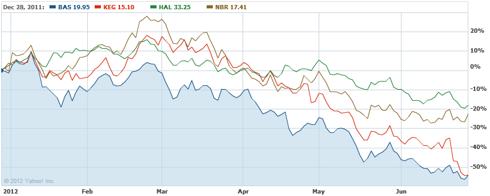 Clearly the market has been performing poorly over this same time period, and Oil & Gas (Basic's industry) has also done very poorly. My point is that Basic has fared much worse than its competitors and the industry as a whole.
I believe the market is realizing that Basic is mispriced, which is why it rallied on Wednesday and Thursday - and Friday, with the help of the European Central Bank.
I think BAS is poised to begin to recoup the value lost over the past 6 months. Over these months, multiple insiders with BAS have been snatching up shares. Steven Webster (director) has bought 353,200 shares since April 23, 2012, Thomas Moore Jr. (director) bought 32,000 shares since December 15, 2011 and Robert Rullarton Fulton (director) bought 10,000 shares on May 17, 2012. This, in combination with the fact that Basic Energy reauthorized a share buyback program up to approximately $35.2 million common shares, shows an obvious confidence within the company. This has all occurred even as the stock continued to drop towards $8.52.
With a 21.1% gain in the past 3 days, BAS crossed it's 25 moving day average on Friday. I am looking for BAS to touch the $11 level this week. Basic tends to continue a trend once it touches either the upper or lower Bollinger band, as indicated by the large red lines. The upper Bollinger band is around $11 currently.
Summary
The recent price movement in combination with the facts that BAS is undervalued compared to its competitors in many metrics and insiders and management currently are or plan to continue to buy up significant amounts of shares in the open market makes me think that BAS has finally bottomed, and we will finally see the trend head back in direction the shareholders (and insiders) want. If you are currently long, I would hold. If you are currently short, I would sell to cover. If you have not entered into a position, I would wait to see if BAS touches the $11 price before entering.
Disclosure: I am long BAS.