With surging global demand and supply disruptions as a backdrop, everyone is predicting sharply higher coking coal prices for fiscal 2008. A report out of Australia last week suggested prices will more than double to $225 a ton, creating a huge windfall for coal producers.
As a result, Canaccord Adams analyst Gary Lampard is raising his estimates on three Canadian coking coal companies: Fording Canadian Coal Trust (FDG), Grande Cache Coal Corp. [GCE/TSX] and Western Canadian Coal Corp. [WTN/TSX].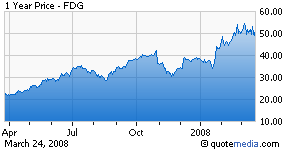 Mr. Lampard lifted Fording to "buy" from "hold," and pushed his target all the way to C$67 a share from C$45. He also maintained "buy" ratings on Grande Cache and Western Canadian but made sharp increases to his price targets - C$5.50 a share on Grande Cache (up from C$3.60) and C$5.00 on Western Canadian (up from C$2.90). Shares of all three companies rose sharply Monday morning.
But Mr. Lampard also warned that prices are far from certain at this point.
In a note to clients he wrote:
Coal price negotiations for 2008 between large producers and Asian steelmakers are still underway. Market expectations are already extremely high, and the range of potential outcomes remains remarkably wide.