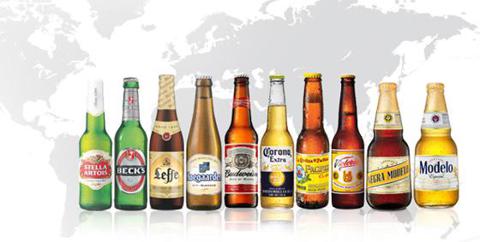 In my March article "Anheuser-Busch Inbev: Strong Results and A Great Buy" I already was quite positive about the company. Back in March the stock was trading around $68. Right now the stock is trading around $80. Time to wait?
Anheuser-Busch InBev SA (NYSE:BUD) agreed last Friday to buy the half of Corona maker Grupo Modelo it doesn't already own for $20.1 billion in cash. In a statement, InBev said it has agreed with Modelo's management to pay $9.15 per share for the company.
The deal would join brands such as Corona, Modelo and Pacifico with InBev's Budweiser, Beck's and Stella Artois (see picture). The combined company would have annual sales of $47 billion, and employ more than 150,000 workers in 24 countries.
In a separate deal, ABI agreed to sell Modelo's 50% holding in the Crown Imports JV for $1.85 billion to Constellation Brands, its joint venture partner. As a result, Modelo's beer brands will continue to be imported into the US market by Crown Imports under the same economic terms it receives today. ABI has a market share of about 47% in the US, and Modelo (through the Crown Imports) has about 5%. The combined business would have a share north of 50% and thus could trigger anti-trust problems. By selling its stake in Crown Imports, ABI can avoid anti-trust issues in the US.
The companies said the agreement was a "natural step," in light of ABI's current stake in Modelo:
Grupo Modelo has been one of our most important partners for more than 20 years and we are very pleased to evolve our long and successful relationship into this combination," said InBev CEO Carlos Brito. "There is tremendous opportunity from combining two leading brand portfolios and further expanding Grupo Modelo's brands worldwide through AB InBev's extensive global distribution network.
Analysts said Inbev appears to have paid highly for Modelo, but the deal makes strategic sense.
ABI has a regionally well-balanced portfolio with emerging markets and developed markets each accounting for about 50% of sales. InBev's strong track record in cost savings and Anheuser-Busch's excellent experience in brand building promise high cost synergies and bright long-term prospects. ABI has dominant positions in key markets (70% in Brazil, 50% in the US, 80% in Argentina, 55% in Belgium and 36% in Ukraine).
The transaction's EV/EBITDA multiple is 12.9x (after synergies of $ 600 million per annual) is a bit rich. The company said to have added $14 billion of new bank loans to fund the all-cash deal. Net debt/EBITDA ratio will be reduced to 2.0x during 2014 (compared to 2.3x at the end of 2011 and its previous target of 2.0x at the end of 2012).
However, Modelo's promising business (the No. 1 in the steadily growing Mexican beer market with a 57% share) and the favourable outlook for crown jewel "Corona" to become a global brand justify the rich price. Following this deal, hopes for rising cash returns to shareholders have diminished, and the much-speculated takeover of SABMiller by ABI is put off into a distant future.
ABI's strong brand portfolio, a balanced regional spread, and realized high synergies helped the company deliver strong results in past years. EBITDA margin is approaching 40%, the highest among global peers.
Final Note
In the long term, the deal should be positive for ABI, because it will greatly increase the size and dominance of the world's largest brewer. The deal will likely lead to higher margins for Modelo, and ABI could move rapidly to introduce more of its brands into the Mexican market. But in the near term, the relatively rich price paid and the expected EPS neutral effect in year one could put some pressure on the stock. In addition, the diminishing hope for higher cash returns would also be a negative for investors. The recent price increase could bring some short sellers to the stock.
Disclosure: I have no positions in any stocks mentioned, and no plans to initiate any positions within the next 72 hours.
Additional disclosure: The name ABI stands for Anheuser-Busch Inbev. Sometimes Inbev is used. All the names refer to Anheuser-Busch Inbev.