I'm always on the hunt for another Apple (NASDAQ:AAPL), a company that dominates its markets and delivers accelerated revenue and earnings growth. Granted, that's a tall order. Recently, I analyzed Monster Beverage (NASDAQ:MNST). While Monster has Apple-like sales growth, its profits don't meet the "Apple test."
Next up: Intuitive Surgical (NASDAQ:ISRG), the maker of the DaVinci system for robotic surgery. Investors have seen their holdings rise 300% over the last 5 years. The stock has skyrocketed for good reason: Its product revolutionizes how prostatectomies are performed and has received widespread market adoption.
Yet, this stock looks ripe for a fall. Intuitive Surgical is expensive with a PE of 42 and Price/Sales ratio of 12. The company needs powerful future sales to please growth-oriented investors.
I see four reasons Intuitive Surgical won't deliver.
1. Slowing growth in unit sales of its DaVinci systems indicates that the days of high octane growth are over. Could it be that hospital demand has been sated?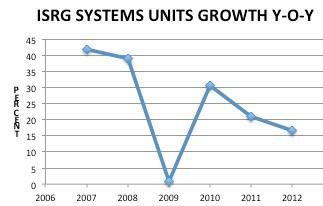 (2012 is Q1 only for graphs.)
2. Operating margins appear to be peaking. The margins are hitting a wall. Don't look for stellar earnings in future quarters.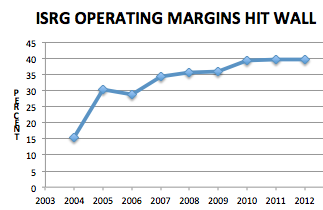 3. Intuitive Surgical monitors the number of actual surgical procedures performed using its products. That procedure growth has been decelerating year over year.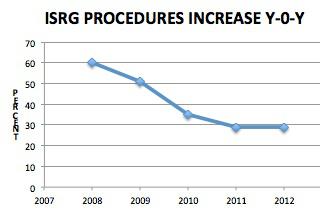 4. The U.S. Preventive Services Task Force argued against routine PSA screening because treatment did not decrease mortality in patients with prostate cancer found through screening. Fewer PSA tests would result in fewer diagnosed cases and hence, less prostate surgery.
Intuitive Surgical has been increasing sales. However, it does not meet Apple standards. Its growth is decelerating. It's too expensive at its current price.
Disclosure: I am long AAPL.
Disclaimer: The opinions in this document are for informational and educational purposes only and should not be construed as a recommendation to buy or sell the stocks mentioned. Past performance of the companies discussed may not continue and the companies may not achieve the earnings growth as predicted. The information in this document is believed to be accurate, but under no circumstances should a person act upon the information contained within. We do not recommend that anyone act upon any investment information without first consulting an investment advisor as to the suitability of such investments for his specific situation.