WD-40 Company (NASDAQ:WDFC) engages in the production and sale of consumer products. The company offers a multi-purpose maintenance product under the brand name of WD-40, which acts as a lubricant, rust preventative, penetrant, cleaner, and moisture displacer; multi-purpose drip oil and spray lubricant products, and other specialty maintenance products under the 3-IN-ONE brand name that are used in locksmithing, HVAC, marine, farming, construction, and jewelry manufacturing applications; and a line of industrial grade, specialty maintenance products that include lubricants, penetrants, degreasers, and cleaners under the brand name of Blue Works, which are designed for the needs of industrial users.
It is scheduled to report its Q3 2012 results on July 9, 2012, after the bell.
Technical Overview
The stock has a market capitalization of $792.98M and is currently trading at $49.81 with a 52 week range of $35.37 - $50.00. The stock performance year to date: 24.96%. It is currently trading above 20, 50 and 200 SMA.
Key Metrics
Trailing P/E: 23.17
Forward P/E: 19.53
Price/Sales: 2.28
Price/Book: 4.24
PEG Ratio: 2.32
Total Debt: 40.00M
Annual dividend yield: 2.30%
Return on Equity: 17.86%
Return on Assets: 11.02%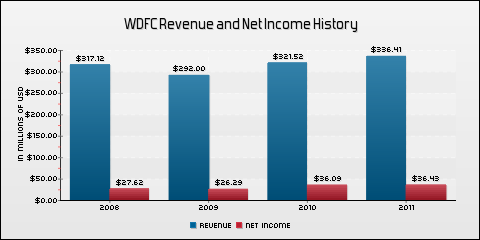 Recent EPS Actuals vs. Estimates
The company has met or beaten analysts' estimates in the last quarters. In the last quarter it reported $0.65 EPS, beating analyst estimates of $0.54.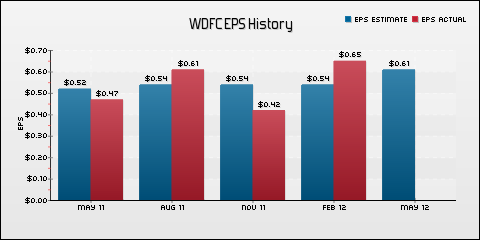 The consensus EPS is $0.61 based on 4 analysts' estimates, up from $0.47 a year ago. Revenue estimates are $91.84M, up from $85.54M a year ago. The median target price by analysts for the stock is $43.00.
Average recommendation: Hold
Source: Marketwatch
Latest Developments
Competitors
WD-40 Company operates in Specialty Chemicals industry. The company could be compared to Church & Dwight Co. Inc. (NYSE:CHD), The Clorox Company (NYSE:CLX), and Quaker Chemical Corporation (NYSE:KWR). Below is the table comparison of the most important ratios between these companies and the industry.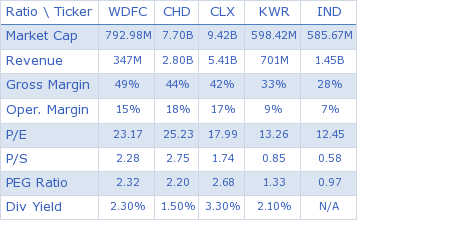 Below is the chart comparison with the stock price changes as a percentage for the selected companies and S&P 500 index for the last one year period.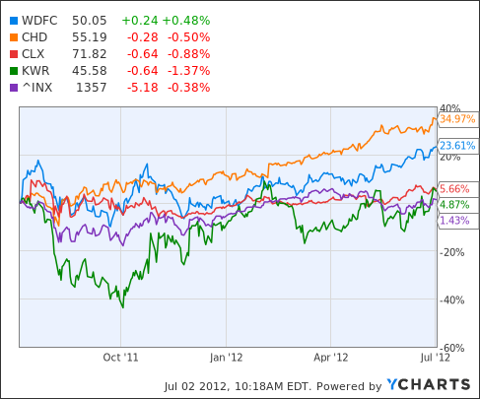 Competitors' Latest Development
Sources: Yahoo Finance, Google Finance, Marketwatch, Finviz, Reuters.
Disclosure: I have no positions in any stocks mentioned, and no plans to initiate any positions within the next 72 hours.