Buying an ETF like the SPDR S&P 500 (NYSEARCA:SPY) to approximate the total return of the S&P 500 exposes one to dividend taxation (on SPY, that's now a dividend under 2%), management fees, and transactions costs that can prevent the index' performance from being met: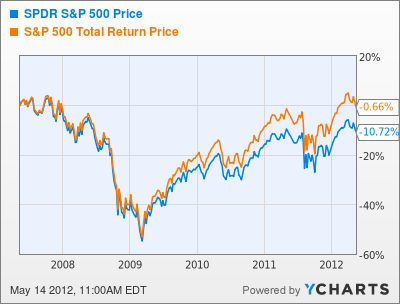 To pay a management fee to someone to buy the contents of the S&P 500, without exercising any independent investment judgment, is particularly concerning when it's certain that their results will, at the end of the day, lag the S&P 500. Shouldn't we hope that managed funds will beat the S&P 500? And there are solid options. The performance of Berkshire Hathaway (NYSE:BRK.B) in growing book value per share reliably beats the S&P 500's total return without your having to lift a finger trading, incurring repeated transactions fees, or paying periodic taxes. Consider 2010,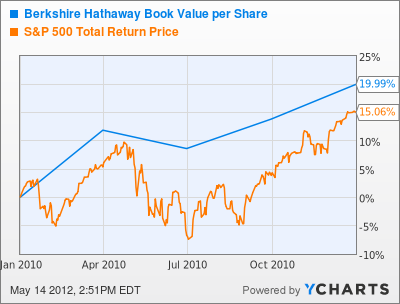 then 2011: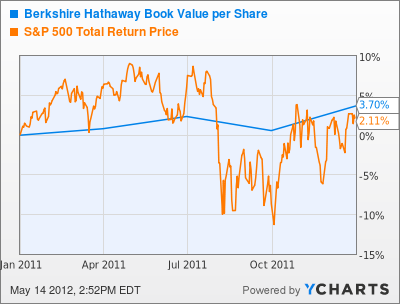 These excess returns add up over time. And they are reliable. From Berkshire's 2011 Annual Report, we learn that since current management took control of Berkshire in 1965, the company has failed to beat the S&P 500 (with dividends) fewer than ten times. Berkshire's historic outpacing of the S&P has an enormous impact after a few years of compounding.
Still, suppose you are a bit more aggressive. Suppose Insurance and machine tools and confections aren't exciting enough for you. Just pulling ahead of the S&P 500's total return over time might not be good enough to meet your objectives, particularly if you're trying to catch up on particularly horrific crash-era losses. What's a busy person - unable to stop working to manage a portfolio - to do with funds expected to support a distant retirement?
Diversity
As illustrated by the above example of Berkshire, it's not necessary to hold stocks across the entire range of existing businesses to have returns that reflect the behavior of the broad market. Berkshire holds shares in fourteen (14) publicly-traded non-control/non-affiliate companies in amounts large enough to mention in its annual report. More importantly to Berkshire are its controlled investments: Berkshire's various lines of insurers and its more than fifty non-insurance businesses. Yet, some investments have much greater internal diversity than Berkshire. American Capital Ltd. (NASDAQ:ACAS), for example, has investments in a diverse array of firms comprising several dozen non-control/non-affiliate investments, holdings of the company's managed fund American Capital Mortgage Investment (NASDAQ:MTGE), and investments in scores and scores of non-public control investments. American Capital provides the following chart of holdings by industry as of the end of 1Q2012: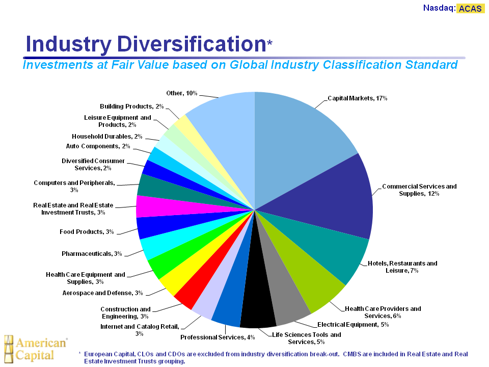 American Capital's above holdings exclude its holdings in European Capital, whose outstanding and S&P-beating returns provide investors a sort of double-whammy or return. Overall, American Capital's management grows net assets per share better than the S&P including dividends. In 2011, American Capital grew net asset value per share ("NAV") more than 17% (excluding the even-greater GAAP returns that include the effect of a tax asset) while the S&P sat essentially flat for the year. YCharts, which doesn't adjust for the tax asset and shows the reported GAAP results, provides this comparison for 2011: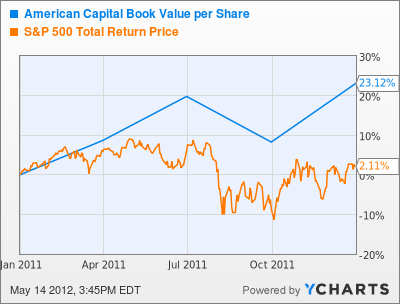 During 2010, the return of which was not confounded by the impact of a tax asset's recognition, shows another victory for American Capital: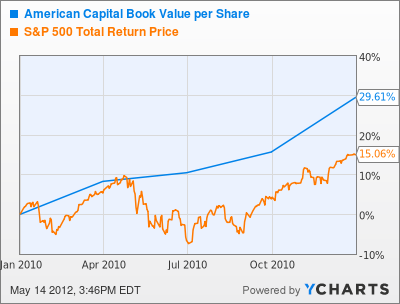 Prior to 2010, American Capital was engaged in a de-leveraging effort to control a balance sheet sent awry by the combined effect of FAS 157 and the leverage with which American Capital entered the financial crisis. Since 2008, American Capital's price has offered shareholders better performance than the S&P, but the dramatic reduction in the company's leverage since the beginning of that period make net asset comparisons difficult. (Shaded areas mark recessions.)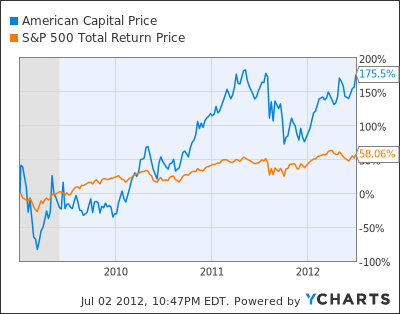 Is American Capital Played Out?
The fact that shares doubled from the beginning of 2009 to the end of 2011 raises the question whether American Capital has been "discovered" and its thesis has been played out. Although American Capital has been paying down debt even faster than it has been repurchasing shares, the strengthening of per-share metrics hasn't brought shares' price in line with its management's performance. Over the last quarter, for example, NAV was increased 13% to $15.71, while the price remains around $10. Since management continues to deliver outstanding returns as measured by NAV, the relative nonperformance in the share price creates increasing attraction to the shares. (Such attraction that, last quarter, management extended the share buyback program.) Although shares frequently traded at a premium to NAV when the company paid a dividend, shares have since 2008 traded at a persistent discount to NAV: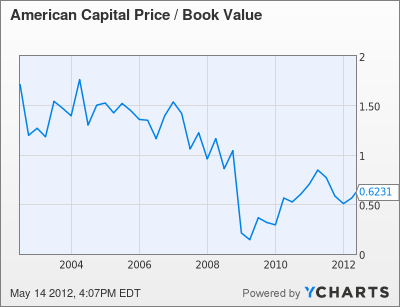 The current NAV discount will likely continue so long as American Capital issues no dividend. Under the current dividend policy, however, American Capital will issue no dividend while its share price remains below NAV, as it will be repurchasing shares instead. This is the perfect storm of long-term value creation as described by Warren Buffett in his last letter to Berkshire shareholders: when you own shares in a company that will be buying its own shares off the market, you want the price to languish for years so that it retires as many shares as possible for the money. This way, your investment's share of the growing and improving firm will grow the most from the limited funds available for share buybacks. And American Capital's share buybacks aren't supported only by an etherial notion that the shares are undervalued; at prices below book, the share repurchases actually raise NAV per share.
The Long Term
In Berkshire Hathaway's 2011 Annual Report, Warren Buffet's letter to shareholders argues that following Berkshire's purchase of International Business Machines (NYSE:IBM), he hopes IBM's shares languish for years. Why? IBM's share buyback program will make Berkshire's purchase a bigger slice of an excellent company if it is able to buy more shares at each repurchase. With this in mind, truly long-term investors should hope that American Capital Ltd. avoids issuing a dividend as long as it is possible without causing tax inefficiency.
Contrary to the math-free proclamations of some commentators that American Capital's buybacks are doomed to destroy shareholder value because (for example) buybacks turned out to be a bad bet for banks heading into the crash, the rational case for American Capital's buybacks is supported by math. First, NAV well north of share price means that at-market repurchases are accretive to NAV. This was never the case with banks headed into the crash. Second, American Capital's recovery from the crash continues -- and the more of that recovering portfolio that stands behind each share, the more each share's intrinsic value will improve during the ongoing recovery regardless what the market does to near-term prices.
American Capital's share buybacks retired 9.1 million shares in 2Q2012 - 2.8% of the company's outstanding shares at the end of the prior quarter. In the first quarter of 2012, the Company retired 5.5 million shares (1.7% of shares outstanding at the end of the prior quarter). In the last quarter of 2011, management retired 2.5% of the company's shares with the purchase of 8.4 million shares. In the current dividend policy's inaugural quarter, management retired 9.1 million shares. This level of share buyback is significant. Moreover, its effect is amplified as the underlying company's value has been growing: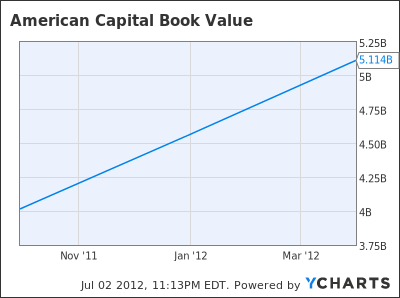 Note that the above chart isn't the book value per share, it's the FAS-157-compliant fair value of the entire assets (less the debts) of the firm as a whole. While the company's value is growing, the share count is dropping a few percent per quarter. The result is that NAV per share grows faster than the NAV of the firm: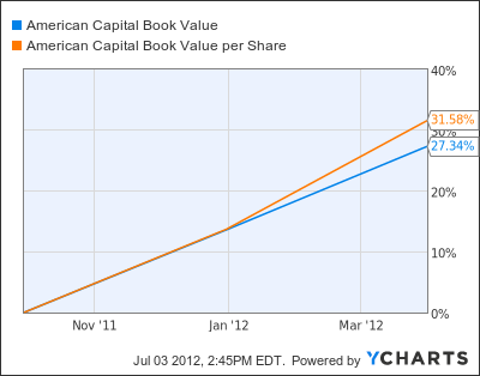 The longer American Capital's shares remain undervalued, the more this will work for continuing shareholders than would a dividend: it involves no taxation to the firm or the investor. Investors desiring near-term dividend might prefer for another year or two to invest in one of American Capital's publicly-traded managed funds, American Capital Agency Corp. (NASDAQ:AGNC) or American Capital Mortgage Investment Corp. . Management fees from both are concentrating in my shares of American Capital with every buyback.
Conclusion
American Capital offers investors exposure to a diverse equity portfolio, the post-crash performance of which has outpaced the S&P Total Return (comparing to SPY price would neglect dividends). The company's free cash flow has not only allowed it to dramatically eliminate debt while initiating new investments, but supports an aggressive buyback program that has delivered shareholder value by retiring shares below NAV, so per-share assets actually increase with each repurchase. At its current share price, American Capital's portfolio is effectively discounted by a third; for an investment of about $10, shareholders enjoy management's return on over $15 in value.
Like Berkshire Hathaway, American Capital is arguably a one-ticker portfolio diversification scheme. Because it is available at a dramatic discount, it's a worthwhile addition to a portfolio of equity securities.
Investors should be aware that American Capital has historically been a business development company ("BDC") required by its status as a registered investment company ("RIC") to pay at least 90% of its taxable income in annual dividends. American Capital faces the eventual prospect of exhausting the tax assets that enable it to avoid corporate-level taxation, and resuming its former tax status to pay a dividend when it no longer has a below-NAV share price to induce share buybacks. Shareholders planning ahead may wish to consider this risk when selecting accounts in which to accumulate shares.