Luckily for its stock, athletics apparel company Under Armour, Inc. (NYSE:UA) doesn't have a lot of exposure to Europe, as several companies with exposure to Europe haven't been fairing too well lately, as evidenced by the performance of Fossil, Inc. (NASDAQ:FOSL) covered in this article and this article.
Of Under Armour's $384 million revenue reported in its most recent quarter, only $22 million or about 6% is attributed to countries outside of North America. (Under Armor Form 10-Q for quarter ending March 31, 2012) Even though Under Armour is doing business in 61 countries, the company's principle revenue is generated in North America.
Even so, Under Armour's stock price has stumbled of late, as seen below: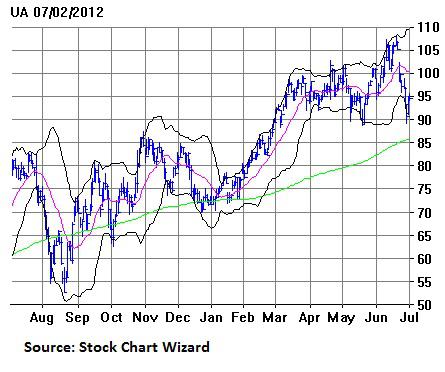 At least a partial reason for the drop in stock price may be attributed to a downgrade by UBS analysts Michael Binetti and Steven Strycula, as the analysts believe a slowdown in sales is in order for the company.
While the big dog of the industry, Nike (NYSE:NKE), has 16 times the revenue of Under Armour, Under Armour has nevertheless managed to grow its revenue at a nice clip and appears to be making good on its mission of making all athletes better through passion, design and the relentless pursuit of innovation.
In Under Armour's Q1 earnings call held on April 20, 2012, the company noted that all three product engines, apparel, footwear and accessories, grew by more than 20%, with total revenue reported of $384 million, representing growth of 23%.
The company's strategy of innovation, addition of value and operation improvement appears to be working well. The company indicated its coldblack® product, which provides wearers comfort on hot and sunny days by blocking the sun's UV rays and reflecting infrared heat, is performing well. Under Armour noted it is now the official performance footwear supplier for Major League Baseball.
The company's direct-to-consumer business is performing well, with sales growing at a 49% clip - which represents 25% of net revenues. The company currently has 84 factory outlets and expects to have 95 to 100 by the end of the year. Under Armour is performing a stock split on or about July 9, 2012. On a slightly negative note, the company's gross margins contracted by 80 basis points to 45.6%, primarily as a result of higher input costs.
A protected covered call or collar search performed using PowerOptions tools, seeking to find the highest returning position for companies with a maximum potential loss of 8% and a stock price in an uptrend, produced Under Armour as shown below:
Click to enlarge

Following behind Under Armour are weight management company Weight Watchers (NYSE:WTW), apparel company lululemon athletica (NASDAQ:LULU) discussed here and beverage company Monster Beverage (NASDAQ:MNST).
A protected covered call may be entered by selling a call option against a purchased or existing stock and using some of the proceeds from selling the call option to purchase a protective put option.
The Under Armour protected covered call has a potential return of 3.7% (29% annualized) and a maximum potential loss of 7.8%, so even if the price of the stock drops all the way to zero, the maximum loss which can be sustained is 7.8%.
The highest returning positions as shown above were found by selecting to search and sort by the highest returning positions. Stock prices for companies in an up trend were found by selecting to include companies with a 100-day moving average greater than the 200-day moving average. The 8% maximum loss parameter was selected, as a loss of 8% or less can typically be recovered fairly quickly using income generating investment methods.
With Under Armour's next earnings release on the horizon, an investor might consider entering the protected covered call listed above, as the protected covered call positions for a potential return, yet protects from a large drop in stock price. The protected covered call may be entered by selling the 2012 Aug 90 call option at $6.70 and purchasing the 2012 Aug 80 put option for $1.85. A profit/loss graph for one contract of the protected covered call is shown below: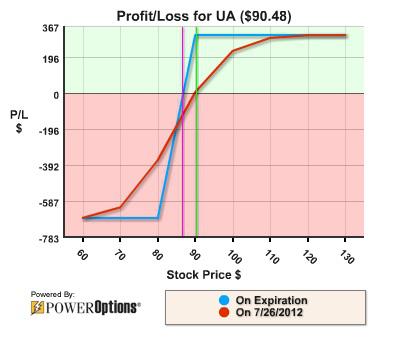 For a stock price below the $80 strike price of the put option, the value of the protected covered call remains unchanged. If the price of the stock increases to around $100, the position can most likely be rolled in order to realize additional potential return.
Disclosure: I have no positions in any stocks mentioned, and no plans to initiate any positions within the next 72 hours.