Euro Cavalry to the Rescue!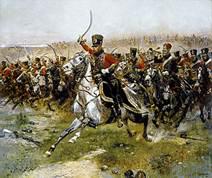 The European Commission bails out the banks...
After much speculation, the stock market cheered as the 19th European Summit on the crisis in the Euro zone finally allowed bailout funds to be directed towards private banks and financial institutions. Why? Not because anyone believes that there is a solution in sight. No, they love the sound of those presses printing currency at their fullest capacity. Clearly, the world's stock and commodities markets remain addicted to continued stimulus.
The reality...
Any agreement to funnel more money to troubled European banks will continue to fuel a speculative fire in our land of bubbles. The agreement, which is broad in scope and light on details, outlines how the new European Stability Fund (ESM) can send money directly to banks under specific conditions, as countries have to allow their financial institutions to be overseen by a new regulatory body still in the theory stage. How much of this unrelenting removal of control of their nation's currency and erosion of national sovereignty will the people accept? A lot right now, but I suspect a backlash down the road. It will be nonsensically interesting when Spanish, Italian or soon to be French banks stumble under this new Utopian structure. Will investors accept a resolution to be wiped out by a German-run European banking regulator? Ya right! You know the answer. Enjoy the euphoria while it lasts, it could be short-lived.
The developed world is plagued by slower consumer spending not only from excessive debt but by an aging population which is comprehensively explained in my book "Facing Goliath: How to Triumph in the Dangerous Market Ahead". Absent a full blown QE3, the market has seen its highs, so investors must be cautious. Go for dividends here and have a short leash on growth stocks. We're likely to get a good bounce once the election is behind us, but don't count on a new bull market.
Investor Strategy
The lack of a significant new QE program implies that the summer is going to be ugly for growth stocks and especially commodities. Europe will likely explode again so traders can buy (NYSEARCA:EUO), (NYSEARCA:UUP), (NYSEARCA:EPV), (NYSEARCA:SH) and (BGZ) to play the downside of the market and Europe. More aggressive traders can short the actual commodity and metal stocks such as Goldcorp. (NYSE:GG), Barrick Gold Corp (NYSE:ABX), SPDR Gold Shares (NYSEARCA:GLD), Power Shares Double Gold (NYSEARCA:DGP), Market Vectors Gold Miners ETF (NYSEARCA:GDX), Newmont Mining Corp. (NYSE:NEM), Freeport-McMoRan Copper & Gold Inc. (NYSE:FCX), PowerShares DB Gold Double Long (NYSE:ETN) for the not so faint of heart, plus Silver Wheaton Corp. (NYSE:SLW) and ProShares Ultra Silver (NYSEARCA:AGQ) and Fortuna Silver Mines (NYSE:FSM). If you are an active trader who likes to move quickly, the best way to play it is to be in and out of growth issues such as the S&P 500 (NYSEARCA:SPY), SPDR Select Sector Fund - Financial (NYSEARCA:XLF), iShares MSCI Emerging Index Fund (NYSEARCA:EEM), Emerging Markets Consumer ETF (NYSEARCA:ECON), Brazil (NYSEARCA:EWZ), PowerShares QQQ Trust, Series 1 ("QQQ"), iShares Russell 2000 (NYSEARCA:IWM) and iShares FTSE China 25 Index Fund (NYSEARCA:FXI).
You will need to be a little more careful (but can get wider swings) with individual issues such of Apple (NASDAQ:AAPL), like Google (NASDAQ:GOOG), Intel Corporation (NASDAQ:INTC), Qualcomm (NASDAQ:QCOM), Microsoft (NASDAQ:MSFT), Cisco Systems (NASDAQ:CSCO), Dell (NASDAQ:DELL), Caterpillar (NYSE:CAT), General Electric (NYSE:GE) and Yahoo (NASDAQ:YHOO), Red Hat Inc. (NYSE:RHT), Schlumberger (NYSE:SLB) and VMware Inc. (NYSE:VMW).
Disclosure: I have no positions in any stocks mentioned, and no plans to initiate any positions within the next 72 hours.