On Monday, July 2, Sanko Steamship Company, a Japanese shipping operator with 185 ships that filed for bankruptcy in Japan, asked a U.S. bankruptcy court to protect its U.S. assets via a Chapter 15 petition. The private shipper was granted permission to keep operating by the Japanese court while a trustee oversees its reorganization. Sanko has a fleet of 185 vessels that includes 27 bulk carriers and 46 tankers composed of multiple size classifications.
Sanko, like many other shippers, has suffered for several years from issues including overcapacity, reduced shipping rates and high levels of debt. Many shippers expanded their fleets prior to the global financial crisis, ordering ships between 2002 and 2007, many of which were not even delivered to the shippers until after the anticipated demand for them had already vanished. Though shipping volumes have since somewhat stabilized, the future is not clear and the industry must now deal continued global economic cooling concerns, including slowing Asian growth and European sovereign issues.
In 2011, some shippers fell by as much as 80 percent in anticipation of pending bankruptcies. The majority bottomed out along with the broader market at the end of the third quarter of 2011. Several subsequently appreciated considerably in late 2011, and many gained more than 50 percent within the first quarter of 2012. Since then, most have returned to their declining ways, and several leveraged, high beta shippers are now lower than they were when the market reached its lows in March of 2009.
See the 5-year chart, below, for six publicly traded, high beta, low price shippers: DryShips (NASDAQ:DRYS), Eagle Bulk Shipping (NASDAQ:EGLE), Excel Maritime Carriers (NYSE:EXM), Genco Shipping (NYSE:GNK), Navios Maritime Holdings (NYSE:NM) and Overseas Shipholding (NYSE:OSG):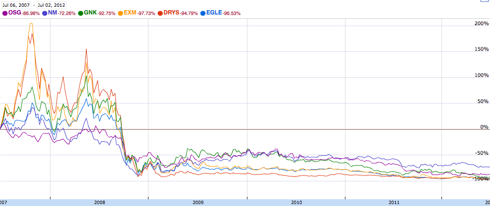 In the past quarter, all of these shippers have continued to decline, indicating investors continue to anticipate more bad news could be coming for these shippers, either in the form of further reductions in demand or more coming bankruptcies. Despite many increasing by over ten percent in the last five days, most are still down significantly through Q2 of 2012. See the 3-month comparison chart, below: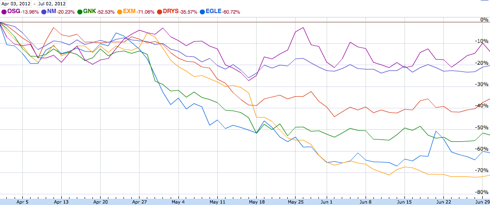 The worst performing listed shipper over the last three months was EXM, which has declined by as much as 71 percent, followed by EGLE, which has declined by over 60 percent through the same term. Overcapacity and debt issues put the fear of looming bankruptcies into the shipping industry, which remains highly fragmented. Overcapacity could keep margins low for a while, with market participants forced to lower their prices to match the lowest priced competition.
This industry has been in dire need of the elimination of some competitors, but this Sanko bankruptcy may not be enough to stop the recent and hemorrhaging, especially given that the shipper was granted permission to keep operating. Chances are that additional bankruptcies are forthcoming.
Disclosure: I have no positions in any stocks mentioned, and no plans to initiate any positions within the next 72 hours.