Alexander & Baldwin, Inc. (NYSE:ALEX) has spun off its shipping business effective July 2, 2012. The shipping business, Matson Navigation Company, now trades under the ticker (Matson, Inc.: MATX).
Matson: Activities and the Jones Act
The easiest way to understand Matson is by looking at shipping routes (below). Matson is a Hawaiian business with over a century of history and serves the Hawaiian islands and Guam, linking them with both the U.S. west coast and China.
The Jones Act requires that ships operating between U.S. ports have U.S. ownership, management, crew, ships and are even repaired with U.S. steel. This creates relatively protected markets for operators, such as Matson, enabling them to charge a significant (2x-3x) premium over routes between countries that aren't subject to the Jones Act.
To underline its strong market position, Matson was able to raise prices earlier this year. Of course, other countries have legislation similar to the Jones Act to protect their shipping industries, so this is not just a U.S. phenomenon. Incidentally, the Jones Act also limits foreign ownership of Matson, and would effectively prevent a non-U.S. takeover of the company.
In addition to shipping, Matson also has a relatively small land-based warehousing and logistics business, representing 5%-10% of operating profit.
Matson's shipping routes
Click to enlarge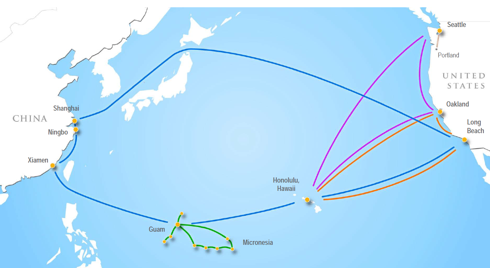 Source: Matson
Matson's Hawaiian shipping volumes
Matson's Hawaiian volumes have increased in recent quarters, but are still 15% below pre-recession levels. Hawaii is generally ahead of the U.S. average on most economic indicators, such as economic growth and employment.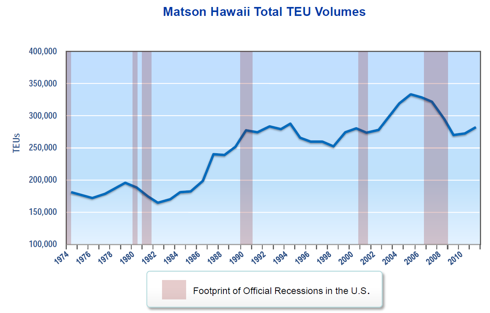 Source: Matson
Financial Ratios (based on $27.8 share price)
Matson is reasonably attractive on most financial ratios except price to book, and earnings are reasonably representative of cashflow.
| | | |
| --- | --- | --- |
| Metric | Value | Notes |
| Dividend yield | 2.2% | Annualizing the $0.15/share quarterly dividend announced on July 2, 2012 |
| EV/EBITDA | 10.0x | Author's calculation - FY 2011 |
| Price/Book | 4.9x | Author's calculations - Q4 2011 |
| Price/FCF | 14.3x | Author's calculation - FY 2011 |
| P/E 2011 | 14.8x | Author's calculation - FY 2011 (inc. CLX2 losses) |
| P/E 2012e | 12.9x | Author's estimate [+$7M CLX2 losses ending, -$11M separation costs and +$16M Guam volumes vs. 2011) |
This analysis draws heavily on Matson's sell side analyst day from April 2012. Pricing is based on $27.8 share price and 42.2M shares outstanding and $357.6M of debt on the balance sheet.
Positives
Earnings will likely increase this year, despite separation costs, assuming Guam volumes remain strong, Hawaii trends slowly upward (despite a hiccup in Q1 2012) and the U.S.-China shipping market gets no worse.
A competitor's exit from the Guam route has significantly increased Matson's volumes from the latter half of Q4 2011 into Q1 2012. This is unlikely to continue indefinitely, but may persist for a few more quarters.
Oil costs are declining and though Matson can pass on oil costs to customers through a surcharge, a decline may help volume.
Management has exited an unprofitable China route - which will help earnings this year.
Risks
Repeal or substantial modification of the Jones Act would effectively destroy Matson's competitive advantage, but the Act has been in place for almost a century.
Management perhaps do not inspire confidence with some of its past capital allocation decisions, such as the decision to pursue the very competitive U.S.-China shipping market.
Matson is very sensitive to the economic environment in Hawaii and to a lesser extent Guam.
Matson is generally able to pass on fuel price increases, but with a lag, rising oil prices would hurt the stock.
As a spin-off, Matson may suffer from investors dumping the stock in the coming weeks as they liquidate the stock they were given to focus on the real investment that they bought in the first place.
Conclusion
Matson is an interesting opportunity, protected by a unique piece of legislation (the Jones Act) which ensures a favorable competitive environment and potential for steady growth going forward.
Falling fuel costs and a slowly improving Hawaiian market should also help the stock over the next 18 months. Matson's prospects appear at least as good as the S&P 500, which currently has a 15.6x P/E multiple - the potential multiple expansion for Matson to the level of the broader market, together with approximately 15% earnings growth this year on the back of Guam volumes and reduced China losses, could translate into 20% upside.
Unfortunately, the Jones Act that gives Matson its favorable market position also makes M&A less likely, and Matson would obviously be exposed to any decline in economic activity or Hawaii-specific problems, but overall Matson appears a sound and relatively conservative investment backed by a 2.2% yield.
Disclosure: I have no positions in any stocks mentioned, and no plans to initiate any positions within the next 72 hours.