We find ourselves amused that the name of the BlackBerry vendor is Research in Motion (RIMM). Based on its performance since last year, we believe that the parent company's name is false advertising, or at least if you have been long RIM's stock during that time. We believe that "Research in Immobility", or "Research in Regression" or "Research Immobilized" would be more apropos, considering RIM's rapidly revenue declines and swing from profitability to loss.
Research in Motion's troubled went from bad to worse, as the company reported a Q1 FY2013 adjusted loss of $.37 per share ($192M). Its GAAP loss was $518M, or $.99 per share. The company also wrote-down $326M after tax due to impairments on goodwill. There is good news though, RIM no longer has any goodwill on its balance sheet that it needs to write-down. The company has resorted to downsizing in the hopes that it can save $1B in annual expenses. RIM's CORE (Cost Optimization and Resource Efficiency) program is expected to cost $350M upfront and achieve the following:
Reducing corporate management layers throughout the organization
Consolidating 10 external manufacturing sites into three
Outsourcing key parts of the Company's Global Repair operations
Outsourcing non-core functions
Laying off 5,000 employees (30% of workforce) by the end of the 2013 fiscal year.
We are actually amazed that the overall BlackBerry subscriber base grew to 78M in Q1 FY 2013 versus 77M in Q4 FY 2012. However, RIM saw a rapid decline in its BlackBerry smartphone shipment volumes from 13.2M in Q1 FY 2012 to 7.8M in Q1 FY 2013. The worse news for RIM was that BlackBerry Playbook tablet computer volumes collapsed versus the comparable quarter last year, from 500,000 in Q1 FY 2012 to 260,000 Q1 FY 2013. These trends explain why RIM saw a severe 43% decline in its revenue versus the comparable quarter last year. RIM couldn't cut operating expenses fast enough to offset this rapid revenue reduction, resulting in RIM's second straight quarterly loss from operations. Despite the fact that the BlackBerry has been in the market 8 years longer than Apple's (NASDAQ:AAPL) iPhone, the iPhone sold 35.1M units in its most recent quarter, compared to 7.8M units for the BlackBerry smartphone. Furthermore Apple's iPad tablet computer sold 11.8M units in its most recent quarter, compared to 260K units for the PlayBook, even though the "brand-new" Playbook is $100 less expensive than the old Apple iPad 2.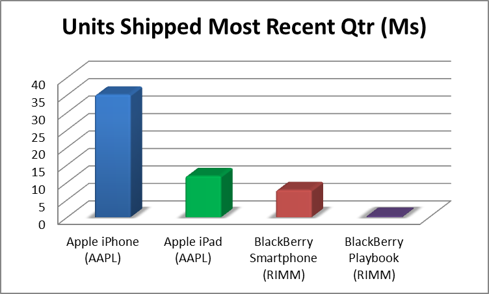 Sources: Apple's Q2 FY 2012 Earnings Release and RIM's Q1 FY 2013 Earnings Release
We're not surprised that RIM announced that the BlackBerry 10 will not be ready for sale in this calendar year and that it had pushed the product launch date back to the first quarter of calendar year 2013. RIM CEO Thorsten Heins was quoted as saying that he "Will not deliver a product to the market that is not ready to meet the needs of RIM's customers or provide anything less than an outstanding user experience with the quality he expects a BlackBerry product to have. There will be no compromise on this issue." We believe that if Heins really meant that, he would shut down the entire BlackBerry product line because it is obvious that people no longer have an "outstanding user experience with quality" when using a BlackBerry.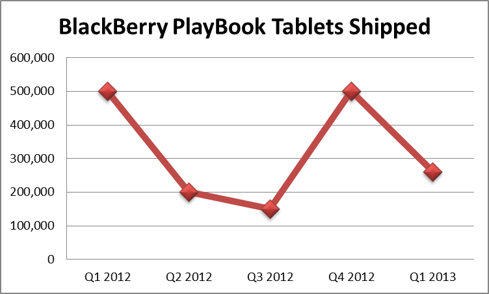 Source: Research In Motion's last five earnings releases
We see continued operational challenges for RIM going forward. We see lower sales volumes for the BlackBerry smartphone and Playbook tablet for the next few quarters. We also see a greater proportion of entry-level devices sold with regards to total devices sold and an aggressive effort to sell BlackBerry 7 platform handsets before the BlackBerry 10 devices are available for sale. We not only see the company incurring losses in Q2 FY2013, we see losses extending into the rest of FY 2013 as well.
Based on these observations, we recommend investors who are long RIM to sell their position, conservative investors avoid RIM and aggressive investors short RIM. We see nothing but continued struggles ahead for RIM and we believe that investors should take a "show me" approach before even considering investing in RIM. We noted that three respected institutional asset management companies have a significant long position in RIM and those companies are as follows:
PRIMECAP Management Company (Vanguard PRIMECAP) 5.3%
Hamblin Watsa Investment Counsel (FairFax Financial (OTCPK:FRFHF) Subsidiary) 5.1%
Yacktman Asset Management (Don Yacktman's Fund) 1.8%
Despite the fact that we have tremendous respect for PRIMECAP, Prem Watsa and Don Yacktman, in our opinion those legendary managers are underestimating the disasterpiece that is Research Immobilized and its broken business model. Sure, we have taken note of RIM's $4.29 per share of cash and marketable investment securities. We have even noted that the company is debt free. However we see the company potentially having to use a portion of that cash in order to restructure, revamp and reform its operations and business model. We are glad for RIM's shareholders that the company has been steadily replacing its old executive leadership with new leaders. RIM recently hired Steve Zipperstein as its Chief Legal Officer. Zipperstein joins Kristian Tear, Chief Operating Officer and Frank Boulben, Chief Marketing Officer as the latest additions to RIM's executive management team. We believe that this new leadership team will at least be more focused on trying to restore RIM's relevance rather than bring a hockey team to the Golden Triangle.
Disclosure: I am long S, AAPL.
Additional disclosure: Saibus Research has not received compensation directly or indirectly for expressing the recommendation in this report. Under no circumstances must this report be considered an offer to buy, sell, subscribe for or trade securities or other instruments.