OCZ Technology Group, Inc. (NASDAQ:OCZ) engages in the design, manufacture, and distribution of solid state drives (SSDs) and computer components primarily in the United States, Canada, Germany, the Middle East, Africa, and other European countries. It specializes in high-speed memory in the enterprise and consumer SSD markets, a technology that competes with traditional rotating magnetic hard disk drives.
It is scheduled to report its Q1 2013 results on July 10, 2012, after the bell. In this article I will recap the historical results of the company, latest EPS estimates vs. surprises, latest developments and closest competitors' development.
Technical Overview
The stock has a market capitalization of $395.69M and is currently trading at $5.85 with a 52 week range of $4.14 - $10.94. The stock performance year to date: -11.50%. It is currently trading above 20 and 50SMA, but below 200SMA.
Key Metrics
Trailing P/E: N/A
Forward P/E: 5.74
Price/Sales: 0.97
Price/Book: 1.43
Annual dividend yield: N/A
Return on Equity: -13.61%
Return on Assets: -1.71%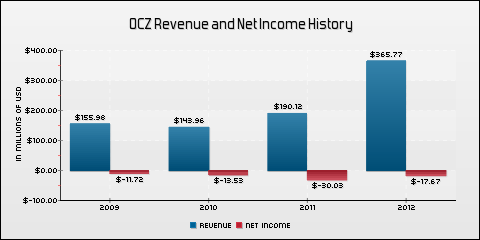 Recent EPS Actuals vs. Estimates
The company has failed to meet analysts' estimates in the last quarters. In the last quarter it reported ($0.11) loss per share, failing to meet analyst estimates of $0.00.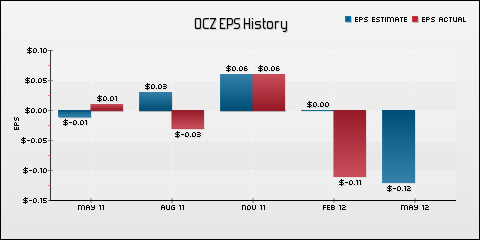 The consensus EPS is ($0.12) loss based on 11 analysts' estimates, down from $0.01 a year ago. Revenue estimates are $115.72M, up from $73.79M a year ago. The median target price by analysts for the stock is $13.00.
Average recommendation: Overweight
Source: Marketwatch
Analyst Upgrades and Downgrades
On April 24, 2012, The Benchmark Company reiterated Hold rating for the company.
On February 28, 2012, Dougherty & Company initiated Buy rating for the company.
Latest Developments
Competitors
OCZ Technology Group, Inc. operates in Data Storage Devices industry. The company could be compared to Dot Hill Systems Corp. (NASDAQ:HILL), Intel Corporation (NASDAQ:INTC), Quantum Corporation (NYSE:QTM), and STEC, Inc. (NASDAQ:STEC). Below is the table comparison of the most important ratios between these companies and the industry.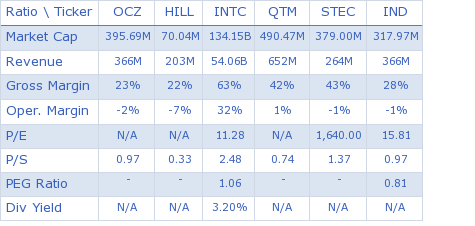 Below is the chart comparison with the stock price changes as a percentage for the selected companies and S&P 500 index for the last one year period.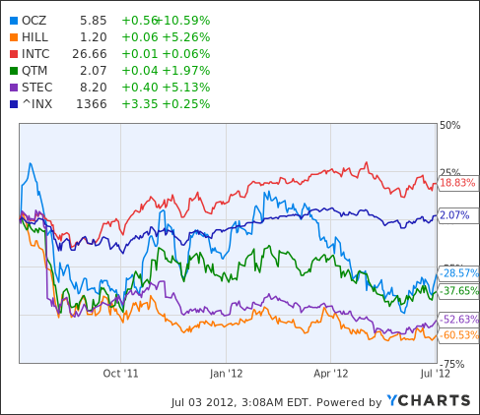 Click to enlarge
Competitors' Latest Development
Sources: Yahoo Finance, Google Finance, Marketwatch, Finviz, Reuters.
Disclosure: I have no positions in any stocks mentioned, and no plans to initiate any positions within the next 72 hours.