When insiders buy shares on the open market, their companies are usually undervalued. Corporate insiders often have the inside track on their companies' prospects. Insiders probably wouldn't risk investing too much of their own money into their own companies unless they thought the stock might rise.
I screened for companies where at least one insider made an insider buy on June 29. Here are three healthcare stocks that I found:
1. Urologix (NASDAQ:ULGX) develops, manufactures and markets minimally invasive medical products for the treatment of obstruction and symptoms due to Benign Prostatic Hyperplasia (BPH). Urologix' Cooled ThermoTherapy produces targeted microwave energy combined with a unique cooling mechanism to protect healthy tissue and enhance patient comfort while providing safe, effective, lasting relief of the symptoms and obstruction due to BPH. Urologix' Cooled ThermoTherapy products include the CoolWave and Targis Control Units and the CTC Advance and Targis catheter families.
Urologix has an Exclusive License Agreement for the Prostiva RF Therapy product line. The Prostiva RF Therapy System delivers radio frequency energy directly into the prostate destroying prostate tissue, which reduces constriction of the urethra, thereby relieving BPH voiding symptoms. Over 100,000 procedures have been performed in the last 10 years and the therapy is supported by multiple peer reviewed published articles demonstrating safety and efficacy through five years of follow-up.
Click to enlarge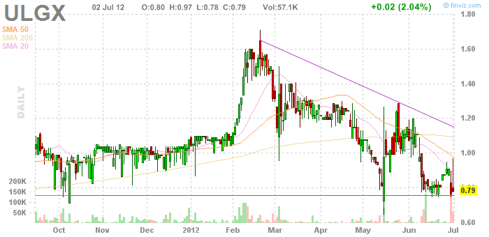 Insider buys
Mitchell Dann purchased 100,000 shares directly and 100,000 shares by a trust on June 29 and currently holds 568,375 shares of the company.
Sidney Emery purchased 20,000 shares on June 29 and currently controls 133,307 shares of the company.
Stryker Warren (Chief Executive Officer) purchased 200,000 shares on June 29 and currently holds 457,280 shares of the company
2. Anthera Pharmaceuticals (NASDAQ:ANTH) is a biopharmaceutical company focused on developing and commercializing products to treat serious diseases, including cardiovascular and autoimmune diseases. A-002 and A-001 inhibit a novel enzyme target known as secretory phospholipase A2. Elevated levels of sPLA2 have been implicated in a variety of acute inflammatory conditions, including acute coronary syndrome and acute chest syndrome, as well as chronic diseases such as coronary artery disease. A-623 targets elevated levels BLyS, which has been associated with a variety of B-cell mediated autoimmune diseases, including systemic lupus erythematosus and others.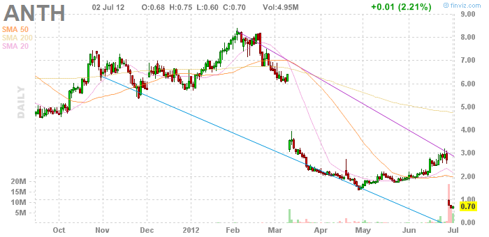 Insider buys
Paul Truex purchased 20,000 shares on June 29 and currently controls 724,880 shares of the company. Mr. Truex has served as Director, President and Chief Executive Officer since the inception of Anthera in 2004. He was responsible for negotiating both of Anthera's product licenses for Varespladib, the company's sPLA2 inhibitor from Eli Lilly (NYSE:LLY), and A-623 Anthera's anti-BAFF peptibody program from Amgen (NASDAQ:AMGN).
Christopher Henney purchased 200,000 shares on June 29 and currently controls 302,429 shares of the company. Dr. Henney has served as the Chairman of Anthera's board of directors since August 2008 and has been a member of board of directors since April 2005. Dr. Henney served as Chairman and Chief Executive Officer of Dendreon Corporation (NASDAQ:DNDN), a biotechnology company he co-founded, from 1997 until his retirement in July 2004.
3. Synta Pharmaceuticals (SNTA) is a biopharmaceutical company focused on discovering, developing, and commercializing small molecule drugs to extend and enhance the lives of patients with severe medical conditions, including cancer and chronic inflammatory diseases. Synta has a unique chemical compound library, an integrated discovery engine, and a diverse pipeline of clinical- and preclinical-stage drug candidates with distinct mechanisms of action and novel chemical structures. All Synta drug candidates were invented by Synta scientists using its compound library and discovery capabilities.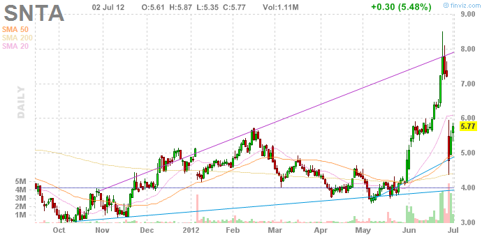 Insider buys
Conclusion
Anthera Pharmaceuticals' stock just hit a new 52-week low on Monday. Urologix's stock has shown some signs of bottoming at the current levels. Synta Pharmaceuticals' stock chart has strong support at the $5 level.
Disclosure: I am long SNTA.