Despite low expectations, last week's EU summit appeared to produce real progress. There were three main accomplishments that cheered the markets. First, leaders agreed that EU bailout money in the form of the ESM (European Stability Mechanism) could be directly injected into failing Spanish banks, essentially using the TARP model the U.S. employed.
Second, it was also agreed that the EUR500 billion ($630 billion) ESM could be used to purchase sovereign debt of eurozone members. This was a genuine setback for German Chancellor Angela Merkel, as Germany had been staunchly opposed to the use of ESM funds to buy sovereign debt of troubled eurozone members.
Third, eurozone members also agreed that a single regulatory body would be established for eurozone banks. The new body would be located within the ECB, and would establish a common regulatory framework as well as a common deposit insurance scheme.
I hate to throw cold water on what appears to finally be good news from Europe, but upon closer inspection, the various steps agreed upon at the EU summit appear more like temporary duct tape rather than a fundamental change in direction. Here are some of the issues:
1. The first concern I have is the timeframe for the recapitalization of Spanish? As this article from the Irish Times notes, Spanish banks will only be recapitalized AFTER the ECB takes over eurozone regulatory authority:
"After the ECB takes over eurozone banking supervision next year then the Spanish bailout will "very rapidly taken off balance sheet" and directly loaned to banks reducing Spain's debt burden and borrowing costs."
This means that the eurozone version of TARP will not be implemented until at least 2013, as eurozone leaders hash out the details of the ECB's new banking regulatory authority. Spanish banks need help right now, however, and we can only speculate what condition Spanish financial institutions will be in by next year. As the charts below from Reuters and the Bank of Spain demonstrate, the bad loan ratio of Spanish banks is already high, and will only move higher as Spain's housing bubble continues to unwind: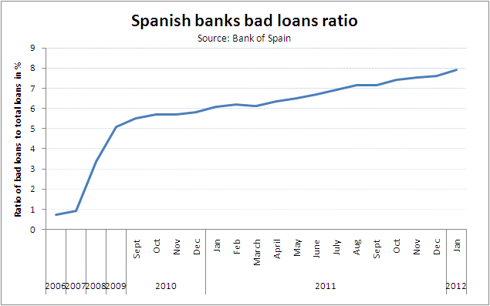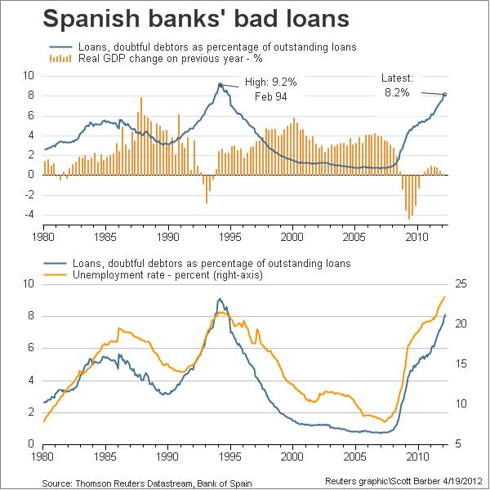 Given what will be obvious complexities in establishing the exact structure of the ECB's new banking regulatory, we can only guess when Spanish banks will actually be recapitalized. I see this as another example of the differences between the short-term expectation of markets and the much longer timeframes of European politics.
2. Second, while the ESM may be large enough to support a direct recapitalization of eurozone banks a la TARP, it is nowhere near large enough to have a genuine impact on the yields of sovereign bonds of troubled eurozone countries. As this excellent graph from the advisory firm Navigant (NYSE: NCI) shows, current funding is nowhere near close enough to meet the needs of Italy and Spain alone, much less other troubled eurozone members: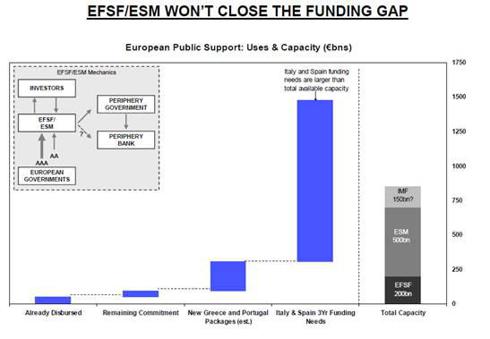 As I noted in a previous article, I believe that only unlimited QE to purchase eurozone government debt (in the realm of trillions of euros) can truly stop the rot in the eurozone. I also came across a new article from former hedge fund manager Bill Fleckenstein that makes the same argument. Understand, I do not mean to imply that massive QE by any central bank is a good thing, but only that for the eurozone it appears to be the least bad option now. Essentially, if I am offered a choice between unending economic Depression or the market distortions and possible inflation from QE, I will hold my nose and choose the latter.
3. Lastly, political opposition to using the ESM to buy sovereign debt is - not surprisingly - already emerging. Yesterday, both Holland and Finland came out against allowing the ESM to buy eurozone government debt; given the complicated politics of the EU, it is quite possible that other countries will join Holland and Finland and throw the whole plan around the ESM into disarray.
What should investors do to protect themselves from the ongoing uncertainty in the eurozone? As this OTC:NOTE from Seeking Alpha and the chart below indicates, the iPath S&P 500 VIX Short-Term Futures ETN (NYSEARCA:VXX) is trading at an all time low. To make a long story short - the VIX is now on sale, and it has never been cheaper to purchase an effective hedge to protect your equity portfolio.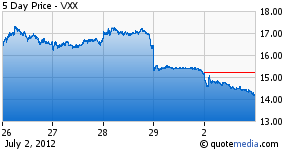 In addition, I have always believed that a small exposure to Treasury bonds are also a fine way to hedge an equity portfolio. Options include the The iShares Barclays 7-10 Year Treasury Bond Fund (NYSEARCA:IEF), the iShares Barclays 10-20 Year Treasury Bond Fund (NYSEARCA:TLH), and the iShares Barclays 20+ Year Treasury Bonds (NYSEARCA:TLT). I am well aware of the low yields and consequent risks of Treasuries, but when thought of strictly as an equity hedge, they can make sense.
Disclosure: I have no positions in any stocks mentioned, and no plans to initiate any positions within the next 72 hours.