CAE (CGT) shares outperformed the market yesterday, which was the first trading day after the idea (see prior post "Is EADS looking at CAE?" March 20, 2008) that CAE might fit the stated 2008 acquisition profile of EADS was floated.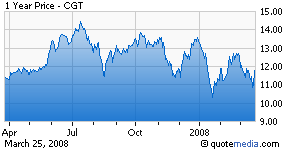 The stock rose 6% (the Dow was only up 1.5%) on volume of almost one million shares, as compared to average daily volume of 585k.
It would appear that some traders think the story has legs.