If you have ever stood next to the tracks, you know there are few things as indomitable as a railroad locomotive. It just keeps chugging away, impressively unstoppable. Xcel Energy (NYSE:XEL) reminds me of a locomotive. Xcel Energy is an electricity and natural gas utility that operates in Colorado, Michigan, Minnesota, New Mexico, North Dakota, South Dakota, Texas, and Wisconsin. XEL has a 3.3% dividend CAGR since 2005. The dividend is currently 3.76% per year. XEL has a 6.6% EPS CAGR since 2005. This generally translates into good dividend and good stock price growth. With 3.4 million electric customers and 1.9 million natural gas customers it is a very stable company.
XEL trades at a PE of 17.12 and an FPE of 15.2. This is quite reasonable for a strong dividend payer with a next 5 years average analysts' EPS per annum growth estimate of 5.11% (and a history of 6.6% EPS CAGR). The good cash flow from operations in Q1 2012 of $477.5 million puts it yet further into the safe and stable category. So far this year the stock price has been immune to the world economic slowdown. The FY2012 and FY2013 average analysts' EPS estimates are virtually unchanged over the last three months. Nothing seems to stop the company. Very little seems to slow it down. It has achieved or exceeded EPS guidance for every year since 2005. Its presence in many different US states energy markets gives it further immunity to the problems of any one state.
Aside from producing good, steady growth in its EPS and its dividend, XEL gives good value to its customers with lower than national average rates. The following chart shows where some of XEL's bills fall in the national spectrum.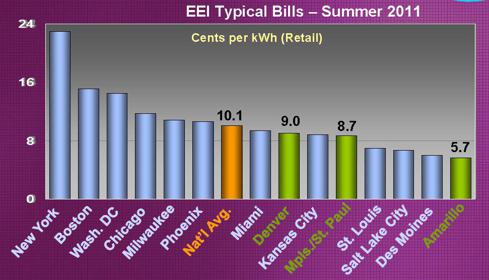 Denver, Minneapolis/ St. Paul, and Amarillo in the chart above are all XEL rates. XEL also tries to lead environmentally. The chart below shows how it has and is in the future planning to move to cleaner burning fuels for generating power.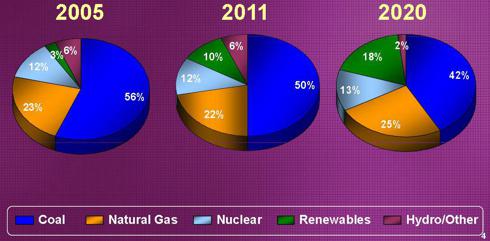 Further XEL has made strong efforts to decrease the amount of carbon dioxide, sulfur dioxide, and nitrogen oxide that its existing plants produce. XEL has reduced carbon dioxide pollution by -17% since 2005. It has reduced sulfur dioxide pollution by -44% since 2005. It has reduced nitrogen oxide pollution by -50% since 2005. In each case we are talking about thousands of tons of pollution, which are no longer being produced. XEL has also improved customer satisfaction from 89% in 2007 steadily to 93% in 2011. This is impressive, especially considering XEL's geographically diverse assets. When companies are this well managed, it is easy to believe that they will continue to be successful. It has been spending approximately $2-$3B per year to refurbish and to expand. It plans to continue on this course. This should ensure future success, especially when XEL can normally recover all such expenses from its customers.
The two year chart of XEL lends some technical direction to this trade.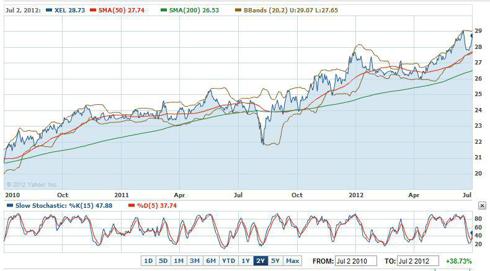 The slow stochastic sub chart shows that XEL is near oversold levels. The main chart shows that XEL has been in a consistent uptrend for the last two years. Both the price line and the 50-day SMA are strongly above the 200-day SMA. The price line is also firmly above the 50-day SMA. XEL is not overbought, but the two year chart indicates that it can most profitably be bought when the price is below its 50-day SMA. It may be best to wait for this situation to occur, but you can also average in. Perhaps a combination of the tow strategies is appropriate. In any case XEL does look like a utility that an investor looking for safety, yield and slow steady growth would like to own, especially in these very uncertain times. With a Beta of only 0.28, it is not very susceptible to overall market forces. This can be very comforting, when the market may plummet on bad economic news at almost any time. A few other low Beta utilities with good dividends are: Southern Company (NYSE:SO) -- 0.12, Consolidated Edison (NYSE:ED) -- 0.18, and Duke Energy (NYSE:DUK) -- 0.19.
NOTE: Some of the fundamental fiscal data above is from Yahoo Finance.
Good Luck Trading.
Disclosure: I have no positions in any stocks mentioned, but may initiate a long position in XEL over the next 72 hours.