Shares of Southwest Airlines Co (NYSE:LUV) are up more than 12% over the past three months. Shares have rallied along with other airline stocks. However, there are now three reasons to avoid LUV.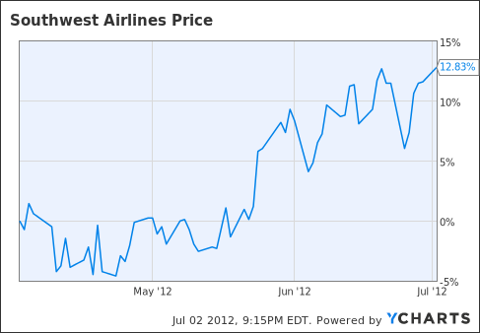 Click to enlarge
Options Activity
Option Monster reported on the high level of bearish options activity recently; 2,000 September 11 puts were purchased which was more than four times the previous open interest at that strike. Overall, put volume outnumbered call volume by a 7-to-1 ratio. The trade will benefit from a decline in LUV The large trade of 2,000 puts likely represents institutional money. Institutional money is usually smarter, thus worth following. In summary, the recent options activity points to downside ahead for LUV over the medium term.
Hedging
One of the major factors behind the recent rally in airlines has been the decline in oil prices over the past few months. However, LUV has always been a believer in hedging fuel costs. LUV's hedging policy has led to a major advantage over the past few years as other airlines have been more impacted by rising fuel costs. However, right now, with falling oil prices, other airlines such as US Airways (LCC), Delta (NYSE:DAL), and United Continental (NYSE:UAL) have benefited more from lower fuel costs as they do not do as much hedging. The decline in oil prices also takes away some of LUV's competitive advantage that allows LUV to offer the cheapest fares. With lower fuel costs, other airlines are better able to compete with LUV thus putting pressure on profit margins.
Valuation
When looking at both forward and past earnings multiples, LUV is more expensive than its competitors.
Airline:Forward PE/ Trailing PE
LUV: 8.4/ 26.8
UAL: 4/ 15
LCC: 3.9/ 9.7
DAL: 3.6/ 7.25
Compared to its peers, LUV looks expensive.
Conclusion
While LUV has performed well of late, investors should avoid the name. The bearish options activity, hedging costs, and valuation relative to other airlines are all reasons to avoid LUV.
Disclosure: I have no positions in any stocks mentioned, and no plans to initiate any positions within the next 72 hours.