If you Google "What is the answer to life the universe and everything," you get the response "42," a reference to the classic Douglas Adams novel The Hitchhiker's Guide To The Galaxy. I find it fitting that Intel's (NASDAQ:INTC) $5 billion new factory in Arizona is thus named Fab 42. As I've discussed before (Hey Apple, This is Crazy, But My Name's Intel, So Call Me Maybe?), Intel is serious about expanding their current PC-chip dominance into the mobile computing arena.
In addition to spending $5B on building the Chandler plant (which will go online next year), Intel is investing $1B in retrofitting a plant in Ireland for 14-nm technology.
Intel's plan for shrinking die sizes is pretty aggressive.
Paul Otellini et al. have the roadmap for 10nm, 7nm and 5nm processes locked down, and the company is preparing fabs in the states and Ireland to make chips using the 14nm fabrication method. Given that timeframe, Intel says 10nm chips will ship in 2015, with work on 5nm technology beginning that same year.
Why? Well, as anyone following the tech sector knows, smaller die sizes mean better performance and/or lower power use:
... the newest Ivy Bridge processors from Intel use the 22nm process. From the new roadmap it looks like the next process size reduction to 14nm will come very shortly, just a year or so away. The process can have a significant impact on the power use, performance and of course size of the finished processor so enthusiasts follow this fabrication development closely.
The primary reason Intel is engaging in all this capex is to outgun competitors in the mobile industry. As I've examined in previous articles, Intel didn't use a "jump-the-gun" strategy in the mobile computing environment. While many competitors like Samsung (OTC:SSNLF) and Qualcomm (NASDAQ:QCOM) rushed to get products out, they're now facing supply chain nightmares: Samsung is beginning to worry that its supply chain is "broken" and Qualcomm is in the same boat with both baseband telecommunications chips and the Snapdragon processor.
While these companies may have the "first mover" advantage, Intel has superior technology and a far superior supply chain. Intel's been fine-tuning their supply chain for mobile chips, and you can bet they're not planning to fall behind:
Intel CEO Paul Otellini confirmed the mobile and tablet focus "next year you will see phone and tablet chips shipping at 22nm and the year after that you'll see 14nm."
Intel has a strong history of leadership and innovation. As evidenced from the chart below, Intel trounced Advanced Micro Devices (NYSE:AMD) in the computer processor war of the last decade: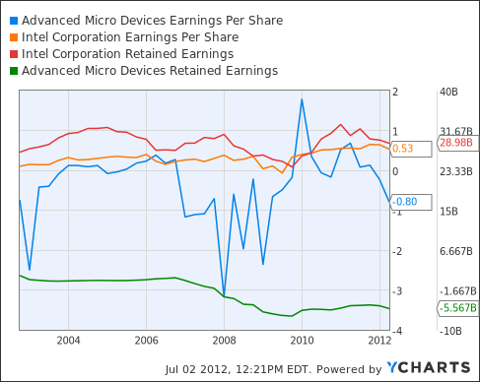 Click to enlarge
(Click to enlarge)
AMD Earnings Per Share data by YCharts
While I'm generally not one to listen to CEO braggadocio, after following Intel for several months, I've become convinced that Paul Otellini isn't lying when he says Intel is entering its Golden Age. Intel's developments in new technology are very exciting, and their prospects are almost limitless as mobile computing and the rise of unstructured data increases computing demand above anything we can imagine today. I became an Intel shareholder last month on the dip, and my only regret is not buying the stock sooner.
I believe Intel's capital expenditures and integration of design and fabrication lend it unparalleled supply chain advantages over competitors. While the other companies are struggling to fix what's broken, Intel took the time to get it right from the very beginning -- and it's this mindset that will allow them to leapfrog competitors in the mobile computing industry, just as they demolished AMD in desktop/laptop processors.
Disclosure: I am long INTC.
Disclaimer: I am an individual investor, not a licensed investment advisor or broker dealer. Investors are cautioned to perform their own due diligence. All information contained within this report is presented as-is and has been derived from public sources & management. Always contact a financial professional before making any major financial decisions. All investments have an inherent degree of risk. The future is uncertain, and actual results may be materially different from those expected. Past performance is no guarantee of future results. All views expressed herein are my own, and cannot be interpreted as the views of my employer(s) or any organizations I am affiliated with. Presentation of information does not necessarily constitute a recommendation to buy or sell. Never make any investment without conducting your own research and reading multiple points of view.