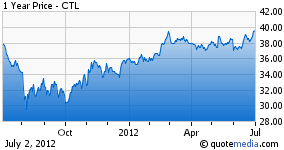 CenturyLink (NYSE:CTL) faces intense competition with top telecom players AT&T (NYSE:T) and Verizon (NYSE:VZ). This has resulted in continuous customer loss for the company. Technological innovation has intensified the competitive environment. The result is a significantly reduced product life cycle for CenturyLink's business portfolio. In this kind of environment, players are forced to offer value added bundled services. Thus, the result is lower margins and profitability. In this article, I will examine CenturyLink from this angle to see if it is a viable investment option in its current position.
Let's start with the fundamentals. Despite this harsh environment, the company's fundamentals will provide a cushion against uncertainties. Sales have been impressive overall, with 44.37% growth over the last 5 years. On a trailing 12 months basis, sales have grown by 162%, compared to the same period last year. This translates to an operating margin of 12%, lower than the 5-year average margin of 20%. The lower margin is due to lower pricing as a result of increased competition. As mentioned above, players need to subsidize and increase marketing expenses to acquire new clients, as well as retain current clients. Thus, CenturyLink's net income has fallen by 18% over the last 5 years.
The silver lining is that its capital spending has increased by 50%. This assures investors that it continues to invest for future profitability. In fact, it plans to spend $2.6 to $2.8 billion this year. CenturyLink's continuous acquisition, coupled with its roll out of fiber-to-the-node access to additional 1 million homes by year end, will also boost its expansion in the IPTV markets.
Additional Revenue Sources
Based on insights of Deloitte on the telecommunications industry, the opportunities in the telecommunications industry includes data management and cloud computing. I believe that this will offset the decline of its traditional revenue sources from competitive landscape.
This bodes well for CenturyLink. Its subsidiary Savvis is opening new data centers in Singapore and London, aside from expanding its existing data centers in the US. The company has also recently launched its cloud services Savvis Symphony Virtual Private Data Center in selected regions in Canada. The service is a cloud solution that allows its users to create custom data center for multiple clients using the same public cloud. This will result in cost reduction as well as increased data security and privacy. This is good news for investors as CenturyLink remains well positioned to gain from its cloud computing business. It also solidifies the company's managed cloud business in Asia, North America and Europe.
Research firm 451 Market Monitor paints a better picture for the cloud computing business. The cloud computing market is expected to reach $16.7 billion by 2013. If you include the large and well established software-as-a-service category, compounded annual growth is expected to grow by 24% from 2010 to 2013.
There are other incremental revenue sources that the company is working to improve its profitability. It is currently promoting new services such as video, improving its infrastructure and gaining new wireless spectrum from Federal Communications Commission.
Valuations - Dividend Yield is not Sustainable
The company is currently trading at 40 times earnings. This is higher than its 5-year average earnings multiple band of 7 times to 35 times. On a price over growth ratio, it is currently trading at 1.37 times. This sounds reasonable considering that the average market price over growth ratio is at 1.93 times.
It also carries a dividend yield of 7.51%. This is higher than its 5-year average dividend yield of 5.80%. In contrast to its industry peers, average dividend yield of 4.50%. It has grown its dividends by 63% a year over the last 5 years. This translates to a payout ratio of 316%, higher than the industry's payout ratio of 47%. This seems unsustainable considering that earnings have declined recently. Also the company is beefing up its expansion plans. However, it seems that it can reasonably pay for its dividends considering that cash flow is at $5.11 billion a year.
Its peers are valued lower. Frontier Communications (NYSE:FTR) trades at 33 times earnings and carries a dividend yield of 10%. Windstream (NASDAQ:WIN) is valued at 24 times earnings and also has a dividend yield of 10%.
I believe this is unwarranted as these companies have relatively better financial performance over CenturyLink. Frontier Communications is expected to earn $0.23 per share next year, an increase of 4% compared to this year's expected earnings. It has an average net profit margin of 5.34% and return on equity of 8%. Separately, Windstream is expected to earn $0.59 this year. This is an increase of 11% over this year's estimated income. Over the next 5 years, the company's earnings expected to decline by 3%. It has net profit margin of 12% and return on equity of 18%. Finally, CenturyLink is expected to earn $2.41 next year. This is a decline of 1% from this year's forecasted earnings. For the next 5 years, its earnings are expected to decline by 6% a year.
Despite the attractive yield and strong prospects for CenturyLink, I would not touch CenturyLink shares. I believe that intense competition in most major segments will put a drag in the future profitability of the company. I am concerned that its aggressive acquisition will weigh on its operating margins. It would also restrict earnings growth moving forward. I am also concerned with its debt position. It has current debt of $22.87 billion, suggesting a debt to equity ratio of 110 times. Given that its dividend payout of more than 300% of net income and higher capital spending, it will definitely shore up its debt position and increase its financial risk.
Disclosure: I have no positions in any stocks mentioned, and no plans to initiate any positions within the next 72 hours.