In my original Hook 'em Horns article, I had three primary arguments for my bullish outlook on US stocks. If you haven't read it already, I'd suggest you do so first. If you have read it, here's a very quick recap on what those arguments were:
Bull Sign 1: Leaner, Meaner Corporations
Companies in the S&P 500 are, in fact, 11% more profitable in terms of revenue per employee than they were in 2007. In terms of absolute profits, S&P 500 companies have seen a 95% jump in profits since 2008.
Bull Sign 2: Improving Labor Market
The U.S. manufacturing movement is getting so strong that one-third of executives at manufacturing companies with sales of over $1 billion are either already moving production jobs into the U.S. or are considering doing so.
Bull Sign 3: Stocks are Cheap, Treasuries Aren't
The low valuations present great buying opportunities, which is why famous billionaires like Warren Buffett and John Paulson are scooping up stocks like there's no tomorrow. Bruce Berkowitz, the Morningstar Manager of the Decade, is also buying stocks. These smart investors are buying stocks while everyone else is fleeing to Treasuries.
This time around, I have three more justifications for my belief that we're near the start of the next secular bull market.
Starting off with:
Bull Sign 4: Millennial Demographics
I was originally planning to write an entire article about how the changing demographics and rise of the "millennial" generation could spur a new stock market boom, but it turns out Morningstar beat me to it with an article that can only be described as awesome. Their premise:
Demographics can have an enormous impact on the stock market. The millennial generation--those born after 1980--has had a rough start in stock investing, enduring the shocks of the global financial crisis of 2008 and the lackluster job market of recent years, among other things. However, we believe the forces that have acted to prevent them from investing in stocks more heavily are temporary. In short, we believe millennials could drive the next great bull market in stocks and offer seven reasons for that belief... To us, it seems likely that millennials, as they come into their own financially, may usher in a new bull market (and help drive domestic and international economic growth) over the next two decades--just like the baby-boomer generation that preceded them did in the 1980s and 1990s.
It wouldn't be fair of me to steal Morningstar's thunder, so I suggest you check out the article on their site. Some of the highlights:
We've seen this before, part 1: Millennials are, in fact, a larger generation than baby boomers (increasing population is generally good for the market)
We've seen this before, part 2: For those scared that economic circumstances today are incredibly dire and it's the end of the world, consider this: America responded to the Great Depression just fine, and baby boomers were faced with a staggering 13.5% inflation rate.
Coming of age: Millennials, who are rapidly reaching their late 20s and early 30s, have a firsthand look at the perils of too much leverage and too little saving. They're already starting to invest wisely.
Bull Sign 5: Increasing Shareholder Value
In the recent article, I talked about how many major US companies have been stockpiling cash to protect themselves from the negative ramifications of another downturn.
Well, they're starting to put more of that cash to use in an attempt to increase shareholder value -- a sure sign that they see a lot of the problems flying away in the rearview mirror. For example, many companies are initiating dividend payouts, while others are increasing existing dividends. Still other companies are increasing capital investment, like Amazon.
As demonstrated by Citigroup's recent history, companies generally slash dividends in times of financial hardship and increase them in times of increasing profitability.
Corporations getting more comfortable with spending clearly don't think the US is about to fall off a cliff.
Bull Sign 6: Rumors of the Market's Demise Greatly Exaggerated
A recent wave of articles has proclaimed that it's the end of the road for US stocks: nobody wants to buy them anymore, household ownership is plunging, etcetera, etcetera.
However, a quick look at the facts suggests otherwise. (Courtesy of DailyFinance. Click the link for the full article.)
Let's ask a simple question: Objectively -- not anecdotally -- have investors been scared out of the stock market?

No big exodus. Adjusted for inflation, Americans own more stocks today than they did in 1998, when the bull-market frenzy really went into high gear, and just 9.5% less than at the peak of the dot-com boom in 2000. Yes, you could also call that 12 years of no growth. But as I've shown before, the reason stocks performed poorly over the last decade is that returns that should have been spread out over 15 years or more were compressed into about three, from 1996-1999. There hasn't been growth in Americans' stock holdings since 2000, but that's exactly what you should expect after a bubble.
In my opinion, the fact that billionaires are buying (see the original article) while the "common man" distrusts the market suggests that we're in a trough, not a peak. Remember that at market peaks, everyone loves the market, and smart investors are starting to sell. This is not that. This is the opposite.
Recommendation: Buy American
(click to enlarge. source:FreeStockCharts.com)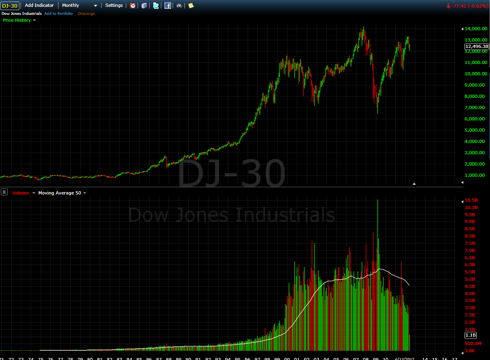 Click to enlarge
This section's pretty simple, and it's essentially an exact copy of what I wrote last time. My recommendation is to buy domestic equities. (Standard disclaimer: perform due diligence before making any investment to see whether it's suitable for your financial circumstances and goals.)
There are several ways you can do this:
You could buy shares in a top-rated mutual fund. Check with Morningstar or your broker for a screening tool to track mutual funds' performance and ratings.
You could buy a sector ETF or mutual fund for exposure to sectors like the chemicals industry with particularly strong growth prospects.
If your portfolio is large enough, you could do some research on U.S. companies and create a diversified portfolio of individual stocks. Tim McAleenan's recent article lists some great blue-chip companies you can't go wrong with. My favorites, which partially overlap with his, include: 3M (NYSE:MMM), Berkshire Hathaway (NYSE:BRK.B), Procter & Gamble (NYSE:PG), Colgate Palmolive (NYSE:CL), Clorox (NYSE:CLX), Kimberly Clark (NYSE:KMB), McDonald's (NYSE:MCD), Coke (NYSE:KO), Pepsi (NYSE:PEP), Johnson & Johnson (NYSE:JNJ), Kraft (KFT), General Electric (NYSE:GE), Wal-Mart (NYSE:WMT), Anheuser Busch (NYSE:BUD), Abbott Labs (NYSE:ABT), Exxon (NYSE:XOM), Chevron (NYSE:CVX), Conoco Phillips (NYSE:COP), Intel (NASDAQ:INTC), IBM (NYSE:IBM), AT&T (NYSE:T), and Microsoft (NASDAQ:MSFT).
You could look for great dividend stocks using methods like those described here.
Please note that my arguments are in favor of a long term bull market -- while the market sorts out the whole mess in Europe, there may be short term dips. (You can bet I'll be buying on those dips.) The possibility of short-to-mid term volatility is why I recommend using the dollar cost averaging method to spread your investment over time.
Disclosure: I am long INTC.
Additional disclosure: I have exposure to many of the stocks mentioned via mutual funds, and may initiate direct long positions in MMM, BRK.B, or PG over the next 72 hours.