Heckmann Corporation (HEK), a long-time favorite of CNBC's 'Mad Money' host Jim Cramer, is an environmental services company. The Company operates through two business segments. Heckmann Water Resources (HWR) is dedicated to the movement, treatment and disposal of water generated by energy companies involved in the discovery and production of oil and natural gas. Heckmann Environmental Service ((NYSE:HES)) is a one-stop-shop for collection and recycling services for oily waste products, including used motor oil, oily wastewater, spent antifreeze, used oil filters and parts washers. Heckmann Corporation is building a national footprint across its environmental service offerings. The Company has more than 1,500 employees and operates in 52 locations in the U.S.
For the first quarter of 2012 that ended March 31, HWR's revenues tripled to $55.0 million, compared with $18.2 million for the same period in the previous year. Adjusted EBITDA2 more than doubled to $10.2 million, compared with $4.1 million for both the first quarter of 2011 and the fourth quarter of 2011. On a pro-forma basis, which included the effect of Heckmann Environmental Services (HES - formerly Thermo Fluids Inc., or TFI), revenues were $82.4 million and adjusted EBITDA was $16.2 million.
The acquisition of TFI Holdings and Thermo Fluids was completed early April and extended Heckmann's single-source environmental solutions offering for the oil and gas industries beyond water services solutions. Acquiring the largest seller of pre-processed fuel oil from recovered used motor oil [UMO] in the Western United States represented the next phase of Heckmann's growth.
Heckmann can now provide more comprehensive service offerings among the environmental services spectrum, as HES will augment the company's proven capabilities in water and wastewater services through diversification of operations, revenue stream, reach, and of course customer base. HES should also accelerate the company's top-line growth and provide increased free operating cash flow.
On the assumption of three quarters of operations, Heckmann had communicated the expectation that HES will generate revenues between $105 and $115 million for the nine-month period beginning in April 2012. In connection with the acquisition, Heckmann paid $227.5 million in cash from a senior notes offering and $17.5 million in restricted shares of Heckmann common stock.
The company had a strong start to the year, reporting its sixth consecutive quarter of record revenues, as adjusted EBITDA more than doubled Y-o-Y and compared to the last quarter of 2011, and exceeded quarterly guidance.
The board made a point to stress that all of the expansion in the water business was a result of new contracts or customers, primarily in the liquid-rich shale areas, and that the two business segments are currently well positioned for future growth with good momentum. As both segments are seasonally slowest in the first quarter, the company expects second quarter 2012 revenues to increase over first quarter pro-forma results by more than 15%.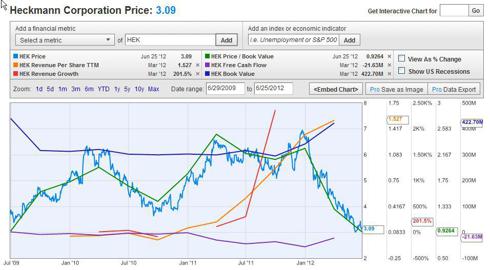 Click to enlarge
It seems Heckmann is on target to achieve the financial and strategic goals set out for 20120. Their water solutions segment has grown over the past 12 months from operations exclusively in the Haynesville Shale area to now include operations in seven additional oil, liquid-rich and natural gas shale areas in seven states and continues to grow significantly.
When considering an investment in Heckmann, it's important to remember that their water solutions business is less than three years old and that the considerable management and asset intensive infrastructure necessary to produce over $250 million of water-related revenues in 2012 has a significant start-up component to it. Rome wasn't built in a day.
The results in the first quarter were driven by the securing of long-term service contracts with large customers, servicing higher volumes of produced water in the gas basins, and repositioning some assets from dry gas basins to oil and liquid-rich basins. The company also hired 175 truck drivers and several dozen water transfer and well testing technicians in the first quarter. Heckmann expects organic growth to continue, margins to expand, and to hire more than 100 new drivers in the second quarter to meet demand in their expanding water solutions segment.
On March 30, 2012, Heckmann completed a public offering of 18.2 million shares of common stock at a price of $4.40 per share for net proceeds of $74.4 million, and on April 10th the company also completed a debt offering of $250.0 million in senior unsecured notes next to entering into a new senior secured revolving credit facility of $150.0 million with an accordion feature. The proceeds from these transactions were used to fund the cash portion of the TFI acquisition and to pay off Heckmann's existing term loan and revolving credit facility. The company has not utilized its new senior credit facility at this time according to fillings.
For the second quarter of 2012, Heckmann currently expects total revenues of approximately $100.0 million. As a result of the acquisition of TFI, Heckmann now expects to achieve pro-forma total revenues of between $400.0 million and $420.0 million for full year 2012, and pro-forma adjusted EBITDA in the region of $95-$105 million.
As of March 31, 2012, Heckmann Corporation's total assets were $629.3 million, and equity totaled $422.7 million. Heckmann currently has a Forward P/E of 16.3 and a market cap of $444.5 million. This translates into a current P/B of 1.1, with a P/S of 1.8.
The last few years have been difficult for the largest of companies, let alone for start-ups like Heckmann. But despite plenty of headwinds, this company remains full of potential and continues to exhibit plenty of growth. Your entry point is key with every investment you make. Given Heckmann's current valuation, Jim Cramer would probably ask you: "Where's the love people?" And he's certainly not alone.
Disclosure: I have no positions in any stocks mentioned, and no plans to initiate any positions within the next 72 hours.