SemiLEDs Corporation (NASDAQ:LEDS) engages in the development, manufacture, and sale of light emitting diode (LED) chips and LED components. Its products are used primarily for general lighting applications, including street lights and commercial, industrial, and residential lighting, as well as in backlighting, medical, automotive, and ultra violet (UV) applications.
It is scheduled to report its Q3 2012 results on July 10, 2012, before the market opens. In this article, I will recap the historical results of the company, latest EPS estimates vs. surprises, latest developments and closest competitors' development.
Technical Overview
The stock has a market capitalization of $83.20M and is currently trading at $3.03 with a 52-week range of $2.51-$7.40. The stock performance year to date: -11.14%. It is currently trading above 20 SMA, but below 50 and 200 SMA.
Key Metrics
Price/Sales: 3.25
Price/Book: 0.58
Total Debt: 7.60M
Annual dividend yield: N/A
Return on Equity: -21.55%
Return on Assets: -10.04%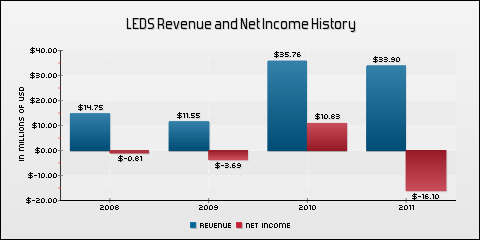 Recent EPS Actuals vs. Estimates
The company has met or beaten analysts' estimates in the last two quarters. In the last quarter, it reported ($0.22) loss per share, beating analyst estimates of ($0.25) loss.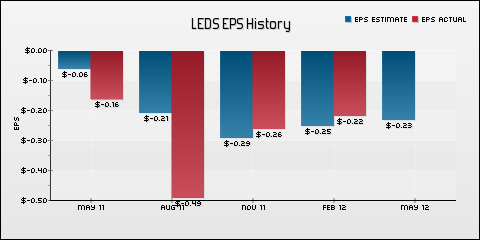 The consensus EPS is ($0.23) loss based on 7 analysts' estimates, down from ($0.16) loss a year ago. Revenue estimates are $8.58M, up from $5.60M a year ago. The median target price by analysts for the stock is $4.00.
Average recommendation: Overweight
Source: Marketwatch
Latest Developments
On June 26, 2012, Cree, Inc. and SemiLEDs agreed to end the parties' patent infringement litigation. As part of the settlement, SemiLEDs agreed to the entry of an injunction effective October 1, 2012, that prohibits the importation and sale of the SemiLEDs accused products in the United States and has made a one-time payment to Cree for past damages.
On April 5, 2012, Semileds Corp announced that for third quarter of 2012, it expects revenue in a range of $7.9 million to $8.9 million with GAAP net loss attributable to SemiLEDs stockholders of $7.5 million to $7.0 million, or a loss of $0.27 to $0.25 per diluted share, based on an estimated 27.5 million diluted weighted average shares.
On January 11, 2012, Semileds Corp announced that for the second quarter of 2012, it expects revenue in a range of $7-$8 million with GAAP net loss of $7.6 million to $7.1 million, or a loss of $0.28 to $0.26 per diluted share (EPS).
Competitors
SemiLEDs Corporation operates in Semiconductor- Memory Chips industry. The company could be compared to Aixtron SE (NASDAQ:AIXG), BCD Semiconductor Manufacturing Limited (NASDAQ:BCDS), Cree, Inc. (NASDAQ:CREE), and Veeco Instruments Inc. (NASDAQ:VECO). Below is the table comparison of the most important ratios between these companies and the industry.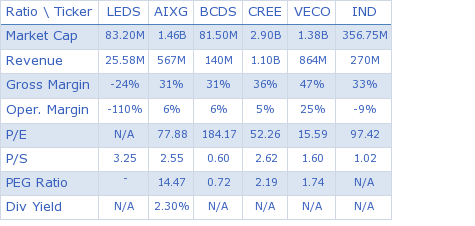 Below is the chart comparison with the stock price changes as a percentage for the selected companies and S&P 500 index for the last one-year period.
Competitors' Latest Development
Sources: Yahoo Finance, Google Finance, Marketwatch, Finviz, Reuters.
Disclosure: I have no positions in any stocks mentioned, and no plans to initiate any positions within the next 72 hours.