KBW Regional Bank ETF (KRE), an exchange-traded fund that holds 50 regional bank stocks, on January 18, 2008 closed at $ 31.82, an all-time low. After a brief sharp move to the upside, it successfully tested the low on March 6 and bounced back to the upside. The current chart pattern looks like a classic double bottom, a bullish pattern. Whether KRE continues to the upside depends, in large part, to the overall direction of the broad market.
click to enlarge image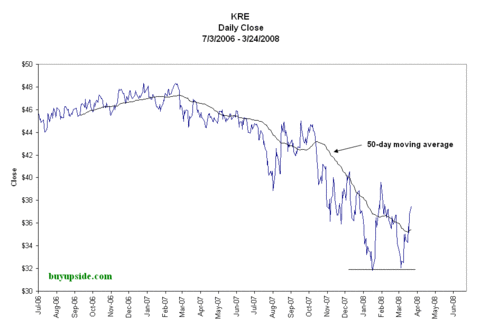 Meanwhile, KRE offers a dividend yield above six percent, which gives investors a cushion during the current uncertainty.
The fund's top five holdings by market capitalization are: Hudson City Bancorp (HCBK), UnionBanCal (UB), Sovereign Bancorp (SOV) Synovu Financial (SNV) and Associated Banc-Corp (ASBC).
The top five holdings by fund weight are Westamerica Bancorporation (WABC), Commerce Bancshares(CBSH), Bank Hawaii (BOH), BancorpSouth (BXS) and First Commonwealth Financial (FCF).
Disclosure: I do not own KRE, but I plan to buy it on price dips.