VOXX International Corporation (NASDAQ:VOXX), through its subsidiaries, operates as a distributor in the accessory, mobile, and consumer electronics industries in the United States and internationally. The company also operates as an original equipment manufacturer.
It is scheduled to report its Q1 2013 results on July 11, 2012, before the market opens. In this article I will recap the historical results of the company, latest EPS estimates vs. surprises, latest developments and closest competitors' development.
Technical Overview
The stock has a market capitalization of $211.54M and is currently trading at $9.04 with a 52 week range of $4.69 - $14.56. The stock performance year to date: 6.98%. It is currently trading below 20, 50 and 200 SMA.
Key Metrics
Trailing P/E: 8.22
Forward P/E: 5.72
Price/Sales: 0.30
Price/Book: 0.50
PEG Ratio: 0.91
Total Debt: 43.65M
Annual dividend yield: N/A
Return on Equity: 6.30%
Return on Assets: 5.18%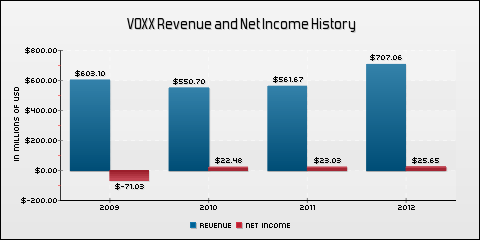 Recent EPS Actuals vs. Estimates
The company has met or beaten analysts' estimates in the last three quarters. In the last quarter it reported $0.46 EPS, beating analyst estimates of $0.16.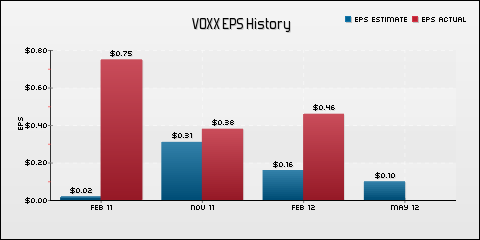 The consensus EPS is $0.10 based on 3 analysts' estimates. Revenue estimates are $207.83M. The median target price by analysts for the stock is $17.00.
Average recommendation: Buy
Source: Marketwatch
Latest Developments
On May 15, 2012, VOXX International Corporation announced that for fiscal 2013, it expects $900 million in sales and $62 million to $65 million in EBITDA. According to I/B/E/S Estimates, analysts are expecting the Company to report revenues of $922 million and EBITDA of $67 million in EBITDA for fiscal 2013.
On February 9, 2012, VOXX International Corporation announced that it has entered into a definitive agreement to acquire Car Communication Holding GmbH and its worldwide subsidiaries (Hirschmann ) for total consideration of EUR 85 million, subject to certain contingencies and adjustments, plus related transaction fees and expenses.
Competitors
VOXX International Corporation operates in Electronics Wholesale industry. The company could be compared to Mad Catz Interactive Inc. (NYSEMKT:MCZ), Emerson Radio Corp. (NYSEMKT:MSN), Skullcandy, Inc. (NASDAQ:SKUL), and Universal Electronics Inc. (NASDAQ:UEIC). Below is the table comparison of the most important ratios between these companies and the industry.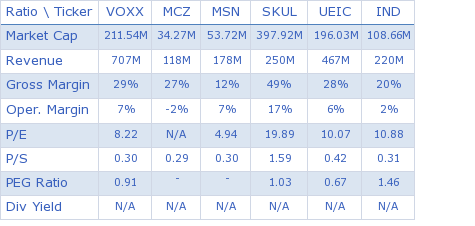 Below is the chart comparison with the stock price changes as a percentage for the selected companies and S&P 500 index for the last one year period.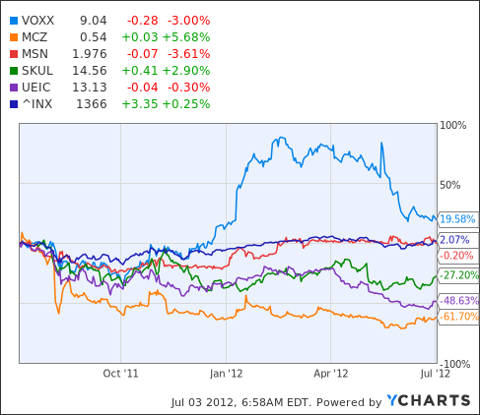 Competitors' Latest Development
Sources: Yahoo Finance, Google Finance, Marketwatch, Finviz, Reuters.
Disclosure: I have no positions in any stocks mentioned, and no plans to initiate any positions within the next 72 hours.