One of the most frustrating stocks this year is SanDisk Corporation (SNDK), which last week slumped 7%, and was down 38% since the beginning of 2008, and by 56% since the acquisition of m-systems. One person who is taking massive losses, albeit on paper for the time being, is m-systems founder Dov Moran, who came away with $100 million worth of SanDisk shares after he sold m-systems to it in 2006 at a value of $1.6 billion. These shares are now worth a mere $44 million.
Moran's SanDisk shares are locked up until November this year, and I came away from a recent meeting with him with the impression that this loss has not put a damper on his elation with the launch of Modu, the innovative handset he has developed, and certainly not the massive funding he is currently in the process of raising for the company producing it. Moran sees a potential billion dollar market for Modu and he seemed pretty calm to me about SanDisk, possibly because he knows that its flash technologies, both the current and the newer ones, some of which remain under wraps, will be an integral part of the potentially gargantuan market for mobile devices and handsets in the coming years.
SanDisk digs itself into a new hole almost daily, as the NAND flash chip market continues to suffer from oversupply and falling prices. After Intel Corporation (NASDAQ:INTC) warned two weeks back of a 2% loss in gross margins on its entire first quarter sales because of the NAND sector, Toshiba (OTCPK:TOSBF), followed suit last week with a warning of its own. Toshiba, as is known, is SanDisk's partner in its fabs in Japan. These two warnings, coupled with another warning last week from handset manufacturer Sony Ericsson (NYSE:SNE), a major SanDisk customer, broke JP Morgan analyst Paul Coster who downgraded SanDisk to "Neutral" from "Overweight" causing the weekly drop in the share.
Coster says the NAND market had been hoping to see prices stabilizing in the first quarter following the shutdown by Samsung and Hynix of old fabs, but this has not yet happened, and the new Solid State Drive [SSD] flash technology which should have ratcheted up demand for flash chips is still in its infancy. Coster also draws attention to the fact that the SanDisk brand in the electronics market, for instance in media players where it ranks second to Apple Inc. (NASDAQ:AAPL), has yet to take off. With the share currently traded at a multiple of 13 times 2008 earnings, which Coster estimates at $1.55 per share, he is loath to advise investors to sell, but he also warns against increasing positions until such time as the trend in the flash chip market changes course.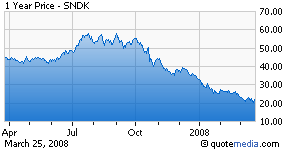 For those who are concerned, SanDisk will not issue a warning for the quarter. I say this, not because I know something that others don't, but because this is its policy - any reporting, for better or worse, is made only on the day the company unveils its results. In addition, SanDisk announced at its analysts' conference a month back that it would be making a preemptive cut in prices of its products for retail chains, adding that this reduction had not yet been decided on when it issued its guidance for the first quarter. Some analysts were quick to downgrade their estimates on hearing this, as if the company had issued a warning. At a price of $20, and with Intel and Toshiba having both issued earnings warnings over the last two weeks, investors have already priced in a substantial miss in the first quarter.
Cheap production technologies
Over the last three years the NAND chip market has become highly dependent on orders from Apple Inc. because of its size. In addition to launching a full suite of flash-based iPod players, Apple has been consistently increasing the flash storage capacity of its iPhone handset, which was only launched last summer. The first handset, it will be recalled, which originally went on sale with a starting capacity of 4Gb, was very promptly taken off the market, and today's top selling model has four times that capacity, 16Gb.
Towards June, Apple will launch an advanced version of the handset with 3G communications technologies and, apparently, increased flash storage capacity as well. Market sources believe the orders from Apple for flash chips will start coming in by next month, causing prices to stabilize.
The flash market should be getting a substantial shot in the arm from the SSD sector in the second half of the year, on top of the usual seasonal spike in demand in the run-up to autumn's holiday sales season. The heavyweights in the field - Intel, Toshiba, and Samsung - are planning new launches of, among other things, MLC SSD devices which will offer better competition to conventional hard drives, so demand is expected to be far higher than it is at present.
SanDisk's plans for its SSD business remain pretty much unknown. It indicated on the analysts' day that it was in no rush, since flash prices are still high and that it will take a few more years for this market to reach its peak. Intel, for its part, is moving full steam ahead, and is stubbornly holding on to its loss-making flash production capacity through Micron Technology (NASDAQ:MU), solely because it already sees that all-important SSD market happening this year. Toshiba, SanDisk's partner in its flash fabs, is now launching a range of MLC-powered SSDs with a storage capacity of 128Gb.
SanDisk's technological resources in SSD are in m-systems, and it is highly likely that the teams which stayed on at SanDisk following the merger are hard at work on both the development of a special flash controller for the SSD market, and cheaper production technologies. It will come as no surprise to me if SanDisk's announcements regarding all of this happen a lot sooner that it led the market to believe.
Bear Stearns rides again
For all those with short memories, Bear Stearns' (NYSE:BSC) share was traded at $88 just three months ago, and anyone who had invested in it probably held his breath upon learning last Monday, that the shares were selling for just $2. Those investors who haven't yet sold their shares can take consolation in the fact that JP Morgan (NYSE:JPM) has quintupled its bid for Bear Stearns to around $10 a share. The one good thing about financial bubbles is that they dissipate quickly and the pain they caused is mercifully short.
I can recall another slump on the scale of that of Bear Stearns, during the implosion of the tech stocks bubble at the beginning of the decade, which lasted for two years. Optical component maker JDS Uniphase CP (JDSU), for example, one of the defining symbols of that period, was traded at $88 in October 2000, and by two years later it had collapsed to $2 - adjusted for a reverse split - where it has been languishing ever since.
A good deal will be written about Bear Stearns in years to come, but it is already apparent that the hero in this drama is US Federal Reserve chairman Ben Bernanke, who managed to defuse a mine monumentally bigger than the one his predecessor Alan Greenspan found himself with ten years ago, when he came to the aid of the collapsed hedge fund LTMC (Long Term Capital Management).
Published originally by Globes [online], Israel business news - www.globes.co.il
© Copyright of Globes Publisher Itonut (1983) Ltd. 2006. Republished on Seeking Alpha with full permission.