The Commerce Department released Factory Orders data (pdf) for May 2012 this morning. Orders increased 0.7% to $469 billion and analysts had expected that orders would rise 0.4%.
For May, construction machinery shipments were $4.028 billion, an increase of 17.6% versus May 2011, and construction machinery orders were $3.652 billion, an increase of 0.8% versus the prior year.
In April, total orders (pdf) were unchanged with a seasonally adjusted $466 billion. Construction machinery shipments were revised downward to $4.243 billion in April and construction machinery orders were revised to $3.962 billion.
The decrease in orders for construction machinery from April to May contrasts with other economic reports showing better than expected construction data, led by the housing market. Expectations have been low, so it's not hard to overshoot the predictions.
Housing Economic Reports Summary
Monday July 2nd, 2012 - Construction spending for May rises 0.9%, with expectations being a 0.2% increase. Residential construction led the group by rising 3% for the period.
Wednesday June 27th, 2012 - The National Association of Realtors reports that May pending home sales rose 5.9%, while analysts had expected a 0.5% increase. In comparison to the prior year, pending home sales rise 13.3%.
Tuesday June 26th, 2012 - Housing prices rise 1.3% between March and April, as reported by the Case-Shiller. Nineteen of 20 cities saw increases.
Monday June 25th, 2012 - New home sales rise to 369,000 on a seasonally adjusted basis, versus the expectation of 350,000. This represents a 19.8% increase over the prior year.
Earnings Announcements Coming
Low Mortgage Rates Fueling Refinances
Under the Obama Administration's Home Affordable Refinance Program, HARP Refinances have doubled in the 1st Quarter of 2012. The record low interest rates are also fueling purchase demand.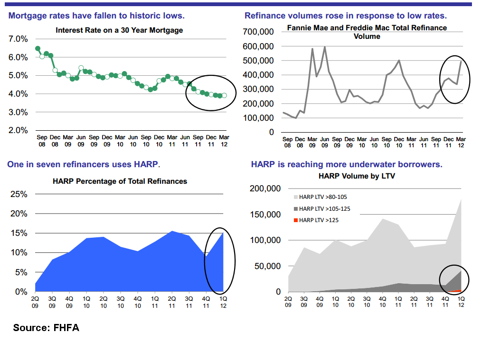 Click to enlarge
With rates below 4%, excess housing inventory is being absorbed by the increased demand. This is causing a shortage in homes available for sale and increased demand for new home building.
Housing Finance Plan Needed
Even with all the good news in housing, the United States still lacks a long-term plan for reforming housing finance. The government sponsored entities, Fannie Mae (OTCQB:FNMA) and Freddie Mac (OTCQB:FMCC) continue to operate under government control, modifying over 2.3 million mortgages to date.
Disclosure: I am long OTCQB:FNMA, OTCQB:FMCC.
Additional disclosure: Long GSE Preferreds