After two unsuccessful bone marrow transplants, a seven-year girl from Romania, suffering from a type of bone marrow failure and facing certain death, appears to be on the road to recovery after receiving in May two intramuscular injections of 80 million PLacental eXpanded ("PLX") cells developed by Pluristem Therapeutics (PSTI) of Israel.
"This was a compassionate request from her doctor at Hadassah Hebrew University Medical Center in Jerusalem," chairman and CEO Zami Aberman says in an interview with BioTuesdays.com.
"She has experienced a reversal of her condition, with a significant increase in her red and white blood cells, and platelets," he adds. "For now, we have saved her life. She has been released from hospital and is back at home with her parents."
The life-saving treatment is an outgrowth of Pluristem's burgeoning pipeline of placenta-based cell therapies. Specifically, it stems from animal studies, suggesting that PLX cells can be potentially effective in treating life threatening complications of blood cell destruction associated with acute radiation syndrome ("ARS"). In these experiments, animals given PLX cells intramuscularly up to 24 hours after irradiation demonstrated a recovery of their red and white cells, platelets and bone marrow to almost normal levels.
Mr. Aberman says the ARS results, and the significant deterioration of the patient following two bone marrow transplants, led her doctor to contact Pluristem about the possible compassionate use of PLX cells to treat his young patient.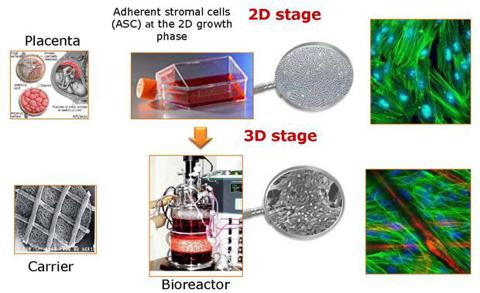 Pluristem's PLX cells are grown from full-term, donated placentas (about 10,000 patients can be treated from a single placenta) in the company's proprietary bioreactor system, which features a "three-dimensional micro-environment that enables full control over the manufacturing process," he points out. This results in an "off-the-shelf" product that requires no tissue matching or immune-suppression treatment prior to being administered.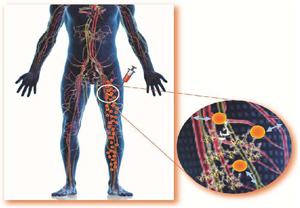 Mr. Aberman explains that in cell therapy, the "common understanding is to inject cells intravenously and use the blood system to bring the cells to the target. We have shown that by using intramuscular injection, a cocktail of therapeutic proteins are released by PLX cells in response to a variety of local and systemic inflammatory diseases, which then use the blood system to initiate a therapeutic effect. This is an important area of differentiation and we believe will be a paradigm change in the way cell therapy is administered."
He says the PLX therapeutic effect relates to the cell's capability to respond to environmental signals within the patient's body by secretion of different proteins and the cells gradually disappear from the patient's body within a few days.
At last month's BIO International Convention, Pluristem released preclinical data demonstrating the systemic effectiveness of intramuscular delivery of PLX cells to stimulate hematopoietic stem cells of the bone marrow to produce red and white blood cells as well as platelets crucial for the treatment of hematological disorders.
"This has significant market implications that potentially broaden the indications and frequency with which our cell therapy can be used," Mr. Aberman contends.
In addition to batch-to-batch consistency, the company's in-house manufacturing process results in mass production of PLX cells for each targeted indication at a fraction of the cost of expanding cells traditionally in petri dishes or tissue flasks.
Pluristem's product pipeline of PLX cells are targeting peripheral artery disease (PAD), skeletal injuries, pulmonary disorders, autoimmune diseases, central nervous system disorders, and bone marrow recovery. "For each indication, we have a different product," he says.
Two Phase 1/2 studies at multiple sites in the U.S. and Germany have demonstrated that its lead PLX-PAD is safe, improves the quality of life and is potentially effective in reducing the amputation rate in patients with critical limb ischemia (CLI) and rescuing bone marrow in patients treated with chemotherapy.
CLI patients receiving PLX cells had an amputation free survival rate of 85%, well above a historical rate of 66%, Mr. Aberman says.
The company is currently in discussions with the FDA for special protocol assessments to conduct Phase 3 trials in CLI and Buerger's disease, a subset of PAD. "We hope to obtain these agreements this year and begin testing in 2013," he adds.
The FDA has approved Pluristem's plans for a Phase 2 trial with 150 patients suffering from intermittent claudication, another subset of PAD, which is expected to begin in several months. "This is the first time the FDA has approved a prevention study in this indication," Mr. Aberman points out.
The company also has submitted an application to the Paul-Ehrlich-Institut, a medical regulatory body in Germany, to conduct a Phase 1/2 clinical trial in muscle injuries related to hip replacement surgery. It hopes to begin enrolling patients at the end of third quarter this year.
The technology was initially developed at the Weizmann Institute of Science and the Technion-Israel Institute of Technology, two global leaders in the field of innovative biological product development. In 2007, Pluristem acquired all the patents "and we owe no royalties to the inventors," Mr. Aberman says. The patent portfolio now includes 12 patent families, consisting of 20 granted patents and 80 pending applications.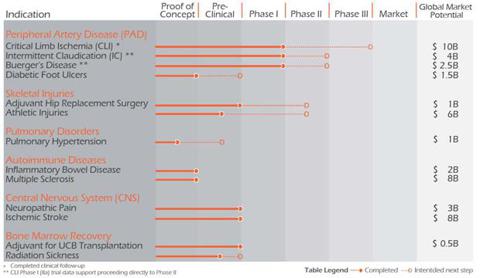 The market opportunity for the product pipeline is huge. In PAD, for example, critical limb ischemia, intermittent claudication, Buerger's disease and diabetic foot ulcers represent an $18-billion global market potential annually; $7-billion for skeletal injuries; $10-billion for autoimmune diseases, such as inflammatory bowel disease and multiple sclerosis; and $11-billion for neuropathic pain and ischemic stroke.
In 2011, Pluristem entered into an exclusive out-license agreement with United Therapeutics (UTHR) for the use of PLX cells to develop and commercialize a cell-based product for the treatment of pulmonary hypertension, a potential $1-billion-a-year market globally. The accord gives Pluristem milestone payments of about $55-million and royalties on gross profits from potential sales.
Pluristem will supply United with PLX cells for marketing. Mr. Aberman contends that Pluristem is unique in having its own in-house manufacturing, while its competitors use contract manufacturing.
"We control our manufacturing, which is important in cell therapy, because any slight change in production can affect the ability of cells to secret their proteins." In-house manufacturing also provides high operating margins, he adds.
Pluristem's business model is based on additional partnerships for each of its indications and the company is talking to many pharmaceuticals companies, he says.
"Our policy for these partnerships is to retain ownership of our PLX cells and associated intellectual property," he says. "We believe we can become the Intel of cell therapy."
Disclosure: I have no positions in any stocks mentioned, and no plans to initiate any positions within the next 72 hours.