Dividend Portfolio
The portfolio that we see fit to suggest to our investors in this piece include some of the most highly liquid names in the U.S. REITs Industry. We recommend equal positions in all of the stocks provided in the table below, in which investors could expect to earn a 9% return through price appreciation, in a bullish scenario, coupled with a dividend yield of 7%, which is safely above the 10-year treasury yield of 1.67%. Portfolio's beta come out t be 0.7.
| | | | | | |
| --- | --- | --- | --- | --- | --- |
| | Beta | YTD (%) | Dividend Yield (%) | Current Price ($) | Bullish Price Target ($) |
| | 1.01 | 10.35 | 2.14 | 62.94 | 68 |
| | 0.98 | 24.64 | 2.53 | 158.08 | 180 |
| | 0.86 | 7.53 | 4.49 | 44.55 | 46 |
| | 0.75 | 8.33 | 5 | 59.07 | 61 |
| | 0.42 | 19.51 | 14.9 | 33.56 | 35 |
| | 0.28 | 6.2 | 12.98 | 16.95 | 20 |
| Portfolio | 0.72 | 12.76 | 7.01 | 62.53 | 68 |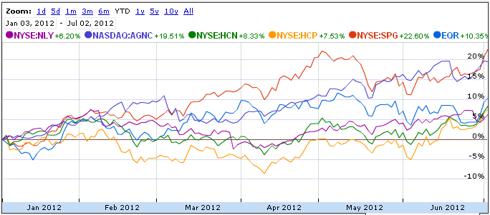 Equity Residential (NYSE:EQR)
Equity Residential, with a market cap of $18.7b, is the biggest name in the U.S. Financial Sector's Residential REIT Industry. The Chicago-based REIT engages in the acquisition, development, and management of multifamily properties in the U.S.
The company has been able to increase its net income attributable to common shareholders on a consistent basis. A material 42% increase in the net income, which is attributable to common shareholders, was witnessed when the income of $102mn from 4Q2011 surged to $145mn in 1Q2012. EQR, with a beta of 1.01 and a dividend yield of 2.2%, has an FFO yield of 3.9%. The dividend yield is marginally above the 10-year U.S. treasury yield of 1.67%. However, the company's FFO increased from $178mn in the quarter ended March 31, 2011, to 195mn in the first quarter this year. This is an increase of 9.5% YoY. JP Morgan (NYSE:JPM) expects an FFO growth of 11.9% and 12% for 2012 and 2013, respectively. This depicts that the company has sufficient ability to both generate free cash flows and sustain this dividend yield. At a current price of $62.94, the analyst mean target price estimate for EQR is $63.41, with a bearish target price of $68. The stock is up 10.35% on a YTD basis.
The otherwise slow real estate market has seen favorable trends of rising rents in 2Q2012, and decreased U.S. homes vacancy rates, which decreased from 2.6% to 2.5% over the last year. This will enhance EQR's ability to increase its rental income.
We recommend a long position on the stock due to its ability to capture an increasing market share in the wake of the favorable trends discussed above, and its sustained ability to offer a dividend yield above that of the comparable treasury.
Simon Property Group Inc. (SPG)
Simon Property Group Inc., with a market cap of $47.2b, is the most liquid name in the U.S. Retail REIT Industry. It engages in ownership and management of 325 regional malls, premium outlets, the mills and community/lifestyle centers in the U.S. It also has an international presence.
The company has been able to consistently increase its net income over the last four quarters. For the quarter ended March 31, 2012, net income of $646mn saw a significant surge of 77% over 4Q2011. Diversified portfolio of regional malls, significant capitalization and its continued appetite for large acquisitions led to a surge in net income, despite a recent cyclical downturn. Additionally, the staggered nature of lease expiration reduces the risk of rent rolldowns. Fitch has rated most of SPG's tenants high, which is why the company faces minimal tenant default risk. The stock, with a beta of 0.96, offers a 2.8% dividend yield at an FFO yield of 4.88% for 2012, which is only slightly lower than its cap rate of 5.5. Going forward, JP Morgan expects the company's FFO growth to be 12.2% and 6% for 2012 and 2013. The stock is up 22.6% year to date.
The company's ability to grow earnings at such a pace, combined with its dividend yield, which is safely above the 10-year treasury yield, make it sufficiently attractive for U.S. investors.
HCP, Inc. (NYSE:HCP)
Within the U.S. Healthcare REIT Industry, HCP stands to be the biggest name with a market cap of over $18.7b. The California-based REIT owns a diversified portfolio of healthcare properties, reducing exposure to individual demand drivers and tenant concentration. HCP's nature of leases enables it to generate a stable cash flow in the future.
Since relocation costs are significant for healthcare tenants, therefore, leases are typically of longer durations. Analysts estimate a range of same-property net operating income growth between 2-4% through 2014. According to company disclosures, an average of 5% of leases expire over the next 10 years, with no more than 10% of leases expiring in any given year. Additionally, the debt is scheduled in a way that no more than 12% of debt matures in any given year until 2015. The stock offers a handsome dividend yield of 4.5%, combined with an FFO yield of 5.8%, and a beta of 1.19. Going forward, JP Morgan believes that the company's FFO growth for 2012 and 2013 would be 6.9% and 4.3%. HCP's shares have appreciated 7.53% so far in 2012.
HCP's ability to generate stable cash flows due to the nature of its leases combined with impressive growth estimates, and its capacity to continue shareholder distributions at 4.5% in the future make it an ideal investment.
Health Care REIT, Inc. (NYSE:HCN)
Largely consisting of private pay properties, HCN owns and maintains a diversified portfolio of healthcare properties in the U.S. The 73% of private pay portfolio reduces the risk of government reimbursements. The Ohio-based REIT has a market cap of $12.6b with a beta of 0.75. The stock offers a dividend yield of 5% along with an FFO yield of 5.1%. An FFO yield that is above the dividend yield means that the company will be able to continue such shareholder distributions in the future. We advise our investors to long this stock.
Health Care REIT's exposure should also help increase the average portfolio's yield. HCP and HCN are well positioned to continue to benefit from the ageing U.S. population. They both have well diversified portfolios of healthcare facilities, tilted towards senior living, which is least affected by the recent Supreme Court ruling on 'Obamacare'.
American Capital Agency Corp. (NASDAQ:AGNC) and Annaly Capital Management, Inc. (NYSE:NLY) are the other two valuable additions to our REITs portfolio. They offer extremely lucrative and sustainable dividend yields of 15.4% and 13.1%, on a very low beta of 0.42 and 0.28. Click on AGNC or NLY for a detailed analysis on these REITs.
Disclosure: I have no positions in any stocks mentioned, and no plans to initiate any positions within the next 72 hours.