While it is true that Dell's (NASDAQ:DELL) revenues have gone nowhere since 2009 (mainly due to consumer and public sector slowdown), there are several other things that have kept the stock down. Dell stock is currently down 75% from its peak of $56,43 in 2000. The shrinking PC market is, of course, part of the problem, but certainly not the only one.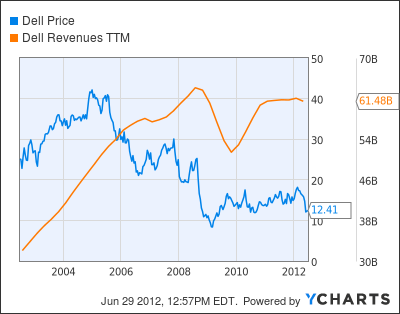 There are some other issues that Dell has that keeps its stock just hanging there:
Long-Term Debt Is Growing Rapidly
Dell's long-term debt went from $362 million in 2008 to $6.3 billion today, and for the first time this year, long-term debt grew larger than the shareholders' equity. Part of the problem is that Dell has been borrowing money for a long list of acquisitions they started few years ago. Although these acquisitions were necessary in order to diversify, in the short term the stock has suffered.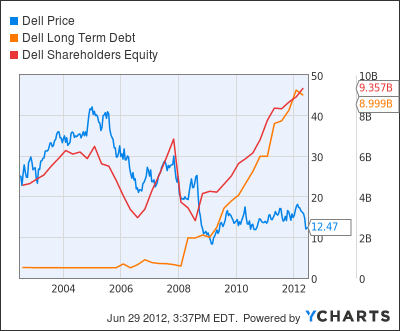 Accounting Issues
In its Dec. 3, 2009, filing of form-10-Q (found here), Dell disclosed that on Nov. 20, 2009, it entered a written agreement to pay $40 million to settle the consolidated securities class action lawsuit pending against the company and certain directors and officers. What makes the $40 million settlement noteworthy is not its amount, but its timing -- the settlement came after the securities lawsuit had been dismissed. Very few securities suits go to trial; in general, the cases are either dismissed or settled. As the Dell case shows, sometimes a case can be both dismissed and settled. What really happened there? Who knows.
On March 21, 2012, in the filing of its form-10-K, Dell disclosed that for fiscal 2011 $140 million was included in operating expenses for settlements related to an SEC investigation and a securities litigation matter. Interestingly, though, it excluded these fees from the financial reports by adding the following note: "We are excluding these fees and settlements for the purpose of calculating the non-GAAP financial measures because we believe these fees and settlements, while not unusual, are outside our ordinary course of business and do not contribute to a meaningful evaluation of our current operating performance or comparisons to our past operating performance."
In addition to these issues, Dell has already changed its CFO twice just before the financial crisis. In December 2006, while Dell was facing several high-profile investigations, its CFO quit, and was replaced by board member Don Carty. Shortly after, in May 2008, the relatively new Dell CFO Don Carty resigned and Brian Gladden replaced him. Dell may be re-establishing transparency and integrity in its finances, but the bad investment decisions and accountability issues it was involved with are still taking their toll. These are all bad signs, which make me wonder what Dell is trying to hide.
Despite that, Dell is not my favorite stock. At its current level, the stock may be a good purchase, but I don't like its practices with both consumers and shareholders. The truth is tough, that the stock is down 75% since 2000 and at that level the stock has good potential, especially now that companies and small businesses will begin investing in IT and technology again.
Here some additional reasons why I'm adding Dell to my portfolio:
Dell Is Transitioning From PC Manufacturing to IT Services
Dell is slowly making the transition from being just a company that sells PCs to a company that offers a broad range of IT solutions for businesses. Through this process, Dell is also ensuring better margins and profitability in the future. In fact, PC-free "enterprise services and solutions" (i.e., IT) now accounts for 31% of the revenue and a whopping 50% of the gross margin.
Since the beginning of fiscal 2011, Dell has acquired more than 10 businesses that extend its core capabilities in a variety of enterprise solutions offerings including storage, networking, systems management appliance, virtualized server and data center solutions, and software-as-a-service application integration, as well as enabling the expansion of its customer financing activities. Dell will remain focused on growing its revenue and profitability by continuing their efforts to provide IT solutions to its customers in areas such as enterprise solutions and services.
Dell Is Growing Internationally
Dell is growing internationally at a fast pace. At a regional level, revenue from outside the U.S. increased 7% to $31.7 billion, representing 51% of total net revenue, while revenue from the U.S. decreased 5% to $30.4 billion. Revenue from growth countries increased 12% overall year over year. In particular, revenue from BRIC (Brazil, Russia, India, and China) increased 15% year over year during fiscal 2012 representing 14.2% of its total net revenue for fiscal 2012, compared to 12.3% for the prior year.
Dell Is Focusing in Research and Development
In fiscal 2012, Dell opened the Dell Silicon Valley Research and Development Center, bringing the total number of global research and development centers its operates to 12. Its total research, development, and engineering expenses were $856 million, $661 million, and $624 million for fiscal 2012, fiscal 2011, and fiscal 2010, respectively. During fiscal 2012, research, development, and engineering expenses were 1.5% of net revenue, compared to 1.0% the prior year.
Dell Has Solid Relationships With Corporate and Government Clients
Dell has strong relationships with its customers and its distribution channels, such as retail, system integrators, value-added resellers, distributors, and other channel partners. This allows Dell to respond to changing customer needs faster than many of its competitors.
At the end of fiscal 2012, Dell had approximately 109,400 total employees, which make it very accessible everywhere. This is an increase from 103,300 employees at the end of fiscal 2011. By having this workforce around the world, Dell will be very well positioned to respond the demand when corporations, businesses, and governments start buying again.
Dell Will Start to Pay Dividends
In June 2012, Dell announced that it will start paying quarterly dividends of 8 cents per share. Dell will start doing so during the third quarter of 2012. At that level, the dividend would be above 2%.
Dell Financial Services Is Expanding to Europe and Canada
DFS offers a wide range of financial services, including originating, collecting, and servicing customer receivables primarily related to the purchase of Dell products. During fiscal 2012, Dell acquired Dell Financial Services Canada Limited ("DFS Canada") from CIT Group Inc. In addition, its announced a definitive agreement to acquire CIT Vendor Finance's Dell-related financing assets portfolio and sales and servicing functions in Europe for approximately $400 million.
Disclosure: I am long DELL.