I am becoming more and more positive on the biotech sector. Part of this enthusiasm is due to my position in Horizon Pharma (NASDAQ:HZNP) which has more than doubled since I profiled it in May. However, I am also positive on the sector as it easily outperforming the S&P Index over the past three months (See Chart) as investors look for safe harbors not impacted by Europe's contraction. The sector is also being bolstered by robust M&A activity as major pharma firms try to replace blockbuster drugs coming off patent. I believe both of these trends will continue over the near term and I just added a speculative $5 biotech stock that has picked up significant insider buying and has had several positive catalysts recently. The biotech company in question is Coronado Biosciences (CNDO).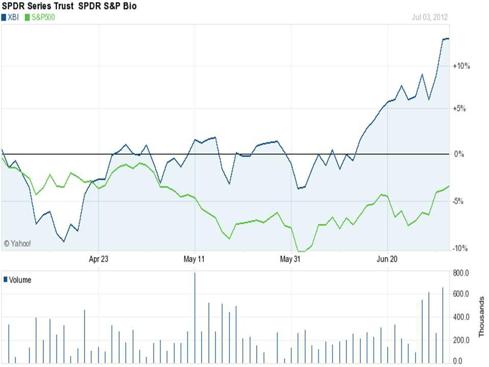 Catalyst for CNDO:
The company successfully just raised over $25mm in the capital markets.
CNDO was just added to the Russell 3000 Index which will attract some Index buying.
The company just received an important patent covering its cell therapy program.
"Coronado Biosciences a biopharmaceutical company, focuses on the development of novel immunotherapy biologic agents for the treatment of autoimmune diseases and cancer" (Business description from Yahoo Finance)
4 reasons CNDO is a solid speculative buy at $5 a share:
 
Only three analyst firms cover the stock (Oppenheimer, Roth Capital and Griffin Securities). They have price targets of $12, $16 and $24 a share on CNDO.
Insiders have added another $1.4mm worth of new shares in June. This is significant given company just went public late last year and usually insiders are selling after lockups expire, not buying more shares.
With the now completed offering, CNDO now has over $40mm in net cash on its balance sheet. This gives the company more than 4 years of funding at current burn rates and plenty of time to develop its compounds without having to raise more capital.
The stock looks like it has established a bottom at the $5 price level (See Chart)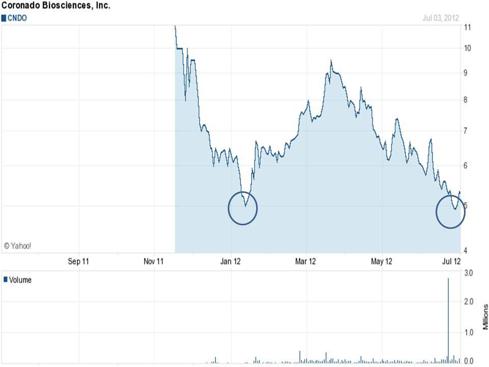 Disclosure: I am long CNDO, HZNP.