It rose, phoenix-like, from the ashes of the 1906 San Francisco earthquake fires. Founded in that city it was called Bank of Italy, and it climbed to prominence by providing banking services to hardworking immigrants from around the globe, potential customers largely ignored by other institutions. (Who made America?) By 1930 it was renamed Bank of America (NYSE:BAC), and today it is a world leader in wealth management, providing services to major corporations and governments as well as to 57 million consumers and small businesses. Headquartered in Charlotte NC, it has 5,700 retail banking offices, 17,250 ATMs, 30 million active users of its online banking system and operations in over 40 countries. But size isn't everything.
An undertaking of Bank of America's size is expensive to run, and the rigorous reduction of operating costs is at the forefront of the company's current strategy in its attempt to get out of the trough in which it now finds itself. The 2008 acquisition of Merrill Lynch (following federal government pressure to go through with the deal despite last-minute revelations about the true size of their target's trading losses - Bloomberg article) was the beginning of a downward spiral for Bank of America. In what were admittedly seriously tough times for all banks, a net income of $15 billion in 2007 had fallen to $6 billion by 2009, while $50 billion was wiped off market capitalization. This however, was only the start of Bank of America's problems: a net loss of over $2 billion was recorded in 2010, and although 2011 saw a partial recovery to a profit of $1.4 billion, market capitalization fell by a further $70 billion to only $59 billion. (5-year financial data summary (pdf))
The bank's CFO Bruce Thompson made a presentation at the June 2012 Morgan Stanley Financial Services conference (pdf), during which he made it clear that the recent staff reductions are considered to be the key to lowering costs: almost 19,000 employees were shed between Q1 2011 and Q1 2012. During the same period the bank's exposure to the kind of legacy capital markets that precipitated the global financial crisis had declined by 40%, while its liquidity is at a record level and funding costs are falling as a result of reduction in long-term debt. In June 2012 the bank announced the redemption of $3.9 billion of trust preferred securities and almost $320 billion of subordinated notes. (Financial releases)
Bank of America's management appears to have taken some hard decisions in an attempt to turn around the company's financial fortunes, but this is not yet translating into much improvement in the bottom line. First quarter results for 2012 show a profit decline when compared with the year ago quarter. Revenue of $22.5 billion, evenly split between interest and non-interest income, compares with $27.1 billion in comparable 2011, a reduction of 17%. Consumer and business banking accounted for one third of total revenue, while global banking, global wealth and investment management and global markets each delivered just under 20%, leaving consumer real estate lending and services to make the smallest but also the only improving revenue contribution. Non-interest expenses actually increased as a percentage of revenue, despite staff cuts, although they showed a percentage decline on a non-GAAP basis. Net income for Q1 2012 was $653 billion, compared with over $2 billion in Q1 2011. However, remembering that total 2011 profit came in at $1.4 billion, $0.7 billion for the quarter may seem like a reasonable start.
In contrast with the disappointing financials, the number of mobile banking customers grew by 39%, new credit card accounts rose by 19%, and the Merrill Lynch division was ranked second in the world in net investment banking fees in the first quarter of 2012. Non-performing loans, leases and foreclosed properties of $27.8 billion at quarter's end were down from $31.6 billion at March 31 2011. Management's five-point strategy for what it refers to as "New BAC" is, firstly, to be customer-driven, followed by the continued building of a strong balance sheet, effective risk management, improved efficiency, and last but not least, delivering for shareholders. Those shareholders will be hoping to see these policies delivering in the form of an improved bottom line in the not-too-distant future. Bank of America's major competitors in the difficult banking arena are the other three players in the Big Four - Citigroup (NYSE:C), JPMorgan Chase (NYSE:JPM) and Wells Fargo (NYSE:WFC) - as well as US Bancorp (NYSE:USB) and PNC Financial services (NYSE:PNC). (Q1 2012 earnings release)
In his opening comments during the Q1 2012 earnings call, CEO Brian Moynihan summarized the way in which the company was performing in those five declared strategic spheres. 'In the first quarter of 2012, we have made progress in each of these areas. As you can see, our capital and liquidity are at record levels in our company. Our credit costs continue to decline, and our cost structure is coming down, and many of the business, customer and profit metrics have improved,' he said. He pointed to credit costs at a 5-year low and the improvement in delinquent and non-performing assets, but emphasized that cost reduction remains at the forefront of management's thinking. There was no clear guidance about expected total FY2012 revenue or net earnings.
It's back to basics, then, for Bank of America: a return to focusing on the needs of the customer, to the potential of the kind of traditional, solid, consumer real estate lending that gets repaid, and, if management's reading of the signs is correct, to the emergence of a leaner, more efficient and more profitable bank.
Bank of America's stock price appears to have put in a double bottom in December 2011 at the $5 price range as shown below: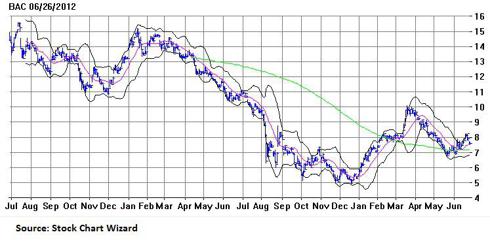 Click to enlarge
The 50 day moving average is above the 200 day moving average, and the stock price is currently near the 50 and 200 day moving averages.
Bank of America stock price appears to have hit bottom and started to recover. An investor considering an investment in Bank of America, but still wary of potentially getting burned, might consider entering a married put position for the company.
A married put provides a position with unlimited upside and limited downside. A married put may be entered by purchasing a put option against the stock. The put option operates as "stock insurance," and protects against a large drop in stock price. Selecting to purchase put options that are further out-in-time reduces the cost of the insurance, similar to purchasing yearly auto insurance as opposed to monthly insurance. Using PowerOptions tools and searching for married put investments for January of 2013 revealed the positions shown below: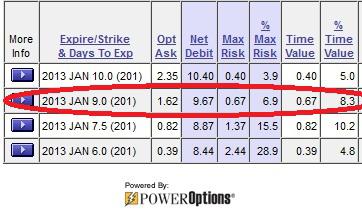 The married put entered by purchasing the 2013 Jan 9 at $1.62 along with a long position in the stock looks attractive, as the maximum potential loss which can be sustained is 6.9%. A profit/loss graph for one contract of the married put position is shown below: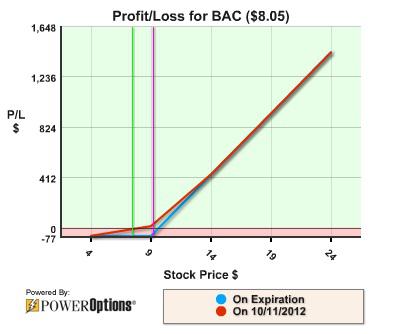 If the price of the stock increases above the $9 strike price of the put option, income methods as described by RadioActiveTrading.com may be applied in order to receive income and reduce risk.
Disclosure: I have no positions in any stocks mentioned, and no plans to initiate any positions within the next 72 hours.