Harley-Davidson (NYSE:HOG) is investing a significant portion of its future growth in international markets as noted in its Q1 2012 earnings call held on April 25, 2012. Growth in Latin America was phenomenal, coming in at 85%. Sales in India and China doubled, and sales in the Asia-Pacific were up 25% year-over-year. Sales in Mexico were strong, but on a negative note, Canadian sales were up 1.5% and sales in the EMEA region were down 1.1%. But, even though sales in Europe weren't great, Harley-Davidson increased its market share by 1.4% to 13.5%. In the U.S., Harley-Davidson increased its market share by 4% to 57.4% which was stellar. Also on a positive note, the company increased its gross margin to 35.9% which was 2.8% percentage points higher than last year.
Harley-Davidson appears to be almost firing on all cylinders, and the misfiring cylinders (Canada and EMEA) aren't too bad. The company's stock price peaked around $54 and has pulled back to the $46 range as shown below: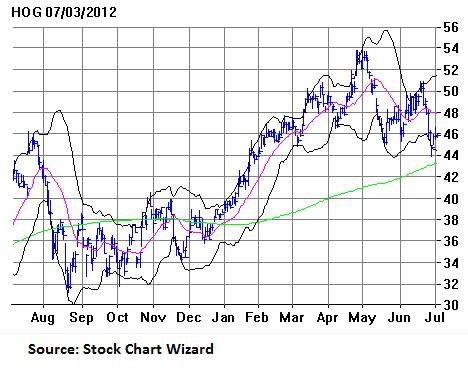 A search for high returning protected covered calls or collars using PowerOptions tools revealed Harley-Davidson at the top of the list as shown below:

Following behind Harley-Davidson were automobile manufacturer General Motors (NYSE:GM), resort company Las Vegas Sands (NYSE:LVS), weight management company Weight Watchers (NYSE:WTW) and athletic apparel company Lululemon Athletica (NASDAQ:LULU) discussed in this article.
A protected covered call may be entered by selling a call option against a purchased or existing stock and using some of the proceeds from selling the call option to purchase a protective put option. The Harley-Davidson protected covered call in the list above has a potential return of 3.4% (26% annualized) and a maximum potential loss of 7.8%, so even if the stock price drops all the way to zero, the maximum loss which can be sustained is 7.8%.
The highest returning positions as shown above were found by selecting to search and sort by the highest returning positions. Stock prices for companies in an uptrend were found by selecting to include companies with a 100-day moving average greater than the 200-day moving average. The 8% maximum loss parameter was selected, as a loss of 8% or less can typically be recovered fairly quickly using income generating investment methods.
Harley-Davidson most likely popped up as the highest returning position due to its upcoming earnings release scheduled for August 1, 2012, as option premiums often increase near a company's earnings release. Entering the protected covered call above provides positioning for a potential return, even if the stock price is stagnant, and protects from a significant drop in stock price, in case the company releases bad news.
The protected covered call for Harley-Davidson can be entered by selling the 2012 Aug 46 call option at $2.44 against a long position in the stock and purchasing the 2012 Aug 41 put option for $0.94. A profit/loss graph for one contract of the position is shown below: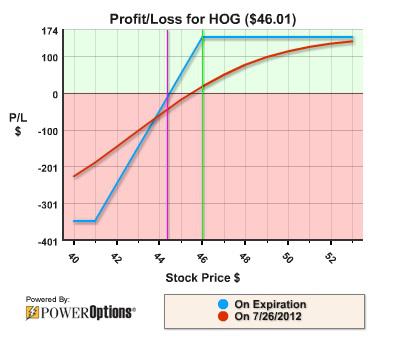 For a stock price below the $41 strike price of the put option, the value of the protected covered call remains unchanged. If the price of the stock increases to around $50, the position can most likely be rolled in order to realize additional potential return.
Disclosure: I have no positions in any stocks mentioned, and no plans to initiate any positions within the next 72 hours.