If the thought of well-filled container ships pulling into ports around the globe doesn't get your blood stirring, maybe it should. Continuing a pattern of growth with double-digit annual gains, container shipping may be the most stable sector in the shipping arena. And that's something to get excited about.
Investors should not be fleeing from an anticipated phalanx of new cargo vessels once predicted to be on the verge of flooding the container segment with an embarrassment of capacity, something even we here at Delta Global have agonized over as part of our work on the Delta Global Shipping UIT. Yes, one battalion has set sail—just in time for the current cargo boom—but those vessels were written into the order book before 2003 and, since then, the building uproar has died down to a cautious murmur more in line with historical trends and the risk of container overcapacity seems to be diminishing.
With container space and demand in better balance, shipping rates in this sub-space are exhibiting above-trend pricing and admirable stability.
Not so in the more excitable dry bulk market, where watchers are competing to be the first to sight the second coming of last year's breakneck race by China to suck in much of the world's iron, coal and cement.
Many CEOs I talked with last week at Capital Link's shipping conference in New York lamented the foolish gossip about their industry in the U.S. financial press. "What do the bears in the media woods, U.S. economic trends and the container markets have in common?" they asked.
The answer: not much.
So, should you think inside the box or outside the box? We suggest you focus on the container itself, and the leading name in the container shipping space is Seaspan (SSW).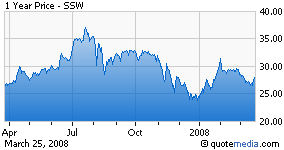 After pulling back since August with the rest of the shipping sector over economic slowdown fears, the stock has shown strong relative strength compared to its group and even looks to be firming up, technically. A move to 32 would mark the second double-top in a row, giving more confidence of a change in trend for the better.
Broadly speaking, the shipping sector provides enhanced exposure to global growth; if you believe the market has turned for a lasting rally, this is a sector to look at closely.
Disclosure: Author has a long position in SSW