Hoping to capitalize on the return of the consumer? One good place to start may be True Religion Apparel Inc. (NASDAQ:TRLG), the American denim company. The high-end retailer has seen strong sales growth over the last 5 years, and even with a stock that appears cheap by several measures, TRLG still pays a handsome dividend yield.
True Religion Apparel is an American denim company with high-end jeans, shirts, and other offerings. The company was founded in 2002 and opened internationally. The company then went public in 2003 on the Nasdaq. Now True Religion has stores across the world, even on Wall Street.
Its dividend yield is at 2.76%, with a sustainable payout ratio of 11.10%. The company also has the liquidity to support these dividend payments for some time: current ratio at 8.26, quick ratio at 6.71.
TRLG's income statement is well under control, with higher gross, operating, and pretax margins than its industry averages: TTM gross margin at 64.69% vs. the industry average at 50.68%. TTM operating margin at 18.58% vs. industry average at 12.68%. TTM pretax margin at 17.86% vs. industry average at 11.86%.
EPS growth over the last 5 years at 14.37% vs. 13.48% for the industry's average. Looking into the future, expected EPS growth over the next 3-5 years is at 15%, which slightly beats the industry average of 14.24%. Revenue has grown over 24% over the last 5 years, well beating the industry average of 11.46%.
Considering these promising trends and the stock's price multiples, TRLG may be undervalued. PEG at 0.79. P/FCF at 14.25. TTM P/S at 1.72 vs. 2.25 for the company's industry. However, TTM P/E at 15.75 vs. 13.91 for the industry average.
As an interesting side note, I also found that True Religion has had a strongly positive correlation to the VIX index over the last two months. This indicates that the stock may have been treated as a safe haven, although past performance does not guarantee future returns. Correlation with the VIX index at 0.59 over the last 60 days.
In summary, True Religion has seen promising trends over the last 5 years despite a recession that hit high-end retailers the hardest. If you are optimistic on a world-wide recovery for consumer spending, keep True Religion's solid dividend and cheap stock price in mind.
For an interactive version of this chart, click on the image below. Analyst ratings sourced from Zacks Investment Research.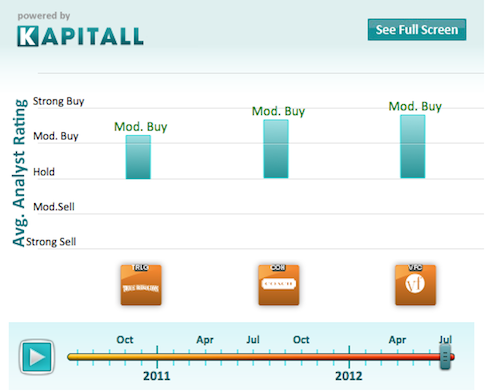 Tool provided by Kapitall.
*Written by Alexander Crawford. Price multiple data sourced from Fidelity, EPS data sourced from Yahoo Finance, accounting data sourced from Google Finance.
Disclosure: I have no positions in any stocks mentioned, and no plans to initiate any positions within the next 72 hours.