Garmin (NASDAQ:GRMN) is the undisputed leader in the rapidly growing industry of Personal Navigation Devices, or PNDs. Garmin claims an astounding 55% of market share for GPS mapping devices. However, on Tuesday, one of Garmin's chip suppliers--SiRF Technology (SIRF)--forecasted sluggish demand for its chips in the upcoming quarter. Based on that disappointing forecast, GRMN is off more than 4% at present.
Furthermore, GRMN has lost nearly 50% of its market value since reaching a high in late October 2007. Fears of slowing consumer discretionary spending have almost certainly been priced in to GRMN with such a dramatic plunge in only 5 months.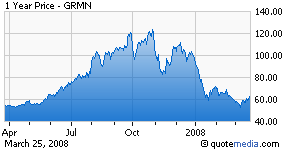 Tuesday's warning from SiRF is certainly not good news for the PND industry, but SiRF admitted that the drop in demand has mostly come from small PND makers. This may indicate a trend of slowing demand for all PNDs, or conversely it could mean that Garmin and larger PND-makers are out-pacing their smaller competitors with better, more innovative products.
Even if SiRF's warning does suggest a rough quarter for Garmin, the PND industry is just scratching the surface of its potential demand, so owning the industry leader offers great upside potential for patient investors. On the bright side--although this news was overshadowed by SiRF's warning Tuesday--Garmin announced a partnership with Kenwood [KNWCF.PK] as the exclusive navigation supplier for Kenwood's 2008 lineup of in-dash automotive electronics.
Some investors fear that Garmin will be hurt by the likelihood of GPS capabilities being implanted in devices such as cell phones and laptop computers, which will lessen demand for stand-alone GPS products. However, that progression does not concern us because Garmin has already established itself with widely compatible GPS technology. As the Kenwood deal demonstrates, with Garmin's market-leading GPS technology already in place, many companies will choose to integrate Garmin technology into their products rather than trying to reinvent the wheel on their own.
Furthermore, Garmin has an expansive R&D effort which seeks to further distance it from the pack. GRMN's next big innovation could be real-time traffic updates and smart routing that automatically redirects drivers away from highly congested areas.
From a long term value perspective, GRMN looks quite attractive. It is rare to find an industry leader with 55% market share selling at a 24% discount to the low end of its historical average Price-to-Sales range. Its lead in PND technology is already well established and management will continue to be on the cutting edge of GPS technology and further integration into cell phones, laptops, etc.
Disclosure: No position.