Whenever the debate over Global Warming and eco-friendly products is started, the U.S. is always blamed for being an "over-consumer" of oil. The figures given below seem to back that label.
Within the U.S., it has been the Transportation Sector that has primarily been the main culprit in this consumption imbalance.
Therefore, the U.S. government has been actively involved in incentivizing the public into switching to an alternative source of fuel. In this cause, the concept of energy efficient cars has emerged. The following graph shows how U.S. authorities have planned to take action:
Natural gas-driven, and electric vehicles currently form the dominant portion of the energy-efficient cars market.
This piece will mainly focus on the current trends of energy efficient vehicles (EEVs), potential demand, and the stocks that are likely to benefit from an increase in demand of EEVs. However, we first have to compute the approximate amount of savings attached to the usage of both forms of EEVs.
As the divergence between oil and gas prices floats around 40.0x (once over 50x), the Burner Tip Parity is constantly being violated, which suggests that the difference in the prices of the two fuels should be 6x.
This provides car and truck users with a unique opportunity to switch to the cheaper option of using natural gas for fuel purposes. In a simple calculation, one can estimate that gas costs around $2 per gallon, as compared with the spot rates of $3.5 for gasoline and $3.7 for diesel. This means a straightaway 50% cut in fuel costs, which can mean significant cost-savings for frequent travelers.
Doing a cost-benefit analysis, one can see whether the switch to natural gas saves costs or not. According to a recent study (leveling the playing field for natural gas in Transportation in June 2012), the incremental cost comes out to be $70,000 for a heavy duty truck, and $5,500 for a Sedan. The following table shows the story: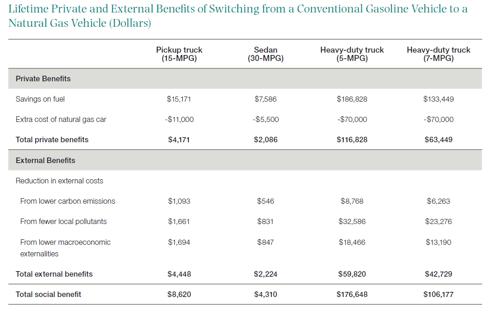 The following table also shows how profitable this switch can be for truck users:
| | | | | | | |
| --- | --- | --- | --- | --- | --- | --- |
| | Year0 | Year 1 | Year 2 | Year 3 | Year 4 | Year 5 |
| Cash Outflows | -70,000 | | | | | |
| Cash Inflows(Savings) | | 40,000 | 40,000 | 40,000 | 40,000 | 40,000 |
| Net Cash Flows | -70,000 | 40,000 | 40,000 | 40,000 | 40,000 | 40,000 |
| Discount rate | 10% | | | | | |
| NPV | $74,210.48 | | | | | |
| IRR | 49% | | | | | |
* Qineqt's Estimates
(The table assumes that the truck's fuel consumption is 5MPG, it has a life of 500,000 miles and will be driven 100,000 mile per year. Therefore a saving of $2 per gallon will be made every year).
This model might be considered too simplistic, as it does not take into account the incremental maintenance charges that come with CNG engines, however, this switch still results in far more benefits than the costs attached to it.
Similarly, the following table also shows the profits attached to the switch for light vehicle users:
| | | | | | |
| --- | --- | --- | --- | --- | --- |
| Column1 | Year0 | Year 1 | Year 2 | ……. | Year 10 |
| Cash Outflows | (5,500) | | | | |
| Cash Inflows(Savings) | | 1,000 | 1,000 | 1,000 | 1,000 |
| Net Cash Flows | (5,500) | 1,000 | 1,000 | 1,000 | 1,000 |
| Discount rate | 10% | | | | |
| NPV | $6,144.57 | | | | |
| IRR | 13% | | | | |
* Qineqt's Estimates
(The table assumes that the Sedan's fuel consumption is 30MPG, it has a life of 150,000 miles and will be driven 15,000 mile per year. Therefore a saving of $2 per gallon will be made every year).
We can clearly see that due to the high mileage of the Sedan, the benefits are not that significant. Therefore, on the basis of this model, we can safely conclude that switching to natural gas is more profitable for truck users, compared with Sedan users. Based on this data, we forecast that due to this switch, truck engine manufacturers will benefit considerably.
Westport Innovations Inc. (NASDAQ:WPRT)
WPRT designs and builds engines to run on natural gas. WPRT recently signed an agreement with General Motors (NYSE:GM) to produce more efficient engines for light vehicles. It also signed a deal in early June, 2012, with Caterpillar Inc. (NYSE:CAT) to produce natural gas engines that would replace diesel engines. The firm faced some hard times when it reported below-estimate earnings for four back-to-back quarters. However, due to this trend in switching from gasoline to natural gas, along with the firm's low multiples and strategic partnerships with giants like GM and CAT, the firm is expected to grow in the future.
For an in-depth analysis of other major winners, click on this link.
Electric vehicles (EV) are the other major energy-efficient source of transportation. Before calculating the savings borne by this alternative, we need to see the pros and cons of using an EV.
EVs come with certain advantages, but also some inconveniences.
They are energy efficient i.e. they convert around 60% of electric energy to power at the wheel. This is three times more than gasoline cars, which only convert 20% of gasoline energy to power at the wheels.
EVs are environmentally friendly, as they do not emit tailpipe pollutants.
EVs provide stronger acceleration and smooth operations compared with conventional vehicles.
Most importantly, EVs use an alternative source of fuel.
Inconveniences include:
Most EVs give a driving range of 80-100 miles, after which they have to be charged.
Full charging can take up to six hours.
Lithium batteries used to power the cars are extremely expensive.
Batteries are heavy and occupy much of the space of the vehicle.
The calculations for electric cars are a bit complex, but a simplistic view is given below:
| | | | | | | | |
| --- | --- | --- | --- | --- | --- | --- | --- |
| | Year0 | Year 1 | Year 2 | Year 3 | Year 4 | Year 5 | Year 6 |
| Cash Outflows (Battery Charges-2 cents per mile) | (5,000) | (300) | (300) | (300) | (300) | (300) | (300) |
| Cash Inflows(Savings) | | 1,750 | 1,750 | 1,750 | 1,750 | 1,750 | 1,750 |
| Net Cash Flows | (5,000) | 1,450 | 1,450 | 1,450 | 1,450 | 1,450 | 1,450 |
| Discount rate | 10% | | | | | | |
| NPV | $1,195.57 | | | | | | |
| IRR | 19% | | | | | | |
* Qineqt's Estimates
The life of electric cars can vary from model to model. However, the average life of an electric car is considered to be 6-7 years. In this document, we will further discuss which electric cars are currently available in the market, and their comparison with regular gasoline Sedans. For the time being, the analysis has been done on the Nissan Leaf, Nissan's latest electric car. Toyota's Camry has been taken as a regular car for the purposes of calculating the incremental cost. The Nissan Leaf is currently priced around $27,000, which is $5,000 more expensive than the Camry.
EVs run on a battery, which has to be recharged after a certain distance has been traveled. The computation is as follows:
| | |
| --- | --- |
| | |
| kW consumed | 58 |
| Cost per kilowatt hour | 0.04 |
| Full trip | 2.32 |
| Miles | 100 |
| Cost per mile (approx) | 2 cents |
| Total miles per year | 15000 |
| Total Recharge cost | 300 |
* Qineqt's Estimates
Kilowatts (KW) consumed vary for different models, but recent models show the same stats on the matter. Also, the distance traveled in a single recharge varies for different cars as well. This variation can be quite significant at times, for instance, the miles driven in a single recharge of Tesla's Model S can be between 230-300 miles. However, this is down to a technology breakthrough. Before that, the Nissan Leaf gave a maximum of 100 miles, followed by the Mitsubishi Miev, which gave 62 miles.
Cost per kW is different for night and day timings. The model assumes that the night rate is 4 cents per kWh, compared with 8 cents during the day. The recharge is needed after each trip (the Nissan Leaf's range is 100 miles).
Cash inflows - all the money spent in refueling the car is considered cost savings, as the EV runs on a battery.
| | |
| --- | --- |
| | |
| Annual Miles | 15000 |
| MPG | 30 |
| Total Gallons per year | 500 |
| Spot rate | 3.495 |
| Total Savings | 1750 |
* Qineqt's Estimates
However, we can see that the IRR is not as attractive as it turned out to be for gas-driven trucks. As stated before, this analysis has been done for the Nissan Leaf. However, once we start taking in other expensive cars, the NPV can become negative as well.
This gives us an opportunity to analyze the different electric cars in the market, and compare them with the regular Sedans available.
| | | | |
| --- | --- | --- | --- |
| | Price | 0-60 Time | Range |
| Electric Models | | | |
| Nissan Leaf | $27,700 | 10.3 | 100miles |
| Chevrolet Volt (hybrid) | $31,645 | 9 | 35miles |
| Mitsubishi Miev | $21,625 | 13.4 | 62miles |
| Fisker Karma (hybrid) | $95,900 | 6.3 | 50miles |
| Toyota Prius (hybrid) | $25,000 | 10.9 | 20 miles |
| Tesla Models | $49,900 | 6.5 | 160miles |
| | | | |
| Luxury Sedans | | | |
| Audi A7 | $59,250 | 5.4 | 18 City/28 Highway |
| Cadillac CTS-V | $64,515 | 3.9 | 14 City/19 Highway |
| Mercedes Benz E350 | $50,490 | 6.5 | 20 City/30 Highway |
| Jaguar XF Sedan | $53,000 | 5.5 | 16 City/23 Highway |
*Prices are after federal rebate
Before these models are analyzed, the concept of hybrid cars should be clarified. Hybrids have come in the form of gasoline-electric hybrids and diesel-electric hybrids. Gasoline-electric hybrids, as the name suggests, are a cross between a gasoline-powered car and a typical electric car. This car, compared with an electric car, has a fuel tank, which gives the car an additional 200-250 miles once the battery dies off after 50-60 miles.
| | | |
| --- | --- | --- |
| | NPV | IRR |
| Electric Models | | |
| Nissan Leaf | $1,195 | 19% |
| Mitsubishi Miev | $3,797 | 118% |
| Tesla Model S | ($16,257) | -22% |
* Qineqt's Estimate
The table shows the NPV and IRR that each model gives. Hybrids have not been included, as their calculations involve gasoline charges, which can become extremely complex. However, one should not base his/her opinion on this table only. There are a lot of factors associated with the choice of vehicle. Firstly, the conventional vehicle against which the analysis has been done is the Toyota Camry. However, this may not be suitable for certain models .e.g. Tesla's Model S should be compared against luxury Sedans like the Jaguar XF, as it has the outlook of a luxury car and it takes the same time to achieve 0-60mph. Taking these values into account, even the incremental cash outflows are positive.
Another major concern is battery deterioration. Battery cost forms almost one-third of the cost of the electric car. However, battery replacement/maintenance costs have not been included in the model. According to Goldman Sachs, the replacement cost of a battery in the Tesla Model S is $22,500. Also, the batteries are heavy and occupy large spaces in the vehicle.
The resale value of an electric car has also been criticized, as it is expected to be much lower than that of a typical car. This is primarily because of the battery costs, as a battery is expected to last for 5-6 years on average.
Major Players
Tesla Motors Inc (NASDAQ:TSLA)
TSLA designs, develops, manufactures and sells EV and EV power train components. Analysts have given a forward P/E of 47x to the firm, and revenue is expected to rise to $1.65 billion, after earning 560 million this year. However, a lot of confusion is prevalent in the market with regards to how to value this stock. The main reason for this is the firm's newly launched $50,000 luxury electric car, which has attracted some conflicting opinions in the market. The firm expects to achieve a target of 20,000 cars next year and fulfill an order of 5,000 sedans this year. This car is thus expected to be mass produced. However, the bearish approach highlights the potential issues with this model. First and foremost, the price tag is said to be enormous, and if a customer intends to fully accessorize the car, the price tag will reach $70,000, which is an exorbitant amount of money given what the customer is getting for the price.
The firm has given a battery warranty of 100,000 miles, or on average 7 years. However, the resale is not promising after that. Even though the firm has been successful in bringing down the price of lithium batteries to $200 per kWh against Nissan's $375, it will still take $22,500 (Goldman Sach's estimate) to replace one battery. TSLA says that its R&D is working on making cheaper batteries.
The firm expects to make 90% of its revenue from this car. This over dependence is a dangerous sign for investors, as a failure of the new model can be fatal for the firm. The following table shows the bifurcation of Tesla's revenue:
| | |
| --- | --- |
| Areas | % of revenue |
| Electric Vehicles | 87% |
| Powertrain Components | 7% |
| Development Services | 4% |
| Others | 2% |
This clearly shows that the firm is over dependent on EV sales.
The firm is currently in partnership with Toyota and Daimler AG to create electric power trains. The firm is making electric power trains for the Toyota Rav4 and the Mercedes Benz EV. This partnership tells us that the firm has a competitive advantage in its battery packs and production. As already stated, the firm produces the cheapest smart car batteries in the market. Despite the fact that it has used its expertise to build cheap batteries, and hence "cheap" EVs (it has used unique cylindrical batteries in Model S, that live longer and take up less space), unfortunately, for unknown reasons, the firm has failed to capitalize on this expertise, as only 7% of its revenue comes from it.
Therefore, a bearish approach is suggested, unless the firm turns to mass production of power train components, which will only be possible if the concept of the usage of EV becomes popular among the masses.
Toyota Motors (NYSE:TM)
The Toyota Prius Hybrid 2012, with its ancillary hardware of around 330 pounds and heavy battery pack, heavier than most of its competitor, and only 20 miles of range, does not match its competitor's electric car models. However, it has still gained the attention of customers because it is a gasoline-electric hybrid, which means that drivers can switch to gasoline whenever they want. It is viewed as a two-in-one package by customers, and the Toyota tag brings additional satisfaction for customers. 10-Ks tell us that the firm had sold a total of 3.854 million units of this model by the end of March 2012.
Toyota has been actively involved in improving its battery quality and cost. In order to do that, the firm has signed an agreement with Tesla Motors , under which the latter has been producing electric power trains for the Toyota Rav4. On June 29, 2012, TM struck a deal with BMW motors to work on electric power trains. BMW will help TM reduce the battery weight of its cars.
However, it is important to highlight that the firm does not depend much on the sale of electric and hybrid cars. It has many other models of gasoline and diesel driven cars that can generate massive revenue for the firm. TM expects only 2,600 of the Rav4 to be sold in the next three years. This shows the mistake that TSLA is making by expecting 20,000 units of sale in the next year.
TM has strengthened its hybrid lineup over time. It introduced the Camry in 2011, the Aqua (another hybrid) in December 2011, and a fully remodeled Prius Hybrid in January 2012. TM anticipates strong growth in the hybrid vehicles segment and will continue to introduce new models.
General Motors
GM's Chevrolet Volt has a lot of similar characteristics to its peer Toyota Prius, such as a heavy battery, 35 miles of range, and a price tag that is very similar to the Prius. Volt's battery is expected to last 10 years or 150,000 miles, and after that, the battery is still expected to store 12 kWh, which can then be used in households as an energy-storage device.
GM has also been busy developing natural gas driven trucks and engines, which are more popular than its electric cars. It signed a deal with Caterpillar Inc. , which also manufactures natural gas-related equipment, early this June, to develop natural gas engines. It has recently decided to work in collaboration with Westport Innovations Inc. to develop natural gas engine technology for light vehicles.
In its 10-K, GM declared its five strategies:
Technology improvement to power trains.
Smaller displacement engines and improved automatic transmissions.
Light, front wheel architectures.
Increased hybrid and electric car offerings.
Dropping selected larger vehicles in favor of smaller fuel-efficient vehicles.
This clearly shows the firm's increasing tilt toward environmentally-friendly practices. However, again it is important to note that GM, like its peer TM, and unlike TSLA, does not depend much on the sale of EVs for its overall revenue.
Ford Motors (NYSE:F)
Ford has initiated a strategy by the name of Power of Choices . This is an electrification vehicle strategy, under which the company will enhance its variety of hybrid electric vehicles and battery electric vehicles. As a part of that strategy, it is going to launch the Ford Fusion in 2013, which is going to be gas-hybrid and plug-in hybrid (plug-in is the one that has a larger battery and hence a longer range). Earlier versions of Ford's hybrids have already won the Derm Hermance Award at the Chicago Show in 2010, an award given to the car that is the cheapest, most efficient and eco-friendly.
Conclusion
It is crucial to note that TSLA, by far, has the biggest stake among its competitors when it comes to the demand for energy-efficient cars. No other company depends on EEVs for its annual revenue as much as TSLA. Therefore, the drivers of demand for EEVs will have the strongest impact on TSLA's stock. Catalysts to look out for are:
How much emphasis TSLA gives to its power train production business. The more the emphasis, the more likely the stock will progress.
Mitt Romney, the presumptive Republican president nominee, is against the concept of electric vehicle subsidies. Therefore, his coming to office will most likely be a goodbye to EEV future production, as no incentives will be available for the firms to produce the vehicles, and EEVs will become much more expensive for customers to buy, as the federal rebate of $7,500 will be revoked.
Any new and better model in the market with a longer range, lighter battery and stronger acceleration will eat up TSLA's share.
Consumer behavior toward eco-friendly products.
Disclosure: I have no positions in any stocks mentioned, and no plans to initiate any positions within the next 72 hours.