In my previous article, Ray Dalio's Primer On Deleveraging, I had written about the deleveraging cycle based on Ray Dalio seminal work, An In-Depth Look at Deleveragings on the subject. Ray Dalio manages the Bridgewater Pure Alpha fund, which earned its investors $13.8 billion in 2011, taking its total gains since it opened in 1975 to $35.8 billion.
We will now look into a new issue of why the US is undergoing a "Beautiful Deleveraging," as stated by Dalio in his interview to the Barron's. Ray Dalio describes a beautiful deleveraging as one that balances three options. There would be a certain amount of austerity, there is a certain amount of debt restructuring, and there is a certain amount of printing of money. When it is combined in the right proportion, it would result in a smooth deleveraging process. This implies that it does not result in too much deflation or too much depression. The growth could be slow, but positive. At the same time, ratios of debt-to-incomes go down. That's a beautiful deleveraging.
Why US is undergoing a Beautiful Deleveraging?
He compares the current phase in the US to that of the period between 1933-37, when the growth was positive, albeit at a slower rate. There are also chances of the Fed resorting to another round of quantitative easing if the economy turns down again. This would be for the purpose of alleviating debt and putting money into the hands of people.
A need might arise for a fiscal stimulation by the government. Governments have to spend more when sales and tax revenue go down, as unemployment and other social benefits kick in, and there is a redistribution of wealth. That is why there is going to be more taxation on the wealthy and more social tension.
What makes all the difference between the ugly and the beautiful?
The key is to keep nominal interest rates below the nominal growth rate in the economy, without printing so much money that they cause an inflationary spiral. The way to do that is to be printing money at the same time there is austerity and debt restructurings going on.
Now let us look into the historical cases of Beautiful deleveraging, as pointed out by Ray Dalio.
As shown below, in all of these cases, money printing and currency devaluations were sizable, nominal growth rates were pushed above nominal interest rates and the debt/income ratios fell. During the reflation periods, a recovery in nominal incomes lessened the debt/income burdens. Naturally, in cases in which the downturns that preceded these periods were very deep (e.g., 1930-32 in the US) the rebounds were greater.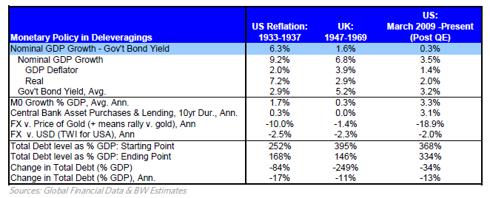 Source: An In-Depth Look at Deleveragings by Ray Dalio
The chart that follows shows the rates and compositions of the reductions in the debt/income ratios. The dots show the change in the debt/income ratios and the bars show the attribution of the sources of these reductions.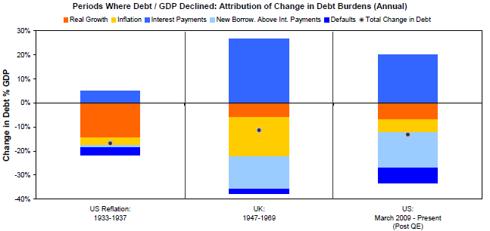 Source: An In-Depth Look at Deleveragings by Ray Dalio
Investment Options: Now lets us turn our focus to Ray Dalio's major portfolio holdings.
Ray Dalio is long on gold (NYSEARCA:GLD) due to expected slow growth in the United States and Europe for at least the next decade. The firm's co-chief investment officer Robert Prince, stated in the WSJ Article titled "Bridgewater Takes Grim View of 2012":
We're (the U.S.) in a secular deleveraging that will probably take 15 to 20 years to work through, and we're just four years in.
The Fed would opt for a low interest rate environment, with the US having to undergo pending years of low-growth deleveraging ahead. It would also resort to buying Treasuries, inflating its asset prices as well. Further, Ray Dalio's strength lies in macro investing, and he uses ETFs to gain broad exposure to the stock market or to hedge his other bets.
We will now look at some of the ETFs he holds as a hedge. According to Insider monkey, Ray Dalio has 42% of its portfolio invested in SPDR S&P 500 Trust ETF (NYSEARCA:SPY). His other top ETF holdings include Vanguard Emerging Markets Stock ETF (NYSEARCA:VWO), iShares MSCI Emerging Markets Index ETF (NYSEARCA:EEM), Market Vectors Gold Miners ETF (NYSEARCA:GDX) and iShares iBoxx $ Investment Grade Corporate Bond ETF (NYSEARCA:LQD).
Investors can take exposure to Gold using the following ETFs as well.
SPDR Gold Trust
PowerShares DB Gold ETF (NYSEARCA:DGL)
iShares Gold Trust ETF (NYSEARCA:IAU)
ETFS Physical Swiss Gold Trust ETF (NYSEARCA:SGOL)
ETFS Physical Asian Gold Shares Trust ETF (NYSEARCA:AGOL)
Market Vectors Gold Miners ETF
Market Vectors Gold Miners Unior ETF (NYSEARCA:GDXJ)
Global X Pure Gold Miners ETF (NYSEARCA:GGGG)
Please refer to my previous article "Ray Dalio's Primer on Deleveraging" that summarizes Deleveraging process undertaken by countries out of debt.
Disclosure: I have no positions in any stocks mentioned, and no plans to initiate any positions within the next 72 hours.