An investor usually sells a put option if his/her outlook on the underlying security is bullish. The buyer of the put option pays the seller a premium for the right to sell the shares at an agreed-upon price. If the stock does not trade at or below the agreed-upon price (strike price), the seller gets to keep the premium.
Benefits associated with selling puts
In essence, you get paid for entering a "limit order" for a stock or stocks you would not mind owning.
It allows one to generate income in a neutral or rising market.
Acquiring stocks via short puts is a widely used strategy by many retail traders and is considered to be one of the most conservative option strategies. This strategy is very similar to the covered call strategy.
The safest option is to make sure the put is "cash secured." This simply means that you have enough cash in the account to purchase that specific stock if it trades below the strike price. Your final price would be a tad bit lower when you add the premium you were paid up front into the equation. For example, if you sold a put at a strike of 20 with two months of time left on it for $2.50; $250 per contract would be deposited in your account.
Time is on your side. Every day you profit via time decay as long as the stock price does not drop significantly. In the event it does drop below the strike you sold the put at, you get to buy a stock you like at the price you wanted. Time decay is the greatest in the front month.
Some reasons to be bullish on Qualcomm (NASDAQ:QCOM)
Snapdragon chips are also used extensively in Android based phones and as Android based smartphones are the fastest selling phones on a global basis. Qualcomm stands to benefit from this trend.
According to wireless intelligence reports, over 1.5 billion 3G subscribers will be added in emerging markets (China, India, etc.) by 2015. As a result, Qualcomm is in perfect position to benefit from this growth.
The growing acceptance among mobile handset manufacturers of LTE (long term evolution technology) has also served to boost growth in Qualcomm.
In the second quarter of 2012, it shipped 152 million MSM Chip Sets (in the first quarter it shipped a record breaking 156 million MSM chipsets, up 32% year-over-year) up 29% year over year. At present, roughly 340 devices use the snapdragon chipset, and another 400 devices are in the pipeline. Management projects that the company will ship 146-154 million MSN chip sets in the second quarter.
At present, 370 devices are using the Snapdragon chipset, and roughly another 400 devices are in the pipeline. It is expected to ship 144-152 million MSN Chipsets in the third quarter.
It received another boost from the upcoming from Microsoft's Windows 8 operating system. They are working together to develop Snapdragon Chipsets for tablets that will utilize the Windows 8 operating system. 3G and 4G LTE connectivity to these devices will be provided by Qualcomm's Gobi mobile internet connectivity solutions. It is the Sole chipset developer for both Windows smartphones and windows tablets.
Its purchase of Atheros communications has helped change into an integrated chipset developer for the mobile computing market. It now has the chance to expand in the consumer-electronics segment such as the home networking market.
It acquired intellectual property related to gesture recognition from GestureTek. They plan to integrate this technology into the Snapdragon platform. This will allow manufacturers of smartphones, tablets and other related products to come up with devices that are based on natural human gestures.
The dividend was raised by 16% and is effective immediately. The new annualized rate will be $1 per share, up from 86 cents.
A new $4 billion share buy back program was approved. This program replaces the current $3 billion share buyback program.
It has a fantastic balance sheet with over $25 billion in cash and marketable securities.
For those looking for more information, this stock was covered in detail in a recent article - Qualcomm A Dominant Player In The High End Smartphone and mobile computing sector.
Suggested Put Strategy for Qualcomm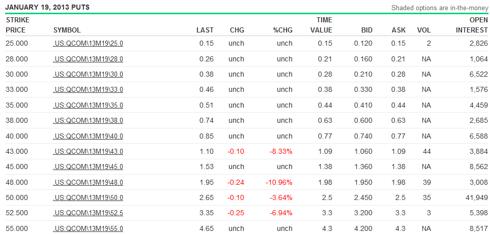 Click to enlarge
The markets are still in an extremely volatile phase. One day they drop down the next day they soar up several hundred points. The stock is attempting to put in a bottom after trading as low as 53.41 and the bottoming process usually entails a retest of the lows. Thus, it would be reasonable to expect it to trade down to the 53.60-54.50 ranges. The Jan 2013 52.50 puts are trading in the $3.20-3.30 ranges. A pullback to these ranges should push the prices up to the 3.90.4.00 ranges. If you are bullish on the stock at the current price, you can sell these puts for 3.20 or better. For this example, we will assume that the puts are sold for $3.90 or better. For each put sold, $390 will be deposited into your account.
Benefits of this strategy
If the stock trades below the strike price, the shares could be assigned to your account. Your final price in this case will be $48.60 (52.50 minus 3.90). If the stock does not trade below the strike price, you walk away with gains of 7.45% in roughly seven months.
Potential risk factor
If you are bullish on the stock, there is not much of a risk, for this strategy provides you with means to either get into the stock at a lower price or get paid for trying. The only risk factor is that you have a change of heart, and you now feel that the stock could trade significantly below the strike price the puts were sold at. In this case, you can roll the puts. Buy the old puts back and then sell new puts that are slightly out of the money.
Conclusion
Only implement this strategy if you are bullish on the stock, and you are ready for the possibility that the shares could be assigned to your account. In general, selling puts is one of the best ways to get into a stock you are bullish on. You either get in at a lower price, or you get paid for trying to.
Disclaimer
It is imperative that you do your due diligence and then determine if the above strategy meets with your risk tolerance levels. The Latin maxim caveat emptor applies - let the buyer beware.
Disclosure: I have no positions in any stocks mentioned, and no plans to initiate any positions within the next 72 hours.
Additional disclosure: EPS and price vs industry charts obtained from zacks.com. A major portion of the historical data used in this article was obtained from zacks.com. Options tables sourced from money.msn.com.