China's financial market has been undergoing heavy volatility the past few months as its bubble finally burst last fall. The CSI 300 index crashed hard from 5800 at the beginning of the New Year to a close of 3,900 yesterday. The Hang Seng index has decreased from an all time high of 32,000 last November to a dismal close of 22,500 yesterday.
Yet in midst of this financial disarray, perhaps a contrarian would be thinking about buying opportunities versus following where the crowd is going. At least, that would have saved you from the crash in the first place if you were playing it long last year.
In an effort to further diversify my portfolio, I've had my eyes set on several candidates from emerging markets. One company that's particularly interesting is Xinhua Finance Media (XFML), a company based of Beijing and listed on the NASDAQ. (I currently do not own this company, but plan on going long.)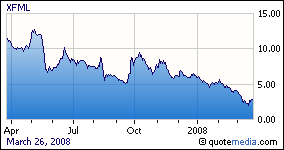 Founded in 2005, XFML operates as a diversified financial and entertainment media company, targeting high net worth individuals in China. The company operates in five divisions: Media Production, Broadcasting, Print, Advertising, and Research. The company reaches its target audience via TV, radio, newspapers, magazines and other distribution channels. You can think of the company essentially as a media mongol like Reuters or Bloomberg, but specifically for China.
The company has been trading in a downtrend since its IPO in early 2007, depreciating from a 52-week high of $12.75 to a low of $2.02. However, I believe the company's solid fundamentals coupled with encouraging recent developments make it a value buy. Here's why:
XFML has seen tremendous growth from fiscal 2006-2007
Revenues are up 128%
Gross income are up 109% in the same period
Net income are up 748%
The company's debt to total capital ratio of 6.9% is in-line with media industry's norm
The company currently has $44 million in cash
The company is highly undervalued
With a P/E of 7, it significantly lags rival FMCN's P/E of 33 and industry average of 25
XFML also has a PEG of 0.56 versus FMCN's 0.77 and industry 0.81
Recent developments have been favorable for the company
March 19 – two of its Fortune China financial TV problems laded coverage to a total of 80 terrestrial TV channels across China.
Feb 19 – Billionaire Ron Burkle increased his stake in XFML to a total of 12% of the company's outstanding common shares at $3 per share
Feb 11 – XFML to revamp CCTV5's channel image in time for the 2008 Olympic Games
Growth in the Chinese advertising industry
Although the advertising industry worldwide has declined, the fundamental outlook for China's advertising industry is generally positive particularly with the interest in this year's summer Olympics
China's media industry has grown 18% in 2006 and 19% in 2007 respectively in dollar amounts
Valuation
With 2007 EPS at $0.42, if XFML trades at the industry average of 25, that means the stock should be around $10.5. Even if we cut that in half, the stock should still be trading around $5.25, a hefty gain from the current $2.92
Aside from some of the concerns regarding the company's disclosure, I think this is an investment with an excellent risk to reward ratio.
Disclosure: None