Buy-side analysis is typically easier than sell-side analysis because it's fairly straightforward to evaluate a company's price in correlation to future growth prospects, and determine if it's a reasonable investment. However, it's often harder to determine when to let go of a stock.
My approach to sell-side analysis is similar to Donald Yacktman's. While most stocks in your portfolio will provide some returns over the long period, there is almost always good value to be had somewhere in the market. Thus, with the exception of "buy-and-hold-forever" stocks like Coca-Cola, I believe that stocks should be sold once they no longer classify as a "good value." These stocks' valuations suggest unexceptional future performance, which may interfere with your ability to achieve high returns. If you've had a good run with them, why not let them go and look for a new home-run hitter?
Please note that my analysis below is not necessarily a recommendation to short. I rarely recommend shorting, with the occasional exception of put option buying. After all, "he who sells what isn't his'n -- must buy it back or go to pris'n." While some companies clearly have metrics suggesting that they're good short candidates, the market can remain irrational about such companies long enough to rack up significant losses for shorters.
With that in mind, I'm not enamored with Encana Corporation (NYSE:ECA). Encana is a North American energy producer involved in exploration, development, and transportation of oil and natural gas.
Reasons to be cautious:
The company offers an annual dividend of $0.80, but earnings per share are actually lower than $0.80 -- in 2011, EPS was $0.54. The mean EPS target for 2012 is $0.84, barely above the dividend, and EPS estimates for 2013 are a dismal $0.22. The dividend will either have to be cut or financed with debt, neither of which is an appealing scenario for investors.
Trailing P/E is 36.4, which is more than double the oil industry average of ~16.
Debt is at the highest level in years (see chart). Debt-to-capital is currently 47%, which is more than 40% above the industry average of 33%.
Return on Equity on a trailing twelve month basis is a dismal 0.5%, compared to an industry average of 9.7%.
Projected EPS growth next year is an absolutely awful -55%.
Analysts' mean price target on Encana is $21.30, which is essentially the same as the current stock price. (Not a lot of upside.)
Encana's net margin of 1.0% is significantly below the industry average of 6.7%.
While Encana may get things turned around, I think there are better opportunities in the oil and natural gas sector -- for example, Valero Energy.
click image to enlarge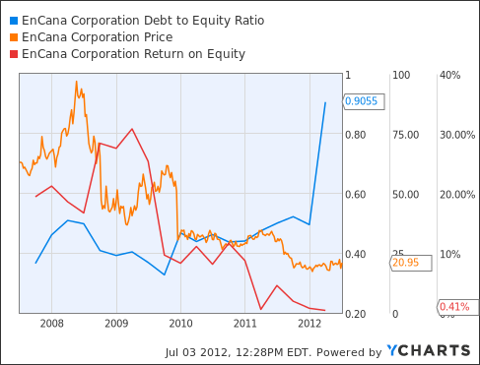 ECA Debt to Equity Ratio data by YCharts
Disclaimer: I am an individual investor, not a licensed investment advisor or broker dealer. Investors are cautioned to perform their own due diligence. All information contained within this report is presented as-is and has been derived from public sources & management. Always contact a financial professional before making any major financial decisions. All investments have an inherent degree of risk. The future is uncertain, and actual results may be materially different from those expected. Past performance is no guarantee of future results. All views expressed herein are my own, and cannot be interpreted as the views of my employer(s) or any organizations I am affiliated with. Presentation of information does not necessarily constitute a recommendation to buy or sell. Never make any investment without conducting your own research and reading multiple points of view.
Disclosure: I have no positions in any stocks mentioned, and no plans to initiate any positions within the next 72 hours.