Very few of the stocks in my portfolio have been a bigger disappointment or headache than Power-One (NASDAQ:PWER) over the last nine months. I have managed to reduce my losses by employing a well-timed option strategy, but have not been able to mitigate all of the stock's total decline since adding it to my portfolio. However, the stock has behaved much better in last few weeks and has picked up some positive catalysts recently. Given its cash rich balance sheet, low valuations and better growth prospects in 2013, this could be the start of a significant breakout.
Recent positives for Power-One:
After falling consistently over the last three months, consensus earnings estimates for FY2012 and FY2013 have stabilized over the past week or two.
A couple of insiders made their first new buys of the year in May.
After bumping along for the last nine months with technical support at just under $4, the stock has broke out recently and just passed over its 100 day moving average (See Chart).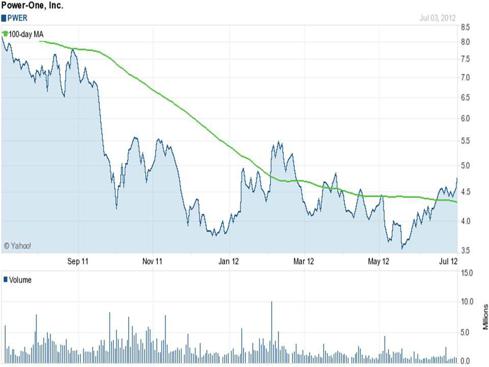 Click to enlarge
"Power-One engages in the design, manufacture, sale, and service of power supply products for the renewable energy, servers, storage and networking, telecommunications, industrials, and network power systems industries worldwide." (Business description from Yahoo Finance)
4 reasons PWER is a good value at under $5 a share:
The company has a robust balance sheet with $225mm in net cash, approximately 40% of its market capitalization at current stock prices.
PWER is selling at the bottom of its five year valuation range based on P/S, P/E, P/CF and P/B.
After falling this year, sales are predicted to increase more than 5% next year.
The stock is selling at under 7 times trailing earnings and the stock was north of $12 less than 1½ years ago.
Disclosure: I am long PWER.