The election of a new Mexican president recently offers a good opportunity to review the major influences on investment performance in Mexico and whether any of them will change now with a different party in power.
To make this judgment let's first clarify the relevant investments, and then the influences that most affect their values. The most common ways to trade Mexico on a retail level include ADRs such as América Móvil (NYSE:AMX), Coca-Cola FEMSA (NYSE:KOF), Telmex (NYSE:TMX), Cemex (NYSE:CX), Homex (NYSE:HXM), the MSCI Mexico Index Fund (NYSEARCA:EWW) and to a lesser extent, the iShares S&P Latin America 40 Index (NYSEARCA:ILF), SPDR S&P Emerging Latin America (NYSEARCA:GML) and iShares MSCI Emerging Markets Latin America Index Fund (NASDAQ:EEML).
These investments are limited mostly to consumer goods, telecommunications and real estate, alongside a smattering of the country's famous monopolists, financial sector plays and a few multinational subsidiaries. For institutional investors, also of interest may be the peso's relationship with the dollar, Mexican government and corporate bonds, the central bank's general worldview (more specifically, its plan for controlling inflation and its stance on capital controls), and broader macroeconomic indicators.
Finally, there is foreign direct investment--property, factories and other hard assets. A certain class of investors may also have access to a potential privatization plan for state-owned oil company Petróleos Mexicanos (Pemex) whenever such a plan eventually comes to fruition.
The headline risks that in recent years have had the highest material effect on these investments include, in no particular order of importance:
U.S. economy
Eurozone crisis
Bank of Mexico actions
China's economy
The U.S. and Europe
Generally, the Mexican economy tends to mirror U.S. movement, with some minor glitches and stops and starts. But neither the peso, nor any tradable Mexican securities, yet garner the respect of being US Treasury-equivalent. So whenever there's any flight to safety in global markets, all things Mexican take a hit, they just aren't hit the same way other things are, as I've discussed previously in this space.
The Bank of Mexico
Mexican markets have, for better or worse, an abiding trust in Governor Agustín Carstens, and he shows no signs of letting anyone down. When the peso slides, whether by coincidence, or by contagion, with the euro, Banxico will every so often intervene to prop it up by selling dollars. Furthermore, it remains steadfastly against capital controls, and it has the FX reserves to propel this merry-go-round for quite a while.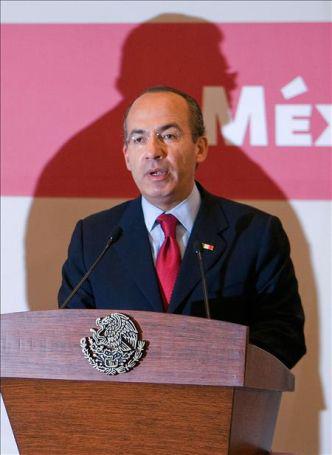 (Central Bank Governor Agustín Carstens literally and figuratively overshadows outgoing Mexican President Felipe Calderón | Photo Credit: Reuters)
China
Finally, China, as is widely known by now, is heading for some sort of landing, though whether it's soft, hard or crash, no one seems to agree, and which one it is really doesn't matter for our purposes here. What does matter is that as the cost of doing business in China rises, which it clearly is, the net benefit, to the extent that it isn't a reverse outsourcing back into the U.S., is necessarily going to Mexico.
Certain other issues tend to accompany a discussion of the above influences, but do not in fact have a material effect on Mexican investment exposure. However, for the sake of being thorough and furthering an understanding of just how they do fit into Mexico's macro outlook, it would be prudent to briefly review them here.
The Drug War and its effect on FDI and economic growth
If the drug war itself and the estimated 50,000-60,000 people who have died as a result of it in the past six years had any bearing whatsoever on Mexico's investment performance, then capital flight would have depleted the central bank's reserves, the entire country would be in flames right now and the capital would be a war zone. Amazingly, none of these things has come to pass (yet), but where the drug war does inflict sustained economic damage is on smaller communities away from urban centers, unless by "urban center" we're talking about Acapulco, Monterrey, Juárez or Veracruz, some of Mexico's largest cities. There is a steady supply of anecdotal evidence strongly suggesting local business revenues suffer as a direct result of narcotics-related violence.
On the other hand, Nuevo León, where 49 decapitated bodies were found alongside a highway in May, is on track to receive a record US$2 billion in foreign investment this year. Some argue this is a veiled manifestation of money-laundering. Journalist Ioan Grillo, in his new book, "El Narco", interviews bankers who claim that drug money kept the peso afloat during the 2008-09 crisis. Whether that claim has any validity is not the point; the point is that a pile of 49 headless human bodies on a roadside is apparently less scary than an interest rate cut. If Governor Carstens were to so much as hint at slicing interest rates, you can be sure that US$2 billion would head north faster than [insert migration metaphor here].
As far as broader economic growth, there are two basic options for what to believe:
Option one: Pockets of Mexico are growing, a confident cadre of monopolists is profiting and anyone owning shares in the companies run by those monopolists should be in the clear. Other pockets of Mexico are visibly degenerating, but the aforesaid monopolists are smart enough to avoid exposure to those risks. One could argue that the "growth" pockets are outsized enough to pull the entire ship forward on behalf of the other pockets, where negative, or narco-growth is taking place.
Option two: Long-term economic growth potential for Mexico lies in its middle class and its small and medium-sized entrepreneur-commanded businesses, and they suffer the most from the challenges Mexico faces.
Oil policy / Pemex reform
Achieving the needed oil policy reforms in a way that propels Mexico's economy forward requires cooperation across political parties in Congress, something famously hard to achieve. The most flagrant display of this difficulty came in the form of fistfights on the floor of Congress during the first half of President Calderón's term, derailing any hope for the most urgently needed reforms. As it pertains to the oil question, a critical mass of Mexicans still hew to a deeply embedded sense of national pride directly linked to sovereignty over the country's oil wells. There are intermittent signs of a gradual shift in national mood on this theme, but given that no political party emerged with a clear majority from the weekend's elections, progress on this front will remain challenging as it requires a) political agreement in b) Mexican Congress c) to happen quickly d) on what is indeed an effective solution. Net effect on investment performance: zero.
The Presidency
This is perhaps the most counterintuitive. Who holds the presidency of Mexico certainly impacts many things: access to FDI opportunities, how the drug war is addressed and where resources are allocated for social programs, among others (Reuters recently had a nice summary of the promises each presidential candidate made and New York-based Americas Society/Council of the Americas has by far the best English-language repository for all things politics and policy driving Mexico's presidency, available here.) But when it comes to actual investment performance, neither the U.S. economy, the Eurozone crisis, China or monetary policy is in any way under the sway of Mexico's presidency, and this is not likely to change with the new administration.
There's risk and then there's risk
Anyone considering buying and holding, for example, Mexican government bonds, can rest assured that at maturity, both principal plus interest will be forthcoming. For anyone looking to trade out of that position before maturity, it is highly advisable to have a very clear framework that defines risk tolerance limits. And if that's where the questions end, then that's where the conversation ends. Anyone looking for further verification of the health, strength or robustness of the Mexican economy should be prepared for a complicated answer that cannot be neatly wrapped up.
And yet the Mexican story continues. To a certain extent, this is positive as it indicates how well integrated it is into the global economy. It also decreases the possibility of one person bringing down the system. Unlike some other emerging economies, Mexico's Achilles' heel has never been about one person perverting the system, but about a system that is itself perverted yet somehow survives in spite of itself.
Disclosure: I have no positions in any stocks mentioned, and no plans to initiate any positions within the next 72 hours.