With a yield on the 10-year treasury note near a paltry 2% at the start of 2012 - as well as a five-year annualized rate of inflation of 2.25% - purchasing iShares 7-10 Year Treasury (NYSEARCA:IEF) had few fans in the media. What's more, few investors may have been willing to commit large sums of capital to an investment where one is likely to lose purchasing power - neither preservation nor price appreciation seemed probable.
In fact, in the initial three months of the year, IEF struggled to hold its 200-day simple moving average. For shareholders, it appeared that the 30-year trend of declining interest rates might actually be reversing. And for treasury bond vigilantes, it seemed like vindication was at hand.
Click to enlarge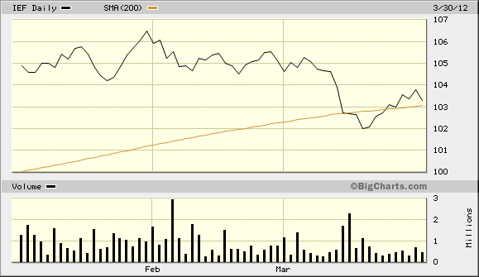 Click to enlarge
In mid-March, however, three-month LIBOR rates were no longer declining. Greece began flaring up. Spanish and Italian bond yields were hitting unsustaiable levels. Energy stocks were tanking. And China's growth slowdown was becoming more apparent.
Suddenly, safety-seekers became enamored with intermediate U.S. government debt once again. And the price of iShares 7-10 Year Treasury (IEF) bounced off a key trendline, catapulting to new heights.
Click to enlarge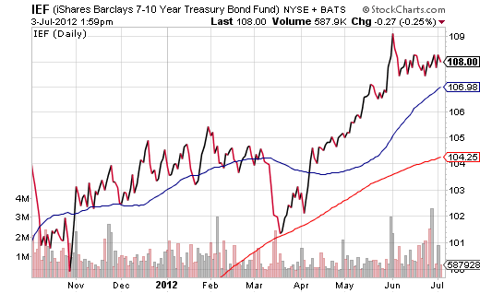 Click to enlarge
Keep in mind, though, the last time (Feb) that IEF pushed as much as 5% above a 200-day moving average, the fund eventually reverted back to the mean. It follows that buying IEF after it nearly pushed 5% above its 200-day at the start of June might result in a classic example of "buying high."
In essence, when a trend has passed you by, there are several reasonable options for consideration. You may wait for the asset to pull back to its 200-day, and acquire shares at what you believe to be a discount. With this approach, you risk the possibility that the asset will continue to plummet into a bearish environment.
Another venerable method involves looking at another asset that may benefit from the same general uptrend. For instance, iShares Conservative Allocation (NYSEARCA:AOK) emphasizes exposure to fixed income while still allocating a small amount to stocks for dividend and diversfication potential.
Indeed, AOK tends to be less volatile than IEF, as the equities in iShares Conservative Allocation (AOK) can act a bit like a hedge. And while IEF has outperformed on total return by roughly 3.5% to 3% year-to-date for AOK, entering a 75% fixed income/25% equity fund may have a bit less risk than treasuries alone.
Click to enlarge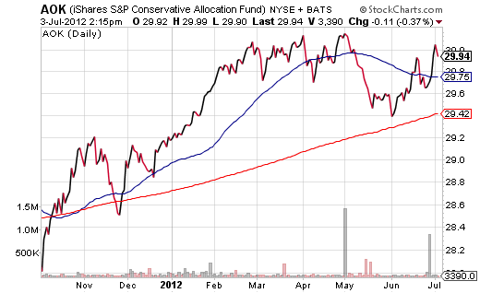 Click to enlarge
There is a third alternative, of course. You can recognize that there are always other fish in the sea, so to speak. Great opportunities always emerge - one doesn't have to be married to any asset or asset type.
In other words, do you really have to tell yourself, "I will buy Apple (NASDAQ:AAPL) when it falls to XXX." Instead, you can think in terms of something entirely different for achieving your goals.
The reason that it's critical to keep the third possibility in mind is because it's possible that U.S. treasuries have already seen their best days. Even if I think there's a little more juice left in the tank for the long-end of the bond curve, that doesn't make it so. Similarly, I might believe Apple is destined for 850, but there's nothing to say that it couldn't drop to 300.
Don't marry your investments. Have an exit plan for any individual acquisition, regardless of successes you may have had with that investment in the past.
Disclosure: Gary Gordon, MS, CFP is the president of Pacific Park Financial, Inc., a Registered Investment Adviser with the SEC. Gary Gordon, Pacific Park Financial, Inc, and/or its clients may hold positions in the ETFs, mutual funds, and/or any investment asset mentioned above. The commentary does not constitute individualized investment advice. The opinions offered herein are not personalized recommendations to buy, sell or hold securities. At times, issuers of exchange-traded products compensate Pacific Park Financial, Inc. or its subsidiaries for advertising at the ETF Expert web site. ETF Expert content is created independently of any advertising relationships.