Talk about restaurant industry stocks, the first name you will hear is very likely to be McDonald's (NYSE:MCD) and deservedly so. The next name is likely to be Yum! Brands (NYSE:YUM). MCD is favored by dividend and dividend growth investors, while YUM is seen more as a growth stock that also pays a little dividend. Lost in this shuffle is Darden Restaurants (NYSE:DRI), a stock that does not rival either MCD's dividend history or YUM's growth prospects but has its own attractive aspects. This article lists a few of such "attractions".
Current Yield: With the recent dividend increase to 50 cents a share, DRI's yield stands well above those of MCD and YUM at 4%. Its payout ratio is almost the same as MCD's. What is impressive is that DRI has increased the dividends no matter how much the earnings increased or decreased (see first chart below). While continuously decreasing earnings is a cause of concern, investors must realize DRI is more discretionary than even MCD. There is not much debt to be worried about as well.
(DRI - EPS chart. click to enlarge)

(Source: Ycharts.com)
Dividend Growth: Look at the chart below. Its a perfect dividend growth story. The past 5 dividend increases have been at an average of 23% per year. Remember that the 2012 dividend payment of $1.36 shown below does not include the 50 cents that will be paid in October of this year.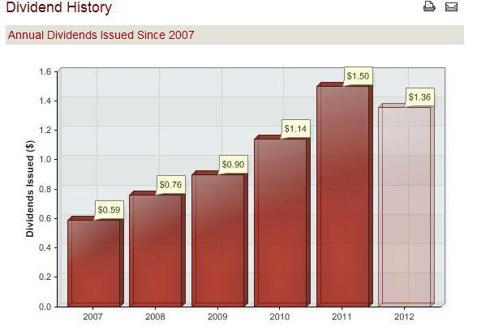 (Source: http://investor.darden.com/dividends.cfm)
Extrapolating the dividend growth for 10 years, assuming 10% annual dividend growth (note the actual dividend growth over the past 5 years has been 23%), we get impressive results as shown below.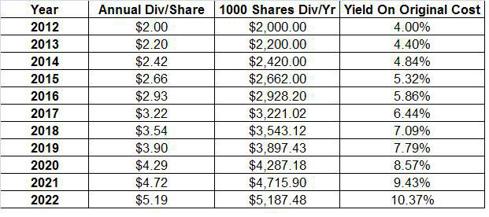 Gas Prices: This is more of a short term and intermittent factor, unlike the above two aspects on which DRI has more control. DRI has quite often been a victim on high gas prices. Right now, the falling gas price should augur well for DRI's next few quarters.
Valuation: This is where DRI gets the step-motherly treatment. Its current PE of 14 is lower than MCDs 16.5 and YUM's 20 hands by a wide margin. Even though DRI is expected to grow its EPS at a higher % than MCDs, the forward PE of DRI is again lower than that of MCD. The general view is that since DRI's international presence is not as big as MCDs or YUMs, DRI is not going to grow at all. But the numbers do not suggest such a gloomy story. Also the higher yield seems to be totally neglected.
New Ventures: Acknowledging the issues its having with its chains, DRI has been trying out various new offers and combo stores. While its too early to say whether these things are going to bear fruits or not, the efforts are clearly encouraging and shows that the company is willing to tackle its problems heads on. Its also slowly expanding into nearby international markets.
Conclusion: Sure, Darden has its own set of problems - some business specific like the weakness in Olive Garden. But even the mighty MCD has been facing issues due to slowing sales, thanks to the economy. But all the factors mentioned should make the investors feel at ease about DRIs long term prospects. And while you wait for the company to sort out its business specific issues and also to weather the economy, you get a nice growing dividend. Get paid to wait. The market has had a good last couple of weeks but expect it to pullback at any slight hint of trouble at Europe. On such days, DRI could provide an enticing entry point below $50.