I used to find myself wondering why many biotech companies failed to be opportunistic and raise cash when their stock price was clearly on a good run. Perhaps CEOs were concerned about the public outcry on messages boards, Twitter, and from the media in general about a greedy company who has no regard for its shareholders. Perhaps the company truly believes even better times are just ahead so extra cash won't be needed. Perhaps management likes seeing gold stars labeled 'non-dilutive' on their quarterly reports. Who can blame them? I'm sure we all would have liked more gold stars in our younger days. However, I think the answer has much to do with inadequate risk management. Let's look at Chelsea Therapeutics (NASDAQ:CHTP) for example.
Chelsea Therapeutics
Chelsea has experienced a string of stock crushing events in 2102. The negative briefing docs issued by the US Food & Drug Agency (FDA), the complete response letter (CRL) issued by the FDA for the company's drug Northera, the disappointing results from the phase 2 trial of CH-4051 in rheumatoid arthritis (RA), and most recently, the FDA saying it doesn't believe Study 306B will provide sufficient confirmatory evidence to support Northera's approval. The CHTP ticker has plunged more than 75% this calendar year.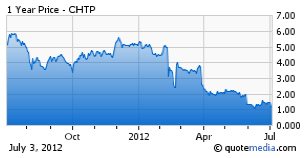 Once CHTP received the CRL in late March I wrote it was obvious the company would need to raise more funds despite ending March with over $50 million in cash. However, Chelsea had two upcoming catalysts that management could hope might result in a higher stock price: the p2 RA data and news from talks with the FDA about using 306b as a confirmatory trial. I believed the RA data would be good but it was disappointing enough for the company to shelve the program. Left with just the hope of good 306b news I expected a raise and was sure we would see one when this press release came out and the stock rose nicely. Again there was no dilution. This situation reminds me of the investor who clings to a stock as it continues to lose value. At some point you need to cut your losses. Chelsea management may have good intentions, as evidenced by their recent internal cost cutting measures, but somewhere along the line cash should have been raised.
Alnylam (NASDAQ:ALNY) & Aastrom (ASTM)
Chelsea is not the only company I have been invested with and questioned why they did not raise money. Five years ago Alnylam was flying high. The company had lots of cash on the books and enviable deals with reputable partners. The stock was trading in the low to mid 30s for much of 2007. Surely management knew the RNAi hype had far surpassed the science so why did not the company take advantage of their vastly inflated stock and issue some shares.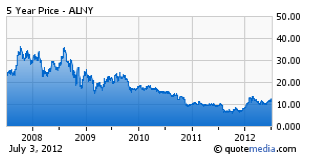 Aastrom is another example of a company that should have taken better advantage of hype surpassing the science. Look where the company was trading back in 2005 and even then it was known their stem-cell technology was over a decade away from reaching the market.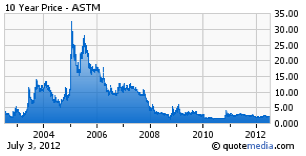 The Power of Hindsight
Sure it's easy to look back and make claims about what a company could have or should have done but in the process of looking back we have an opportunity to learn and apply what we have learned to the future.
Horizon (NASDAQ:HZNP) has been on a tear since the beginning of June seeing its stock more than double in anticipation of the July 26 PDUFA for Lodotra (a delayed release version of low-dose prednisone for rheumatoid arthritis). Despite having raised roughly $51 million from issuing 14 million shares at $3.62 back in March it might be worthwhile to strike again while the stock is sparkling. There are legitimate concerns about the market prospects for the drug and the company still has to be approved. There are lots of negative surprises in biotech. Will we look back in three or six months time and say HZNP should have raised in July?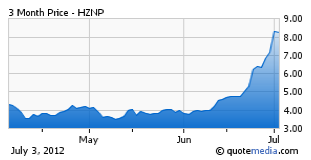 Traders would undoubtedly loathe the idea of diluting when cash is not needed and things are going well but actual investors should applaud the concept. Don't be a Chelsea and wait until your stock is stuck in the muck.
Disclosure: I have no positions in any stocks mentioned, but may initiate a long position in HZNP over the next 72 hours.
Additional disclosure: My short-term RA play in CHTP didn't work out. I ended up selling all shares at 1.42 the day the RA data was publicized when markets opened. Moving on.