Many investors have relied on a once per year trading system triggered by yield, called the "Dogs of the Index" to select the best of the best dividend stocks. The system empowers investors with all the wisdom and knowledge of the well-paid wizards of investment and publishing for free, as they select the highest yielding and lowest priced choices from a collection of equities built by experts.
June 25, Rupert Murdock's Barron's Weekly published their "ranking of the world's most respected companies as determined by [their] annual survey of institutional investors." The top five were Apple (NASDAQ:AAPL); IBM; McDonald's (NYSE:MCD); Amazon (NASDAQ:AMZN); Caterpillar (NYSE:CAT).
Charts below for the Barron's Respected 50 Index ranked by yield reveal stocks whose prices increased (or whose dividends decreased) as candidates to be sold off a year later to sweep gains and reinvest the seed money into higher yielding stocks in the new Barron's Respected 50 index.
Two key metrics determined the yields to rank the Respected 50 dog stocks: (1) stock price; (2) annual projected dividend. Dividing the annual dividend by the price of the stock declared the percentage yield by which each dog stock was ranked. Thus investors were able to follow, trade, and await results from their investments in the lowest priced, highest yielding ten stocks in the index.
Investment Empowerment from the Respected Top 50
Top thirty Respected 50 stocks by yield as of 6/26/12 per Yahoo Finance data were listed. Barron's stated: "the worlds largest companies [were listed] based this year on market capitalization as of April 13 as determined by Dow Jones Industries." [Numbers in brackets show rank by respect as voted by 116 institutional investors polled by Barron's.]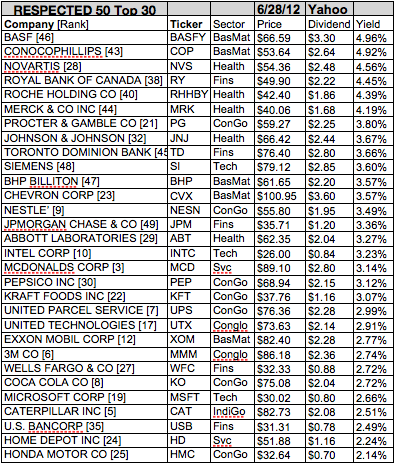 As of June 26, the top two stocks by yield for this index were basic materials firms, BASF (OTCQX:BASFY), and ConocoPhillips (NYSE:COP). The remaining top ten Respected 50 stocks by yield included four Healthcare firms, Novartis (NYSE:NVS), Roche Holding (OTCQX:RHHBY), Merck & Co. Inc. (NYSE:MRK), and Johnson & Johnson (NYSE:JNJ); two financials, Royal Bank of Canada (NYSE:RY), and Toronto Dominion Bank (NYSE:TD); one consumer goods company, Procter & Gamble (NYSE:PG); one technology firm Siemens (SI). Five of nine sectors were represented in this top ten combination.
Dividend vs. Price Results
Relative strengths for the Respected 50 top ten index stocks by yield was graphed as of June 28, 2012. Six months of historic projected annual dividend history from $1000 invested in the ten highest yielding stocks and the total single share prices of those ten stocks created the data points for each month shown in green for price and blue for dividends.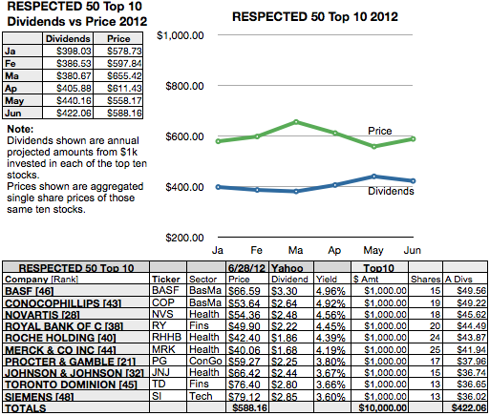 Conclusion: Respected 50 Overbought Since 2011
The chart above showed the Respected 50 top ten aggregate single share prices moving away from annual projected dividends from $1,000 invested in each stock from January to March. This pattern of price exceeding dividends displayed the overbought condition for this index.
Respected 50 projected dividend totals for $1000 invested in the top ten after March rebounded toward their aggregate total single share prices. The bears dominated from March to May and Respected 10 dividend yields climbed while stock prices dropped in that period. Between May 29 and June 26, however, the bull came back with dividends dropping 4.11% while prices climbed 5.38%.
Conclusion Too:
2012 Gained 12.56%; 2013 Projects 14.5% Net Gain from these 10 dogs
Top ten dogs for the Respected 50 index were graphed below to show relative strengths by dividend and price as of July 2, 2011, June 28, 2012 and those projected to June 28, 2013.
Historic prices and actual dividends paid from $1000 invested in the ten highest yielding stocks and the aggregate single share prices of those ten stocks created the data points for 2011 and 2012. Projections based on estimated increases in dividend amounts from $1000 invested in the ten highest yielding stocks and aggregate one year target share prices from Yahoo Finance created the 2013 data points green for price and blue for dividends.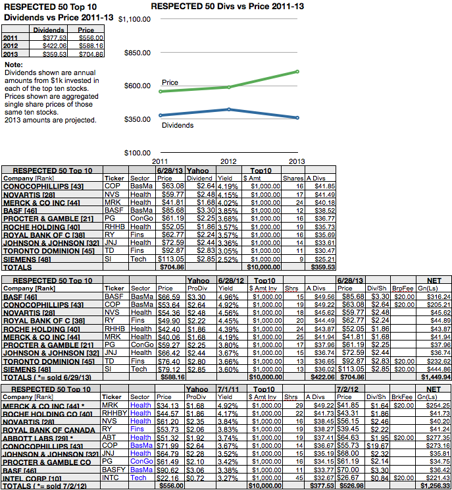 Historic data showed dividends from $1k invested in each of the top ten Respected stocks in 2011 increased 11.8% while their aggregate single share price climbed 5.78% to this year. Yahoo projected 14.82% lower dividends for this group while price was projected to increase by 19.84% in the coming year. Probable profit generating trades revealed by Yahoo for 2012 were Merck netting $254.25, Abbott Laboratories netting $277.35 and Intel Corp. netting $221.43 this year to make the total gain 12.56% on $10k invested.
Come June of 2013, should Yahoo Finance projections hold, charts for this collection of dogs showed the investor could net 14.5% on $10k invested.
Stay tuned for periodic updates on how well or whether these projections held.
Disclaimer: This article is for informational and educational purposes only and shall not be construed to constitute investment advice. Nothing contained herein shall constitute a solicitation, recommendation or endorsement to buy or sell any security. Prices and returns on equities in this article are listed without consideration of fees, commissions, taxes, penalties, or interest payable due to purchasing, holding or selling same.