Dupont Fabros Technologies (NYSE:DFT) was the best performing data center related stock in June 2012, having gained slightly more than 12% in this month alone.
Network-neutral providers Interxion (NYSE:INXN) and Equinix (NASDAQ:EQIX) come next, with performances of 9% and 8%, respectively.
CDN providers Akamai (NASDAQ:AKAM) and Limelight Networks (NASDAQ:LLNW) also performed positively in the month, having gained roughly 8%.
Here is a complete review of all stocks under our coverage, which highlights a month relatively positive for the sector: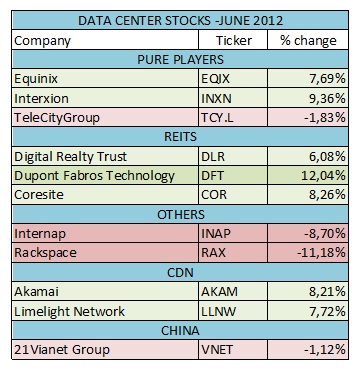 (click to enlarge pictures)
If we get to analyze Q2 2012 performances, the picture gets a bit more mixed.
Both CDN providers are in the red, with losses exceeding 10%.
Rackspace (NYSE:RAX), following a disappointing earnings report, is the worst performing stock in our list, having lost about 24% in the quarter. Internap (NASDAQ:INAP) is also in the red, while a few stocks, like 21ViaNet (NASDAQ:VNET), Interxion and Digital Realty Trust (NYSE:DLR) basically break even for the quarter.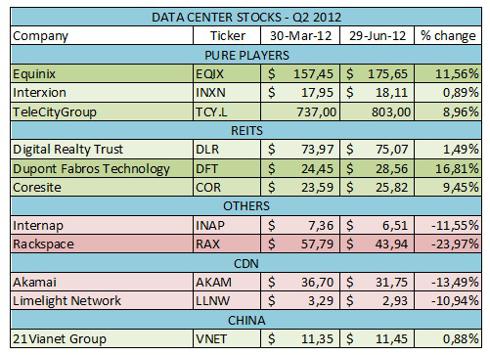 To put these numbers in the correct landscape, we should not forget that most data center related stocks delivered outstanding performances in Q1 2012, with several stocks exceeding double-digit returns: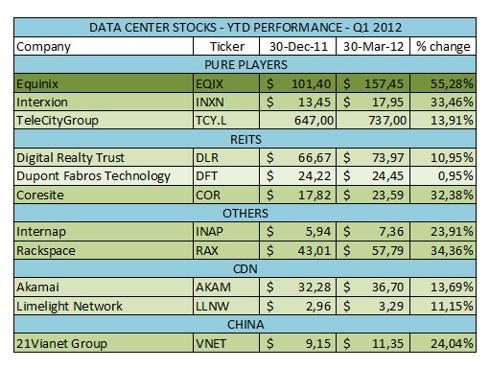 For a few of these companies, gains become even more outstanding if we include Q4 2011, as shown in this chart: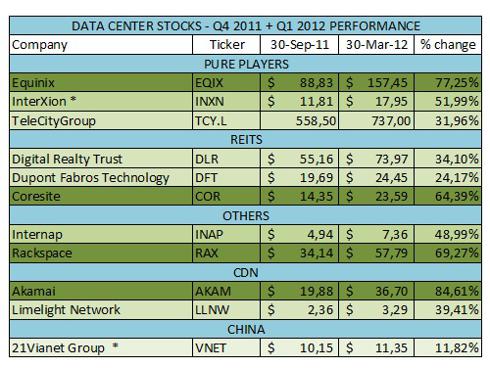 Following such strong performances, it should come as little surprise that Q2 2012 was relatively mixed, as some stocks retraced from their recent highs. A look at half year numbers confirms that the sector delivered solid numbers, with more than half of the companies showing gains in the double-digits: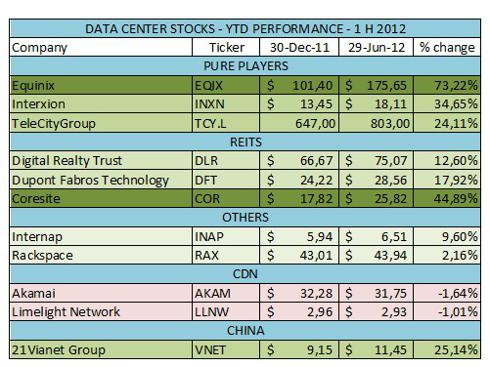 As to sub-sectors, network-neutral providers show the best performances as a group, with Equinix delivering an outstanding 73% return, closely followed by REITs, with CoreSite (NYSE:COR) showing a 45% gain since the beginning the year, and scoring the best performance among its peers.
What's next
Time to bring out the crystal ball. Several stocks under our coverage are now enjoying high multiples, after the 2012 run up, mostly based on strong growth assumptions. What the recent decline of Rackspace taught us is that companies must live up to expectations, to avoid strong market corrections.
Akamai and Equinix will be among the first data center related stocks reporting Q2 2012 results and guidance for 2H 2012 at the end of July, whose analysis will obviously be key to determine future performances. These companies, together with Digital Realty, may also be considered very good bellwethers for their own subsectors.
We expect that several companies under our coverage will keep delivering strong metrics and very good growth rates, leaving room for further price appreciation. Our long term favorites remain network-neutral players and REITs.
We do not, however, expect the whole sector to keep exceeding market benchmark, like it did in the first part of the year - in other words, investors should probably be more careful in choosing their picks, now, as the "cloud computing" label isn't enough, alone, to justify a further run up, unless the companies are strongly executing against their business plan.
Disclosure: I am long EQIX.