On May 25 2012, we started the $33,000 American Portfolio saying:
We'll start our portfolio with $33,000 in honor of the average American and give our portfolio the following purpose: The purpose of the $33,000 American Portfolio is to be a learning tool for seeking home-run potential with acceptable risk.
Let's have a look at where we stand.
The $33,000 American Portfolio
JG Boswell (PINK:OTCPK:BWEL)
Our play on California water-rights has stood firm for us. If the banks in Europe or China or India go to heck we expect the Boz will keep standing firm.
6 shares BWEL @ 717.00 = $4,302 (13.04% of the portfolio)
Last close $730, $4,380 total, +$78
Waterfurnace Renewable (PINK:OTC:WFIFF)
Our little housing slash energy efficiency play has climbed a little higher. If housing does indeed pick up this could still be a really good time to get in. The stock has been on sale and doesn't seem to want to fall below $15 or $16. Check out the very bullish "triple bottom."

200 shares WFIFF @ 15.28 = $3,056 (9.26% of the portfolio)
Last close $16.65, $3,330 total, +$274
Alliance Grain Traders (PINK:OTCPK:AGXXF)
The little pulse-processor that could is up 30.9% in a little over a month. Alliance has had no news other than a construction delay and a dividend coming next week. We like Alliance as a very long term play:
AGXXF processes pulses (peas, lentils, beans and the like) around the world and is a play on demand for pulses. As boring as that sounds, these are great sources of protein-building amino acids and are the kind of thing that can feed the world and be trendy in the fitness magazines. This plays on what I think is a powerful trend toward veggiedom
Having sold off hard we liked it on value as well as the long term growth trend. If the chart is any indicator Alliance could run for quite a while.

150 shares AGXXF @ 10.78 = $1,617 (4.90% of the portfolio)
Last close $14.11, $2,116.50 total, +$499.50
Solazyme (NASDAQ:SZYM)
The Soul blew past our $12.50 strike almost immediately and last closed at $14.18. Early on we analyzed this trade along with the Arch Coal put we sold. We said:
The second disadvantage writing cash-secured puts can have is cutting off upside of a stock. When we wrote the SZYM put at the $12.50 strike price $12.50 plus the premium became the ceiling for this trade. If SZYM gets bought out tomorrow for $20 a share it might just as well have been for $12.50 as far as we are concerned. We picked the $12.50 strike price thinking that if SZYM runs 25% (from $9.90) in 4 months we might sell anyway, so this does not have to be a negative, but it should be on our minds when we pick a strike price.
Solazyme is demonstrating the second disadvantage of writing cash-secured puts to a T. It's a nice problem to have, no doubt, but a disadvantage as compared to the common stock nonetheless.
11 contracts SZYM Sept 22 $12.50 Put @ $3.20 = $3,520 (10.67% equivalent of portfolio)
Cost to close puts: $1,100 Difference: +$2,420
Arch Coal (NYSE:ACI)
Arch had been throttled for a long time and continued to get throttled after we got on board.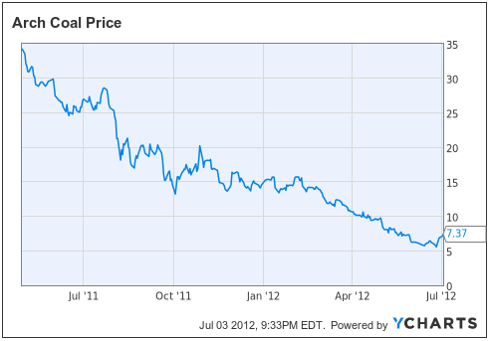 Our Arch position had gobbled up all the gains from Solazyme's meteoric rise. All that is history now, though, as our favorite play on the powder river basin has battled all the way back to $7.36, $.06 higher than where we took our position. Arch looks to be back and we will not be surprised if the $8 puts we sold expire worthless in a couple weeks.
13 contracts ACI July 21 $8.00 Put @ $1.27 = $1,651 (5.00% equivalent of portfolio)
Cost to close puts: $1,144 Difference: +$507
8 contracts ACI Jan 2014 $8.00 Call @ $2.13 = $1,704 (5.16% of the portfolio)
Last Trade: $2.13, $1,704 total, Even
Amazon (NASDAQ:AMZN)
If this works out, and we think it will, it won't be pretty until it is. Our hunch here is that after this holiday season does not justify the valuation the sell-off begins, and then picks up speed until we have ourselves a Netflix (NASDAQ:NFLX) situation.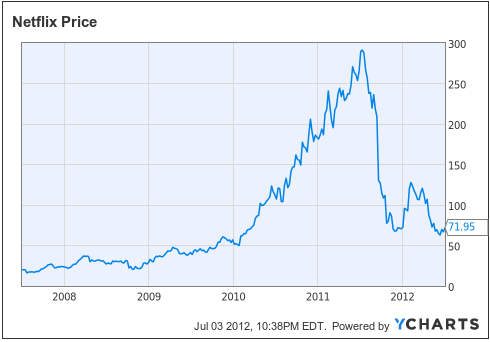 1 contract AMZN Jan 2014 $150.00 Put @ $16.90 = $1,690 (5.12% of the portfolio)
Last Trade: $12.85, $1,285 total, -$405
Salesforce.com (NYSE:CRM)
Our hunch on this one: we think Salesforce falls with Europe in the second half of this year.
1 contract CRM Jan 2014 $100.00 Put @ $14.90 = $1,490 (4.52% of the portfolio)
Last Trade: $13.00, $1,300 total, -$190
Conclusion
The story of the portfolio has been Arch's collapse and Solazyme's rise. Now the story is Arch's recovery, Solazyme looking like the best case scenario, our little stocks doing their part, and our bearish plays being the weak link.
Have a look at the three charts we posted for the stocks in the portfolio. The reason we liked those three stocks when we did, of course, was because they had sold off so hard. Arch was obviously not done selling off as we hopped aboard for a quick 20% drop, but it looks to have gotten its legs at long last. Waterfurnace has to keep heading higher to convince us it is done with its long downward trend, but housing should have everything to do with its fate.
Alliance, now here's one we may have nailed. We think we bought the bottom right there but like every other stock on a long downward trend it stops falling when sellers are done their selling. That is the best moment to get in, obviously, but picking the right time is more art than science.
We needed a reason to like the long term story for these stocks in the first place. That way, when Arch fell so hard for example, we knew the long term story had not changed and so neither did our mind change.
Arch = Ouch. We like it more than ever, come July 21 we'll re-up a least partly on Arch. (June 26)
and
We think Arch's future - near and long - looks good and we would be doubling down on our calls here if we did not have this much exposure already. (June 17)
The reason we liked Arch in the first place had not changed, so we held and took the pain, and were rewarded.
If we bought a stock that we did not like, but bought because we thought we saw a bottom, and then the stock kept falling, THAT would be a stressful situation. Looking to buy at the bottom is a great idea, but only on stocks you would not mind holding if they kept falling.
We are excited for Arch's put to expire in a couple weeks, we have been considering our options for re-deploying that cash and we are considering utilities served by the powder river basin, rail & domestic transports, and domestic telecom in addition to the plays we have already and a few recently pole-axed stocks. Click the link above to see our breakdown of those plays.
For now the portfolio breaks down as follows:
Stocks and Options: $14,115.50
Cost to close puts: ($2,244)
Cash: $24,312
Total: $36,183.50
Disclosure: I am long ACI.